Wimbledon 2019: Who is the giant slayer, Cori Gauff?
Wimbledon 2019: Who is the giant slayer, Cori Gauff?
Jul 02, 2019, 04:15 pm
3 min read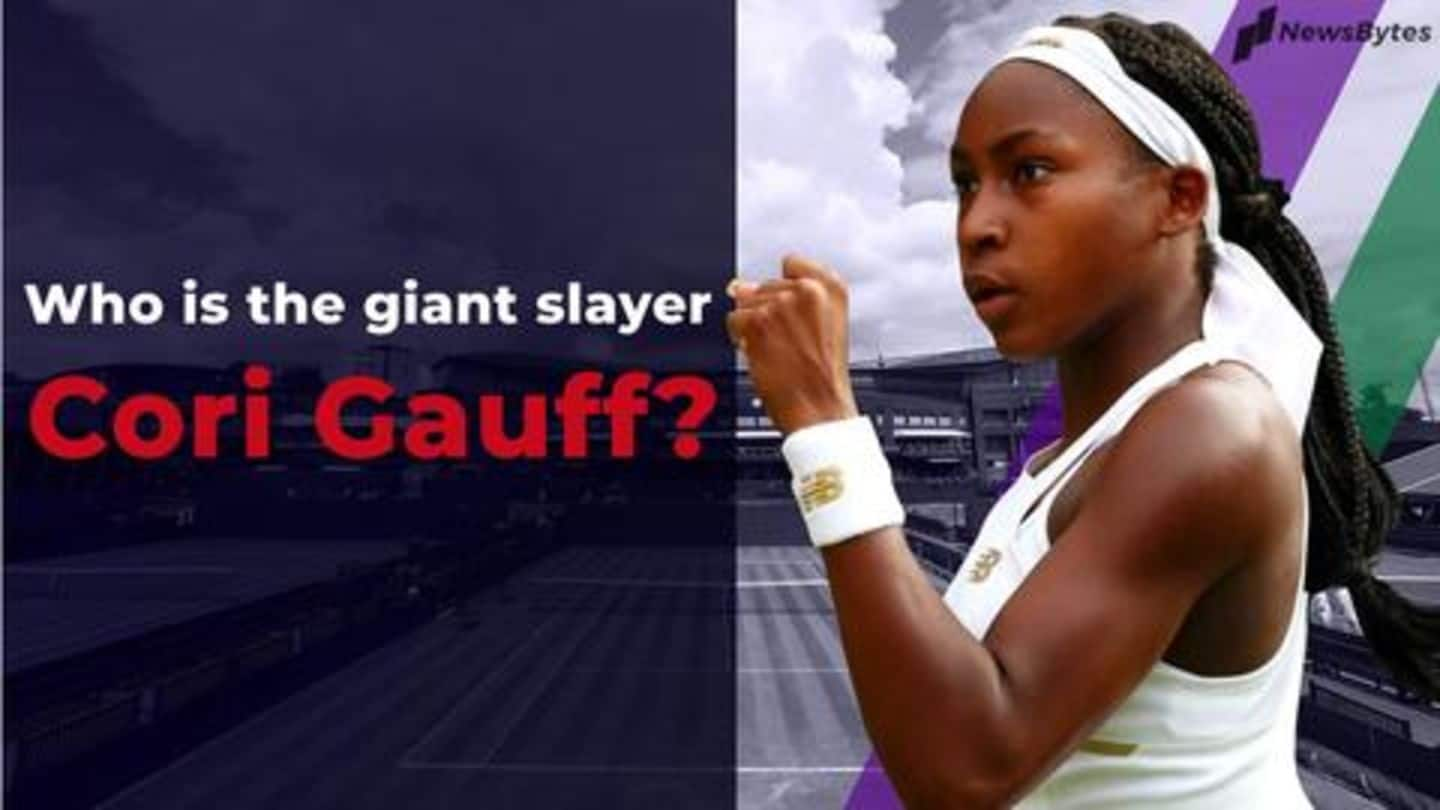 Cori Gauff is just 15 years old and she scripted history by ousting seven-time singles Grand Slam champion Venus Williams in the first round of the Wimbledon 2019. Notably, she defeated her in straight sets. The teenage sensation has suddenly grabbed all the attention after her historic feat. Here is all you need to know about the new tennis sensation.
Gauff wasn't even born till Venus had pocketed four Slams
Gauff, who is world number 313, ended up stunning Venus, who is 24 years her senior. The American qualifier beat the five-time Wimbledon champion in straight sets 6-4, 6-4. Notably, Venus had already won four Slam titles even before Gauff was born. The teenager had stated that she idolizes Williams sisters Venus and Serena. They were the reason for her getting into tennis.
Gauff opens up after a stunning win against Venus
"It is the first time I have ever cried after winning a match. I don't know how to explain how I feel. I definitely had to tell myself to stay calm. After every point I told myself stay calm," said Gauff after her stunning victory.
How did 15-year-old Gauff climbed up the ladder?
Earlier, Cori became the youngest player to qualify for the Wimbledon main draw. This was the second biggest moment of her career after she had earlier become the youngest-ever finalist at the US Open girls tournament at the age of 13. Last year, she became the second youngest athlete to win the Roland Garros Junior title. It has been a remarkable journey for her.
Gauff belongs to a family of athletes
She was born in Atalanta in 2004 and took up tennis at the age of seven. Her family then decided to relocate to Florida in order to help Gauff get better training and facility. She belongs to a family of athletes. Her father played basketball for Georgia State University, whereas, her mother was a track and field athlete at Florida State University.
Gauff won three qualifying matches to enter main draw
2018 was quite a remarkable year for Gauff. In May, she pocketed her first professional tennis match at Osprey. Later in the year, she earned her first sponsorship deal with sports giant New Balance. She entered Wimbledon 2019 after earning a wild card to feature in the qualifiers. The teenager made history after winning three qualifying rounds to enter the main draw.
Gauff had earned praise from legends prior to showdown
Ahead of her match against the veteran Venus, 20-time Grand Slam winner Roger Federer praised the youngster. "I think that is fascinating, that she plays Venus. I think it is a great storyline. It will be a great, wonderful experience for Coco and Venus," said the Swiss maestro. Serena also lauded Gauff. "She is an exciting young player, and she's so cool," said Serena.
My goal is to win Wimbledon: Cori
"My goal is to win it. I said this before: I want to be the greatest. My dad told me that I could do this when I was eight. I am still, like, not 100% confident. But you never know what happens," said Gauff.
Exciting times for women's singles: Our take
This is definitely one of the biggest moments in women's tennis. Several fresh faces are making their mark and challenging veterans. Unlike the men's event, you cannot pick a favorite winner in women's singles. The youngsters have come in and are putting in a good show. One feels that Gauff is champion material and has a bright future.