5 best Royal Rumble matches of all time
5 best Royal Rumble matches of all time
Aug 04, 2018, 03:50 pm
3 min read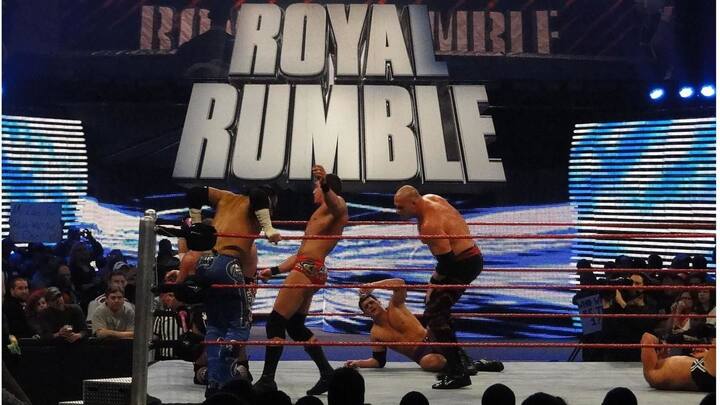 Royal Rumble is a match where 30 wrestlers enter the ring but only one leaves as the champion. If a wrestler falls outside the ring and his feet touch the floor, he gets eliminated. The WWE has been holding the annual Royal Rumble event since 1988, with each edition coming with new shocks and surprises. Here are the 5 greatest Royal Rumbles ever!
'The Dirtiest Player In the Game' becomes WWE Champion
Probably the best Royal Rumble match ever, the 1992 edition saw some all-time greats competing for the WWE Championship. Imagine the likes of Hulk Hogan, Ric Flair, Undertaker, Randy Savage, Shawn Michaels and Ted DiBiase all in the ring together. Flair, who had recently arrived from WCW, was the outstanding performer, entering at number 3 and lasting almost an hour to clinch victory.
A Texan arrived, raised hell and left
Royal Rumble 1998 was the preview of what would go on to define WWE soon- the Attitude Era. Mike Tyson attended this event, which saw legends like Mankind, Rock and Stone Cold in action. The Rock and Stone Cold were the last two left, with Austin eliminating Rock to win the match. Austin, then, went on to win the WWE title at WrestleMania.
The People's Champ wins his first Royal Rumble
In 2000, Royal Rumble saw greats in action, with the older superstars like Big Boss Man, Davey Boy Smith and Bob Backlund in action against the new stars like Rikishi, The Rock, Big Show, Chris Jericho and Edge. The Rock was the clear favorite, entering at number 24 and throwing out the 500-pound Big Show to book his place at the main-event of WrestleMania.
The rule of The Rattlesnake: Austin's third Rumble victory
This memorable match saw the GOATs coming face-to-face in the same ring. Kane and The Undertaker started the proceedings, with they eliminating anyone nearby. Kane went a step further and used a steel bin on his opponents. Stone Cold, Kane and The Rock were the last three present in the ring. Kane eliminated Rock but Austin got the better of him.
Cenation's leader comes out on top
One of the most popular WWE stars of all time, John Cena tasted his first victory at the 2008 Royal Rumble. Cena was the last entrant in the match, coming in at number 30. This was his return after being out for four months due to an injury. Cena and Triple-H were the last two left, with The Game falling short of victory.
Stone Cold is the only wrestler, in the history of franchise, to win the Royal Rumble thrice. He won it in 1997, 1998 as well as 2001.