Hardik Pandya in trouble after parody-account makes controversial tweet
Hardik Pandya in trouble after parody-account makes controversial tweet
Mar 22, 2018, 01:32 pm
2 min read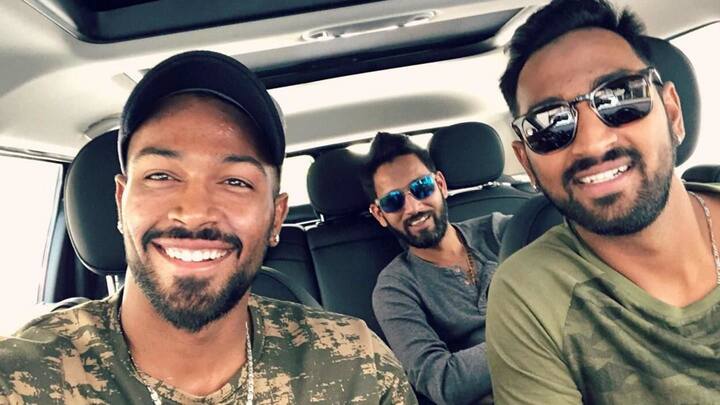 A court has ordered an FIR against Hardik Pandya for 'his comment' on Dr BR Ambedkar. Turns out, the tweet was posted by a parody account. The controversial comment from @sirhardik3777 read: "Which Ambedkar??? The one who drafted a cross law and constitution or the one who spread the disease called reservation." Pandya's official Twitter handle is @hardikpandya7. Interestingly, @sirhardik3777 is no longer available.
A photo posted by the cricketer on his account
Petitioner had accused Pandya of "crass act"
A complaint in the matter was lodged by lawyer DR Meghwal, apparently a member of Rashtriya Bhim Sena in Rajasthan's Jalore, when he discovered in January the comment made on December 26. "It appeared quite derogatory for a figure like Ambedkar and was an attempt to spread hatred and create division in the society," Meghwal said, demanding punishment for Pandya for the "crass act."
Pandya has 2.3mn followers on his verified Twitter account
In the complaint, Meghwal mentioned the comment was made by @sirhardik3777. Pandya actually has 2.23mn followers on his verified Twitter handle @hardikpandya7. Neither police nor the cricketer has issued any statement till now. "We are yet to receive the orders of the court and once we get it, I will be in a position to comment," said Rajesh Yadav, SHO.
A case of mistaken identities
Confused identities have cost people heavily. In April'17, Indians angered by Snapchat CEO Evan Spiegel's alleged comments about 'poor nations' downrated Snapdeal instead. In November 2016, hundreds of Indians followed a 'Chris Martin' on Twitter after the Coldplay singer's Mumbai concert, but it was the wrong one. Even US President Donald Trump attacked the wrong Theresa May on Twitter, which had only six followers.