#NewsBytesExplainer: Why is Kane Williamson the player of all seasons?
#NewsBytesExplainer: Why is Kane Williamson the player of all seasons?
Apr 08, 2020, 10:19 pm
3 min read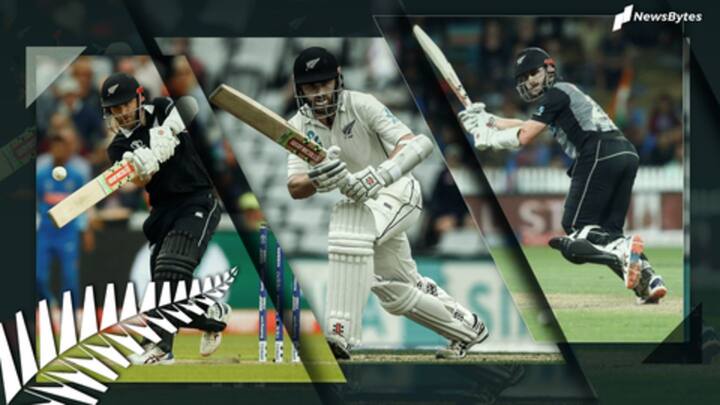 An architect in Test cricket, a floater in the ODIs and a terrific T20I finisher, New Zealand skipper Kane Williamson has been ruling the roost ever since he burst on to the international stage. Williamson, who silently makes his presence felt, functions on an altogether different wavelength. Let us find out why the 29-year-old has been termed as the man of all seasons.
Williamson's attributes make him a complete batsman
Perseverance has always been the prized possession of Williamson. He knows his importance of acclimatizing to situations well. He is one of the few batsmen in world cricket who knows the art of playing late. In addition to that, Williamson's propensity to play in the 'V' makes him tailor-made for every format. Offer him a green-top and he will make the most of it!
His calmness always stands out
Williamson carries a distinctive element of composure as compared to other members of 'Fab 4' (Virat Kohli, Steve Smith, Joe Root). During the crunch situations, his calmness always stands out. He makes up for his lack of brute power by working the ball in the gaps and stealing singles under the nose. The right-handed batsman stamps his authority with his patient, yet defiant knocks.
The New Zealand top order relies on Williamson
Williamson carries the baton of rescuing the innings following a critical batting collapse. The first-ever testimony of this fact was his maiden Test innings (2010) wherein he took on the Indian spinners on the rank-turner of Ahmedabad. His 106* off 138 balls against South Africa in the 2019 WC was deemed spell-binding after the Kiwis were tottering on 80/4 during the chase.
Williamson has proved his mettle as a captain
Having commenced his ODI career with two ducks in 2010, Williamson was never shy of showing grit. He struck a century, a few games later, against Bangladesh and became the youngest centurion for Kiwis. Captaincy further enhanced his craft. His ODI average after leading New Zealand in 77 ODIs is 49.56 as compared to his career-average of 47.48. In Tests, captain Kane averages 54.20.
Williamson made merry with bat in World Cup 2019
Kane Williamson was New Zealand's highest run-scorer in the World Cup 2019 with 578 runs at an astronomical average of 82.57. Ahead of the all-important final, he surpassed Mahela Jayawardene's tally (548) to become the skipper with most runs in a single World Cup edition.
Williamson has proved his mettle in T20s as well
The New Zealand captain is much agile in the shortest format as he is ODIs and Tests. Despite not carrying the hitting prowess, Williamson has mastered the format like none other. He finished as the orange cap holder in the 2018 IPL edition, having racked up 735 runs in 17 innings at 52.50. Notably, he also has a T20 hundred to his name.
Williamson deserves all the adulation
Whether it's dominating the fiery Mitchell Johnson in the 2015 Perth Test or toying with Jasprit Bumrah in an awe-inspiring T20I chase in Hamilton, Williamson has time and again proved why he's an all-format player. His unmatchable spirit makes the verdict loud and clear. It's about time we pull Kane Williamson out of the shell he has been compressed in for years.