A look at unique records scripted by Real Madrid
A look at unique records scripted by Real Madrid
Aug 05, 2019, 05:54 pm
2 min read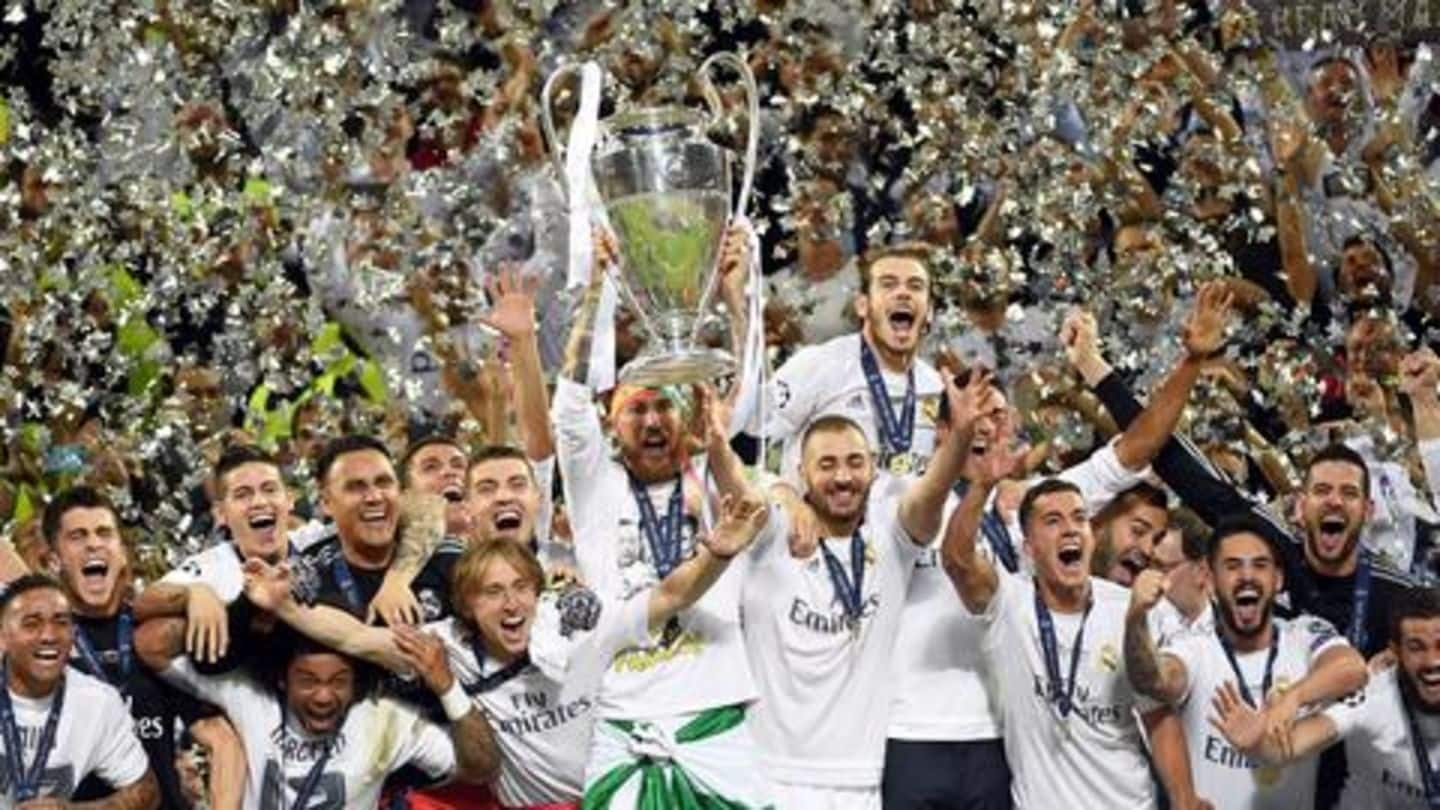 Spanish clubs have been dominating European football, for quite some time now. And even among the Spanish clubs, Real Madrid have scaled insurmountable heights of success. From winning a hat-trick of the UEFA Champions League to the most number of La Liga titles, Los Blancos have scripted several records. Here we look at some of these unique records.
1,29,690 fans witness incredible tie between Madrid and AC Milan
A capacity crowd, and that too in an important match like the semis of European Cup, always plays a crucial factor for the home team. The record for Madrid's highest attendance at home in Santiago Bernabeu is 1,29,690, which came during the UCL semis in 1956. As Madrid were up against Italy's AC Milan, the hosts fought hard and registered a thrilling 4-2 win.
Cristiano Ronaldo: The goal-scoring legend of Madrid
When it comes to goal-scorers, the club has produced a number of legends to date. However, it is the Portuguese Sultan, Cristiano Ronaldo, who has beaten them all in scoring goals at will. In his nine-year career at the club, he smashed 450 goals in 438 matches, across competitions. Next to him among current players is Karim Benzema, who is not even half.
Raúl: Mr. Dependable of Los Blancos
Asides scoring goals, if a player performs consistently over the seasons, it is an icing on the cake. While Raul was the record goal-scorer for the club before CR7, his ability to make an impact along with the number of assists made him Madrid's Mr. Dependable. In his 16-year stint at the club, he holds the record of most appearances of 741.
Miguel Muñoz: Madrid's greatest manager of vintage era
One does not become a great manager overnight and has to earn it. But once he does, he is treated like a God by the fans. The greatest manager in Madrid's history to date is considered to be Miguel Muñoz. Having managed 604 games at the club, he has a win percentage of over 59, along with 14 titles, including nine La Liga trophies.
A look at some other Madrid records
Biggest win: 11-1 vs Barcelona (1942-43 Copa del Rey). Youngest player: Martin Ødegaard (16 years, 157 days) Youngest goal-scorer: Alberto Rivera (17 years, 114 days) Most points earned in a season: 100 points in 38 matches (2011-12 La Liga) Highest transfer fees received: €100 million (Cristiano Ronaldo to Juventus) Highest transfer fees paid: €100 million (Gareth Bale from Tottenham Hotspur)