#NewsBytesExclusive: Happy to be remembered as Test cricketer, says Ojha
#NewsBytesExclusive: Happy to be remembered as Test cricketer, says Ojha
Feb 21, 2020, 08:51 pm
4 min read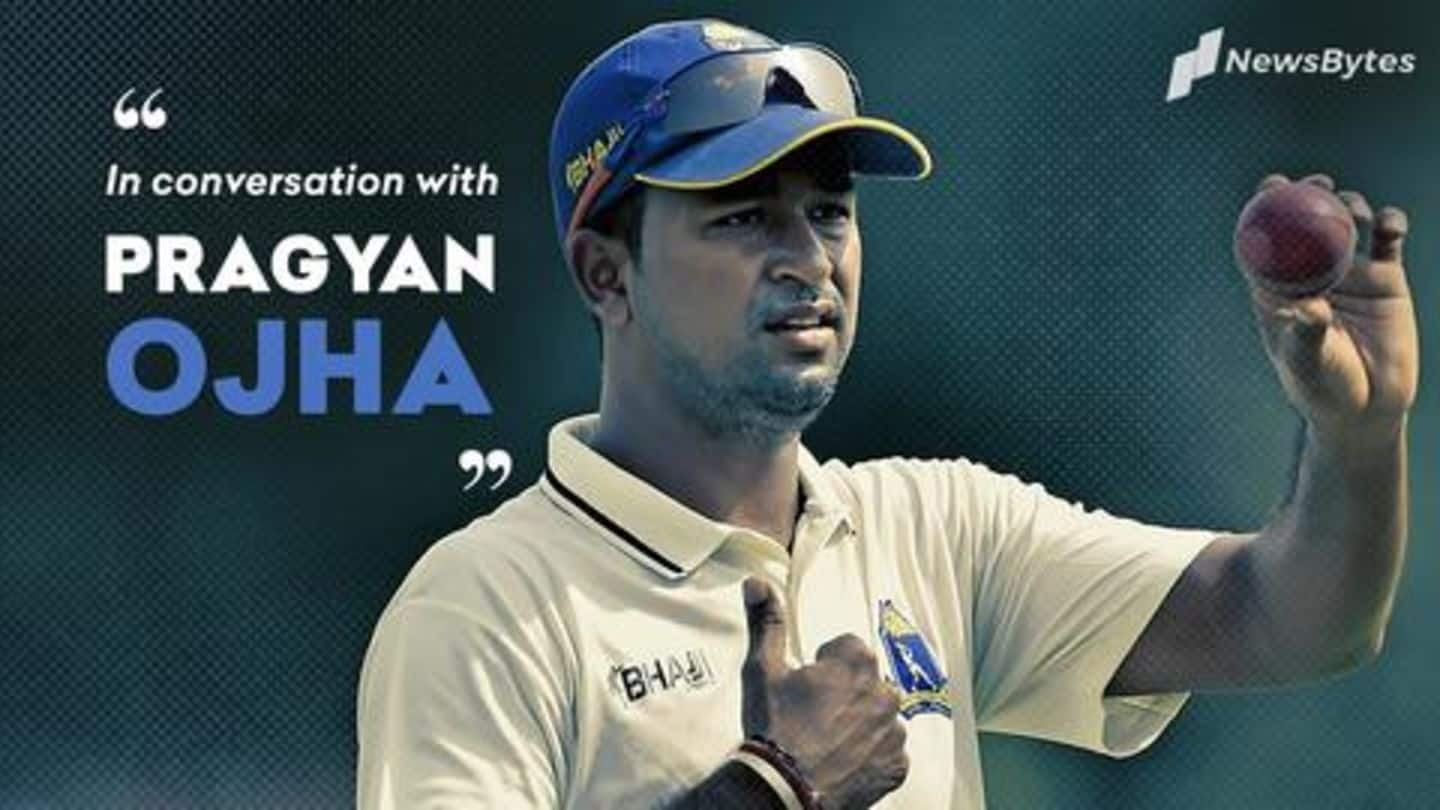 Indian spinner Pragyan Ojha announced his retirement from international cricket with immediate effect. The 33-year-old took to twitter to announce the news. Ojha, who represented India in 144 international matches, opened up about his 12-year-old career in an exclusive interview with NewsBytes. The left-hander played his last international game in 2013 against West Indies. Here's more.
Ojha was directed towards spin bowling by his childhood coach
Ojha's childhood Coach Vijay Paul saw a spark in him during his school days and inspired him to aim for spin bowling. "After I shifted from Odisha (Ojha's native land) to Hyderabad, Vijay sir spotted me during a selection trial which was happening in my school. He said, 'you seem a great spinner. Why don't you continue with it'?" Ojha said.
Receiving cap from Sachin Tendulkar made Ojha's Test debut special
Ojha made his international debut in an ODI against Bangladesh in the Asia Cup 2008. Nevertheless, his special moment came a year and a half later when Sachin Tendulkar handed him his Test cap. Ojha had a decent outing with the ball in his maiden Test against Sri Lanka as he scalped four wickets. He ended with match figures of 4/73.
Happy that I'll be remembered for my Test career: Ojha
"The biggest moment of my career was earning my Test cap from Sachin. I had always dreamt about playing Test cricket during my childhood. I feel ecstatic about the fact that I'll be remembered as a Test cricketer," Ojha said.
Ojha entered the elite list of Test bowlers in 2013
Ojha became the joint-third fastest Indian to 100 Test wickets (22 Tests), during the fourth Test against Australia in Delhi (2013). He became the fifth Indian spinner to get to the milestone after Bishan Singh Bedi, Vinoo Mankad, Ravi Shastri and Dilip Doshi.
Ojha heaps praise on VVS Laxman
Ojha believes VVS Laxman has been a great mentor for him right throughout his career, be it playing for Hyderabad or India. The duo was once involved in a mini altercation as the latter was livid with Ojha during the Mohali Test thriller between India and Australia. "I have always followed Laxman's footsteps during my career. He is more like a brother to me."
ICC banned him from bowling in 2014
In 2014, Ojha was banned from bowling in competitive cricket after his bowling action was deemed illegal by the ICC. It was found out that his elbow was bent beyond the permissible limit of 15 degrees while bowling. Although he was cleared a month later with a remodelled bowling action, his career couldn't resurrect as he only played domestic cricket in the following years.
I wanted to leave my spot for budding players: Ojha
The southpaw asserted that the quest of giving youngsters a chance made him retire from international cricket. "After I was dropped from Team India in 2013, I regularly played domestic cricket. The evolution of talent made me realize that Indian cricket has moved on," Ojha said. "I thought if I can't move ahead, then no youngster deserves to have his spot snatched," he added.
Ojha gruntled despite having a dead stop after 2013
Although Ojha was the named the Player of the Match in his final Test appearance, he was not picked for India's long overseas season that followed. The presence of Ravichandran Ashwin and Ravindra Jadeja in the Test squad also reduced his chances of making a comeback. However, Ojha is content with the amount of vigour he showcased during his brief, yet substantial international career.
I am very satisfied with what I have achieved: Ojha
"You can't control some of the peculiar moments of your life. My commitment towards the game has always been 100%. I am very satisfied with my international career as I played for my country and I was able to perform well mostly," Ojha told NewsBytes.