Ranking the quickest WWE Championship-change matches in history
Ranking the quickest WWE Championship-change matches in history
Oct 08, 2019, 07:59 pm
3 min read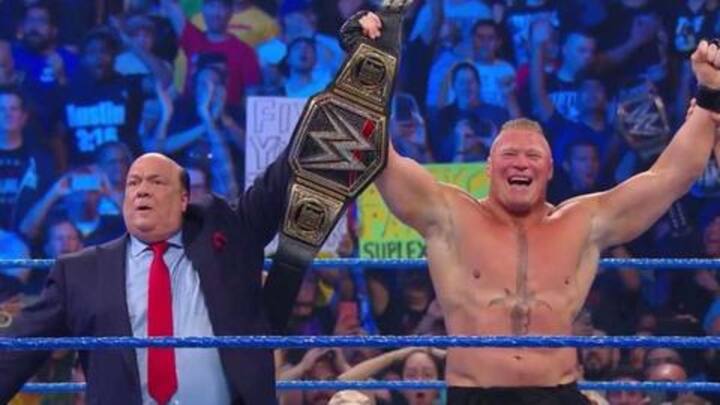 The WWE has presented a huge number of World Championships being defended and a number of champions being crowned. In certain instances, the challengers have been so intriguing that they have managed to tame the champion quick enough to win the championship. On the same note, we rank the quickest WWE Championship-change matches in the history to date.
Brock Lesnar tames Kofi Kingston (October 4, 2019)
The moment Brock Lesnar showed up on SmackDown to challenge Kofi Kingston for the WWE Championship, we all knew that the latter was in for a tough fight and his chances were slim. However, barely anyone expected the match to last just nine seconds, as Lesnar squashed him with just an F5. Did Kingston deserve to be WWE champion for all this time?
Dean Ambrose outsmarts Seth Rollins (Money In The Bank 2016)
In another instance of nine seconds, it was the Lunatic Fringe, Dean Ambrose, who finally got his long-awaited revenge on Seth Rollins after the latter had back-stabbed him and his SHIELD buddy Roman Reigns. While Ambrose had failed to beat Rollins in previous instances, the Money in the Bank contract gave him the utmost freedom to cash in at the perfect moment.
Bob Backlund amused by Diesel's lanky win (November 26, 1994)
Now, this was not a televised event, as it was a house show at Madison Square Garden, presented by WWE. Nonetheless, the WWE Championship was still defended on the show by Bob Backlund, with Diesel challenging for the title. While Backlund was expected to retain following unfair means, Diesel made sure that the champion received a Jackknife Powerbomb, and lose in just eight seconds.
Randy Orton's shocking alliance stuns Daniel Bryan (SummerSlam 2013)
Once again, eight seconds is all it took for The Viper, Randy Orton, to tame Daniel Bryan, thanks to his shocking alliance with former Evolution head Triple H. Also, the Money in the Bank cash-in made things easier, as after receiving a Pedigree from referee Hunter, Orton was left with nothing to do, but just go for the cover, as Hunter made the count.
Alberto Del Rio shocks CM Punk (SummerSlam 2011)
The self-proclaimed Best in the World too was at the receiving end of this unwanted record, thanks to the Money in the Bank cash-in, once again. It was during SummerSlam 2011 when CM Punk was during his prime days and was a top face. However, Alberto de Rio gave something the fans to remember by cashing in and taming him within just five seconds.