Arjen Robben set to leave Bayern at season-end, may retire
Arjen Robben set to leave Bayern at season-end, may retire
Dec 11, 2018, 08:14 pm
3 min read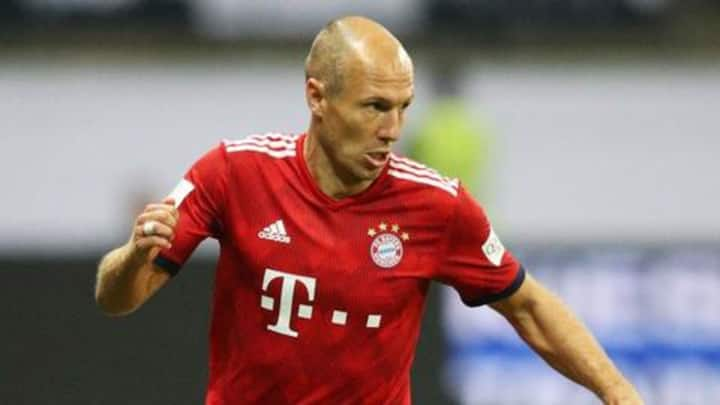 One of the most iconic forwards in modern football, Arjen Robben will be hanging up his Bayern Munich boots after the season ends, the legendary Dutchman has confirmed. Robben has been a part of the German club for a decade, winning an incredible 19 trophies with them. However, he has still not revealed his next destination or whether he will retire from football completely.
The legend's comments on his decision
The veteran Dutchman will be turning 35 in January, and believes that this was the right moment for him to quit the club. He has assured the fans that he has given his decision extensive thought, and still feels very happy about it. While leaving Bayern would be a big step, Robben has said that his footballing future, as of now, remains uncertain.
How is Robben performing presently?
A thigh injury has kept Robben away from action for a couple of weeks, but he will most likely return again for Bayern's Champions League match against Ajax. Currently, Bayern are trailing nine points behind Bundesliga leaders Dortmund, but Robben's sensational brace against Benfica still shows that he has the ability to mesmerize at this age.
Why the sudden decision to leave Bayern?
Bayern will be revamping its squad by the end of the current season, it has been confirmed, and with Robben being past his prime, it was well-understood that he could be have been laid off. Thus, it was the best for him to go away honorably. Though Robben has no plans about where to move as of now, he has not clearly announced retirement.
Robben's numerous achievements with Bayern Munich
Robben has won seven Bundesliga titles with the Bavarians, out of which six were won in consecutive seasons (2012-2018). Additionally, the Dutchman has won the DFB-Pokal, or the German Cup, on four occasions. The pinnacle of his career with Bayern is surely defeating rivals Borussia Dortmund in the 2012-13 UEFA Champions League final. Robben had also won the 2013 UEFA Super Cup with Bayern.
The legend's speciality: Why Robben will be remembered forever
Robben is extremely impactful on the pitch but is a quiet man off it. Although blessed with searing pace and a magical left foot, Robben, ironically, hasn't had the widest range of footballing skills. Yet, such is his perfection that despite having a limited set of moves, he has left some of the world's best defenders biting the dust time and again.