Roman Reigns 'in a good position': Seth Rollins
Roman Reigns 'in a good position': Seth Rollins
Jan 04, 2019, 12:35 am
2 min read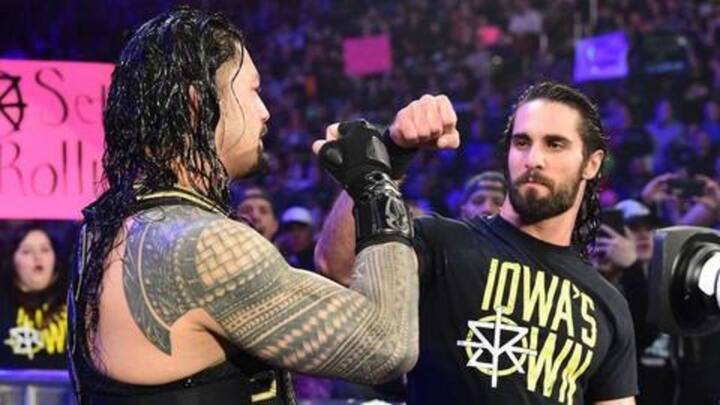 They clash or come together inside the WWE ring, but off it, the friendship between Roman Reigns and Seth Rollins is as strong as ever. This week, Rollins gave the fans an update about the health of Roman Reigns. Last year, Reigns had left WWE to get medical treatment after his leukemia resurfaced. So how is the Big Dog doing? Find out right here.
Roman is set to make a comeback: Rollins
Rollins said that Reigns is doing great as far as his treatment is concerned. He mentioned that Reigns spent the Christmas and New Year holidays with his family and is currently in a good position. The Architect insists that his friend is primed to come back into the squared circle and continue his career from where he had left off.
The Shield were always a force to be reckoned with
The Shield were always a mighty force. They emerged from the crowds and bashed up anyone and everyone to announce their arrival. Each member was a gifted wrestler and The Shield quickly became one of the most popular groups on the roster. Roman Reigns, Seth Rollins, and Dean Ambrose captured the imagination of an audience dissuaded by the PG-era, who loved their hardcore methods.
Excerpts from Roman's speech when he announced his health condition
During his announcement on Raw earlier in October, Reigns had said, "Because the leukemia is back I cannot fulfill my role, I can't be that fighting champion and I'm going to have to relinquish my Universal Championship." He also told fans that this was not a retirement speech as he is confident he will defeat leukemia and come back in the ring.
Reign thanked everyone who had wished him a speedy recovery
Thank you to everyone who's reached out...I can't put into words what it means to me.

Your energy and positivity motivate me to get better quickly to get back in the ring, but for now I'm going to spend time with my family and focus on health.

Thank you - Joe/Roman

— Roman Reigns (@WWERomanReigns) October 23, 2018