Male tennis players are punished more than women: Reports
Male tennis players are punished more than women: Reports
Sep 16, 2018, 03:40 pm
2 min read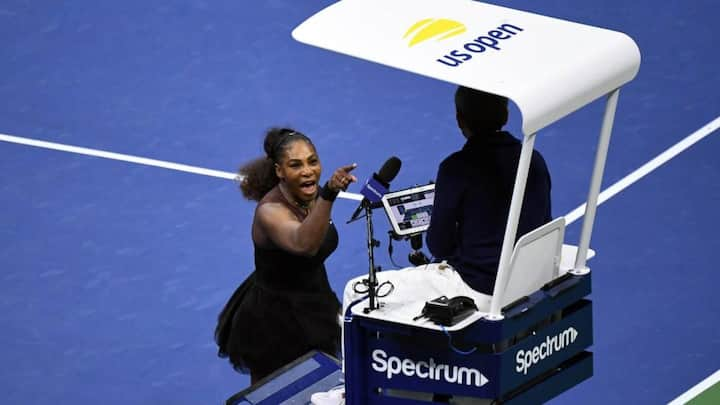 Serena Williams had lashed out at the match official during the US Open final, this year, after her on-ground behavior led to a game being taken away. She had cited that because she is a woman, the rules are different. But reports suggest that men are punished more often than women. There is statistical data to back this claim. Here are further details.
Men slapped with whopping number of fines over women
According to a report in The New York Times, male tennis players face the brunt, more often, for showing anger and smashing racquets as compared to their female counterparts. As per data from the last 20 years of Grand Slams, men were slapped with 1,517 fines. Women, on the other hand, have received 535 fines for on court behavior.
Here is the data of the two decades
The data obtained, by the media outlet, in a period that covers two decades of Slams sees that men were handed 649 fines for breaking racquets, while women received just 99. For obscenity, male tennis players were fined 344 times compared to 140 women getting a fine during the same period. For unsportsmanlike conduct, the numbers read 287 to 67.
What did Serena do in the final of US Open?
Last week, Serena accused the chair umpire Carlos Ramos of being a thief and liar. This happened after the 23-time Grand Slam winner was called up for verbal abuse during the singles final. In the post-match conference, she added that men too say verbal things to umpires and here she is fighting for women's rights and equality and that the referee's behavior was sexist.
What Serena did was not right
Serena even went ahead and threatened the official, claiming he will never be on the same court when she plays tennis. This is unacceptable behavior by one of the greats. All these claims, by Serena, saw many people criticizing her on social media. What Serena did was not right as she indirectly took away the limelight, Osaka deserved for clinching her maiden Slam.