Sri Lankan police find 87 bomb detonators at bus stand
Sri Lankan police find 87 bomb detonators at bus stand
Apr 22, 2019, 04:46 pm
3 min read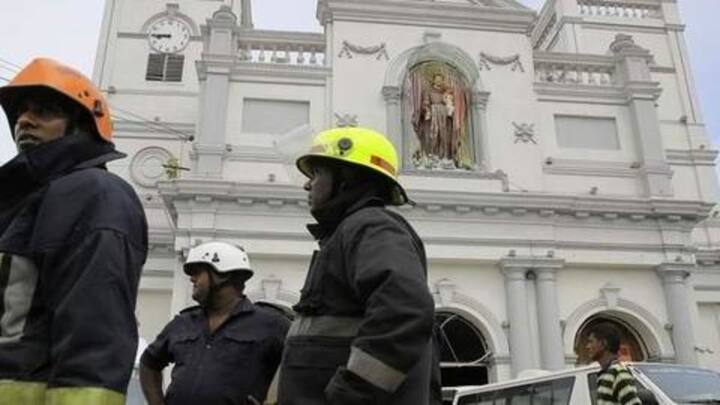 A day after eight serial blasts ripped apart Sri Lanka, the police found 87 bomb detonators at the main bus station in capital Colombo on Monday. In fact, on Sunday night, Air Force diffused an IED which was found close to Bandaranaike Airport. 290 people have died and 500 were injured in the dastardly attacks. Authorities blamed Jihadist group Thowheed Jamath for the same.
Eight blasts rocked Sri Lanka, hundreds died
On Easter Sunday, three churches and three hotels were attacked by terrorists. Soon after the near-simultaneous attacks, one bomb each went off at Dehiwala and Colombo. Two attacks were carried by suicide bombers. Police said on Monday, 24 suspects have been arrested. A safe house of the terrorists and a van, which was used to bring terrorists into the capital, has also been seized.
Emergency to be imposed from midnight
After the blasts, the authorities imposed a curfew in the country, which was lifted at 6 AM on Monday. However, the government said it would impose an emergency from midnight. "The government has decided to gazette the clauses related to prevention of terrorism to emergency regulation and gazette it by midnight," announced Sri Lankan President Maithripala Sirisena.
Government promised compensation, said churches would be repaired
The government announced compensation for the bereaved families. Sri Lankan authorities have promised to pay $5,722 to the kin of victims and $572 for funeral processions. The injured will receive somewhere between $570 to $1,718. Cabinet spokesperson Rajitha Senaratne said all churches would be repaired. "After all as the government we will take the responsibility and we apologized for everyone," he told the press.
Senaratne claimed Prime Minister Wickremesinghe didn't know about intel inputs
Senaratne also revealed that 14 days before the incident, they received intel. "On 9 April, the chief of national intelligence wrote a letter and in this letter, many of the names of the members of the terrorist organization were written down," he said. However, he stressed that Prime Minister Ranil Wickremesinghe wasn't aware. Apparently, the national security meeting was presided by President Sirisena and the cabinet wasn't invited.
Politics may have played part in intel failure
Infighting between Wickremesinghe and Sirisena is well-known after the latter tried to unsuccessfully sack him in October last year. Notably, Wickremesinghe took the office again in December 2018. Sajjan Gohel, international security director for Asia-Pacific Foundation, said broken ties might have led to devastation. "Sri Lanka's political system may have also played a role in that information not being relayed correctly," he told CNN.
Meanwhile, people in Sri Lanka are still in shock
While the investigation is underway and Sri Lanka could be pushed towards another political turmoil, citizens are still under shock. St Sebastian's church, which was hit in the first wave of attacks, was decorated with flowers for Easter. Speaking on the tragedy, Father Danushka Fernando said, "This was supposed to be the mass of the children, so lots of women and children were present."