#Davos2018: Modi meets Swiss president; India hosts welcome reception
#Davos2018: Modi meets Swiss president; India hosts welcome reception
Jan 23, 2018, 11:09 am
2 min read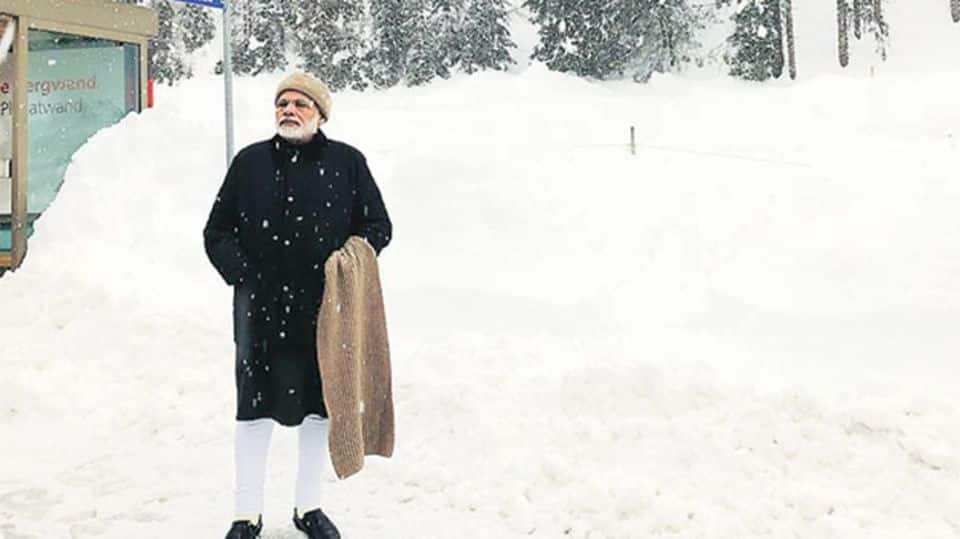 For India, the World Economic Forum's (WEF) annual jamboree at Davos began with a bang. After reaching the alpine town, PM Narendra Modi held a meeting with Swiss President Alain Berset. Greeting each other with a warm handshake, the leaders discussed ways to deepen bilateral ties. India hosted the welcome reception. Modi will also give the opening plenary address. Here's all about it.
Political/business bigwigs, intellectuals, celebrities and activists debate the world's problems at this annual shindig. This year, about 2,500 delegates and 70 world leaders including France's Emmanuel Macron and US's Donald Trump are attending. The theme is "Creating a Shared Future in a Fractured World."
What did PM Modi and Swiss President Alain Berset discuss?
In his first engagement at Davos, PM Modi met Swiss President Alain Berset to review the scope of bilateral cooperation. Berset said the discussions marked the meeting of the world's biggest and oldest democracies. Reportedly, they also discussed the progress on automatic exchange of tax information. Further, EFTA (European Free Trade Association) trade pact and the bilateral investment protection agreement negotiations were also discussed.
PM Modi also narrated India's growth story to top CEOs
PM Modi hosted a CEOs' roundtable to make a sales pitch with the tagline "India means business." The meeting was attended by 40 global and 20 Indian CEOs. Modi was accompanied by foreign secretary Vijay Gokhale and Department of Industrial Policy and Promotion secretary Ramesh Abhishek, among others. He narrated India's growth story and urged global businesses to experience the opportunities that it provides.
What was the welcome reception?
To showcase its potential as a driver of global economic growth, India hosted a welcome reception at the Congress Centre, WEF's main venue attended by nearly 1500 delegates. Railway minister Piyush Goyal, Andhra CM Chandrababu Naidu, Reliance Industries' Mukesh Ambani and superstar Shahrukh Khan among others attended this event. They savored samosas and kachoris among other Indian dishes that were there on the platter.
On another note, Shahrukh Khan was presented the "Crystal award"
Meanwhile, on a separate note, Bollywood's "King of Romance" Shahrukh Khan was presented the 24th Crystal Award for "his leadership in championing children's and women's rights in India". English singer Sir Elton John and Australian actress Cate Blanchett were also honored at the event.