Big mouth loser: Taliban on Prince Harry's 'killed 25' remark
Big mouth loser: Taliban on Prince Harry's 'killed 25' remark
Jan 08, 2023, 12:15 pm
3 min read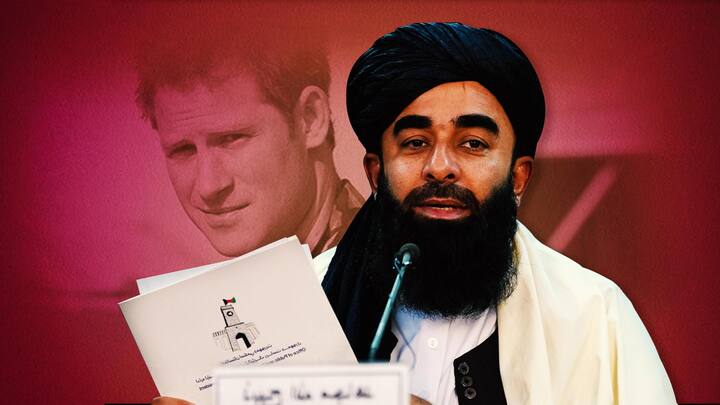 After Price Harry claimed that he had killed 25 people in Afghanistan during his time in the military, the Taliban publicly criticized the Duke of Sussex and called him a "big mouth loser." According to reports in The Independent, Taliban commander Molavi Agha Gol even labeled Price Harry a "big mouth loser who has been trying to get attention."
Why does this story matter?
In his upcoming memoir "Spare," Prince Harry wrote that he killed over two dozen people in Afghanistan while operating as an enlistee hunting Taliban extremists.
According to news outlet Al Jazeera, the 38-year-old served as a forward air controller from 2007-2008 in the British Royal Army and also piloted the attack helicopter in 2012 and 2013.
Harry is a loser, scared of combat zone: Taliban commander
The Taliban commander said he didn't believe what Harry claimed about the Mujahideen and added, "He is a loser and scared to go to a combat zone. We made history by kicking him and his army out of our homeland and he should be very angry about that." The Duke of Sussex also said that he viewed the enemy soldiers as chessboard pieces.
Prince Harry's 'chess pieces' remark receives backlash
"Our martyred Mujaheddin are in heaven, but his invading friends are burning in hell and I hope I was in Helmand when he was there, to make him understand what real chess pieces are," Gol added. Senior Taliban leader Anas Haqqani also slammed Price Harry over his chess piece remark and said that those he killed were Afghans with families.
Innocent people were chess pieces to your soldiers: Haqqani
Taking to Twitter, Haqqani accused the 38-year-old of committing war crimes and wrote: "Mr Harry! The ones you killed were not chess pieces, they were humans". "The truth is what you've said; Our innocent people were chess pieces to your soldiers, military and political leaders. Still, you were defeated in that 'game.'," he further wrote.
Haqqani's tweet on Price Harry
1/3- Mr. Harry! The ones you killed were not chess pieces, they were humans; they had families who were waiting for their return. Among the killers of Afghans, not many have your decency to reveal their conscience and confess to their war crimes. pic.twitter.com/zjDwoDmCN1

— Anas Haqqani(انس حقاني) (@AnasHaqqani313) January 6, 2023
Details about Price Harry's book 'Spare'
The Telegraph acquired an excerpt of the book, scheduled for a January 10 launch, and reported that Harry claimed the army taught him not to see the Taliban members as people. "So my number is 25. It's not a number that fills me with satisfaction, but nor does it embarrass me," the Duke of Sussex reportedly wrote.
Revealing head count reportedly violates an unspoken military regulation
Some veterans and military leaders in the United Kingdom (UK) claimed that publicizing a head count violated an unspoken military regulation. Retired Royal Navy officer Rear Admiral Chris Parry referred to the assertion as "distasteful," reported news agency AP. Meanwhile, Iraq War veteran Colonel Tim Collins said that Harry's statement doesn't reflect the British Army's way of thinking.