UK PM put his foot up during meeting with French-President?
UK PM put his foot up during meeting with French-President?
Aug 23, 2019, 12:10 pm
3 min read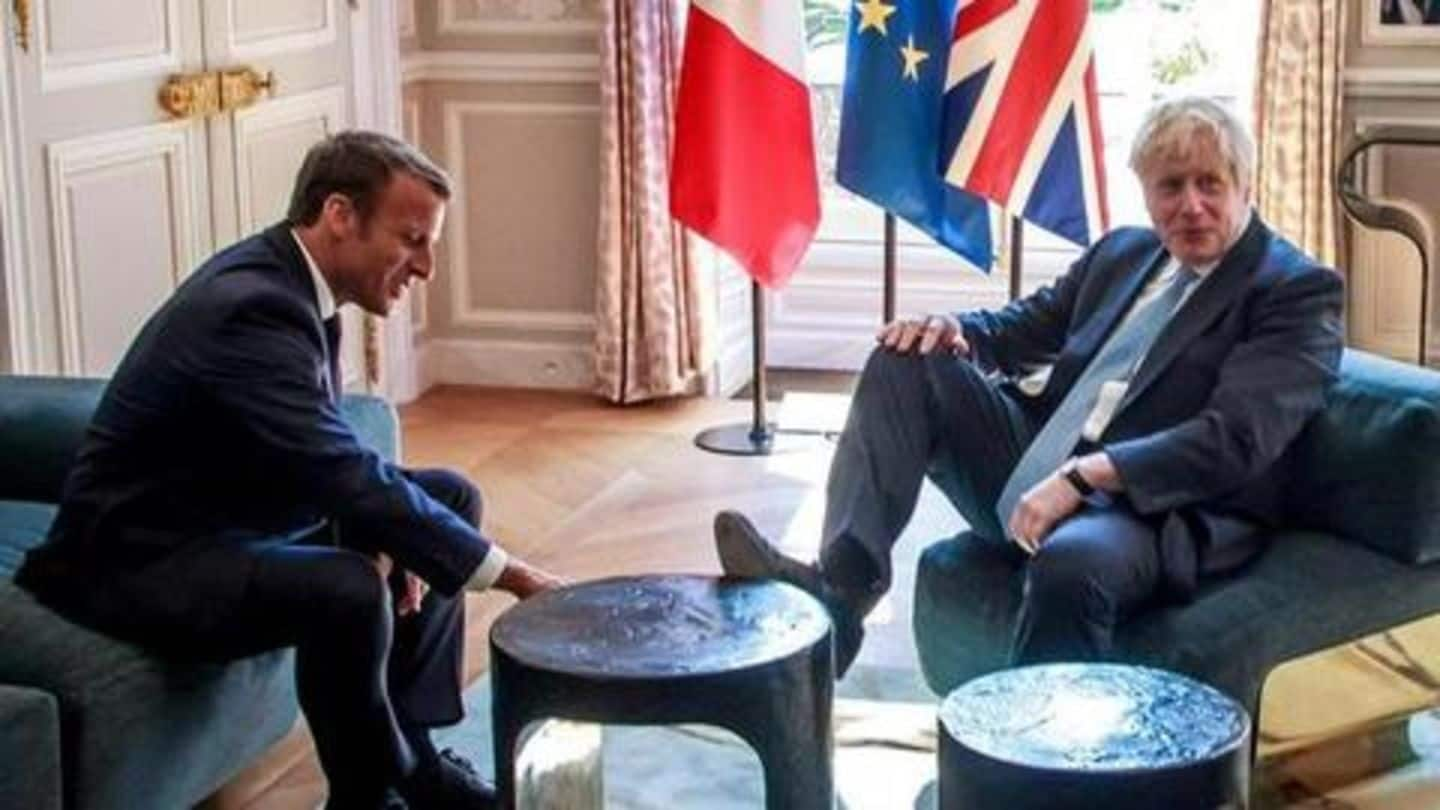 UK Prime Minister Boris Johnson made himself a bit too comfortable while talking to French President Emmanuel Macron at the latter's palatial residence. A video of Johnson putting his foot up at a coffee table in Elysee palace, the official home of the French president, has gone viral. While many lambasted Johnson's behavior, others said he was responding to a joke. Here's what went down.
While talking to Macron, Johnson rested foot on coffee table
Johnson, who was elected to the top post of Britain in July weeks after Theresa May resigned, is in France for the G7 Summit. He met Macron to discuss Brexit and other issues. As innumerable cameras watched the global leaders, Johnson lifted his right foot up and placed it on the coffee table. He then waved at photographers, as Macron looked amused.
Here's a clip of the incident
Boris Johnson felt right at home the Elysee Palace during his visit with Emmanuel Macron today, even putting his foot up on one of the coffee tables during the meeting.

Macron and Johnson held talks on Brexit. Britain has yet to formulate a final withdrawal deal with the EU. pic.twitter.com/wg9wxKrntA

— euronews (@euronews) August 22, 2019
Don't they teach manners at Eton, wondered a Twitter user
Naturally, netizens were quick to reprimand Johnson. One Twitter user wrote: Imagine the outrage on the British tabloids if a foreign PM did this in Buckingham Palace! Did they not teach #BorisJohnson good manners at Eton? (sic) Another French user tweeted: It's unbelievable! No education! Bojo really has his foot on the table at the Elysee Palace. I wonder what Queen thinks about it? (sic)
It's embarrassing, opined former spokesperson of ex-PM Tony Blair
Johnson's behavior turned political after Alastair Campbell, former spokesperson of ex-PM Tony Blair, said, "It's embarrassing that the newly-elected PM of UK takes so long to go and see the German Chancellor and French President and then sticks his feet up on the President's table."
There were others who defended Johnson
However, there were others who said social media outrage was unwarranted. Sharing the entire clip, Tom Rayner of Sky News, said Johnson's "foot up" moment was a part of friendly conversation between him and Macron. In the video, Macron appeared to be gesturing that the table can be used as a foot-stand and Johnson followed suit. He kept his foot only for few seconds.
WATCH: Here's the Reuters video of Boris Johnson putting his foot on the Elysee furniture. It seems President Macron was making small talk suggesting the table would work equally well as a footstool should the PM want to recline, which Johnson then jokingly does pic.twitter.com/dnv37t9mS4

— Tom Rayner (@RaynerSkyNews) August 22, 2019
Meanwhile, Macron delivered a stern message to Johnson on Brexit
During his meeting with Johnson, Macron is learned to have told the Conservative Party leader that it is impossible to form a new Brexit deal before October 31 deadline. Notably, it's been more than three years since the UK voted to exit the European Union (EU), but it's still unclear when it would actually leave or on what terms.