#Hamberders: Trump spells 'hamburgers' wrong, Burger King takes a dig
#Hamberders: Trump spells 'hamburgers' wrong, Burger King takes a dig
Jan 17, 2019, 04:59 pm
2 min read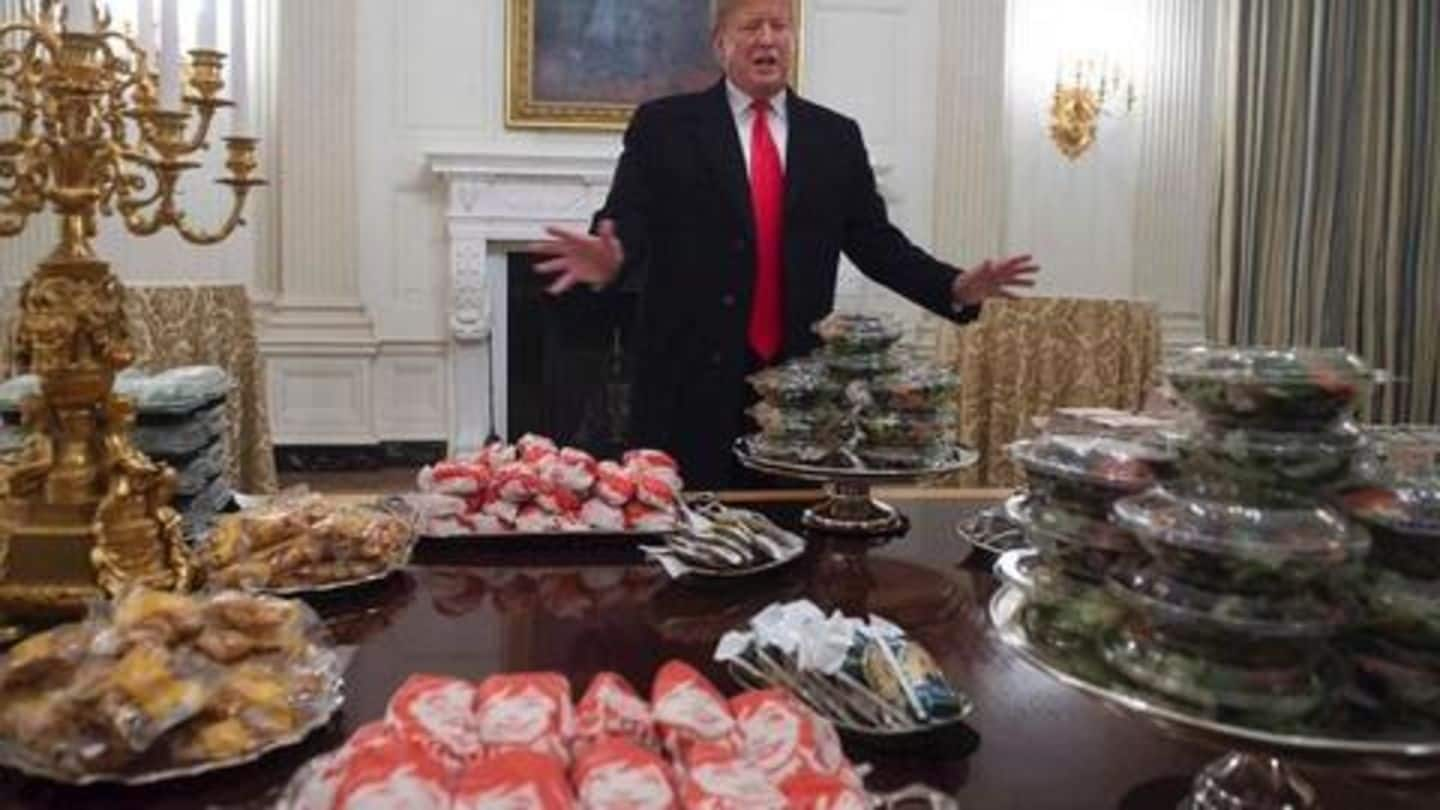 The world is no stranger to US President Donald Trump's public gaffes. Be it showing his back to Queen Elizabeth II or quashing climate change reports, Trump has, time and again, unknowingly entertained us with his amusing antics. The latest one is him getting the spelling of 'hamburgers' wrong in a tweet, and food giant Burger King decided to take a jibe at him.
White House welcomed Clemson Tigers with fast food buffet
On Monday, Trump welcomed the Clemson Tigers, the American football team of Clemenson University, to the White House. The buffet consisted of fast food dishes like pizzas, burgers, French fries, salads, and fish sandwiches from Burger King, McDonald's, Wendy's, and Domino's. The White House would have catered the event, but much of the President's kitchen staff was absent, thanks to the government shutdown.
Trump says he served the players over 1,000 'hamberders'
Trump and his press secretary told media that he paid for all the food. On Tuesday, POTUS tweeted to share his meeting with the football team saying he served a massive amount of fast food to the players, comprising "over 1,000 hamberders". Following this, Burger King came into action and trolled the President saying they are out of 'hamberders', "just serving hamburgers" now.
Trump's tweet that elicited response from the burger giant
Note: 'All out of Hamberders', Burger King only serving 'hamburgers'
due to a large order placed yesterday, we're all out of hamberders.
just serving hamburgers today.

— Burger King (@BurgerKing) January 15, 2019
#hamberders is now the favorite Internet craze of netizens
Along with Burger King, netizens also joined the Trump trolling fest. Many hilarious comments poured in taking a dig at the President and some called it their favorite Internet craze. One netizen wrote, "I have no words. Except #hamberder." Others lauded Burger King for its witty reply as another wrote, "Now, the only fast food burger I will ever eat will be from @BurgerKing."
Previously, Trump made a typo writing 'forest' as 'forrest'
This isn't the first time POTUS made this silly a mistake. Earlier this month, while talking about the devastating California fires, Trump did a typo by writing "forrest fires" instead of "forest". Needless to say, netizens couldn't stop roasting the 45th President of United States. Many jokingly said that Trump might have got confused with Tom Hanks' Forrest Gump. Trump later corrected the post.
'They call me Forrest Trump'