Guy, whose expressions in Trump-rally went viral, removed from seat
Guy, whose expressions in Trump-rally went viral, removed from seat
Sep 09, 2018, 05:04 pm
2 min read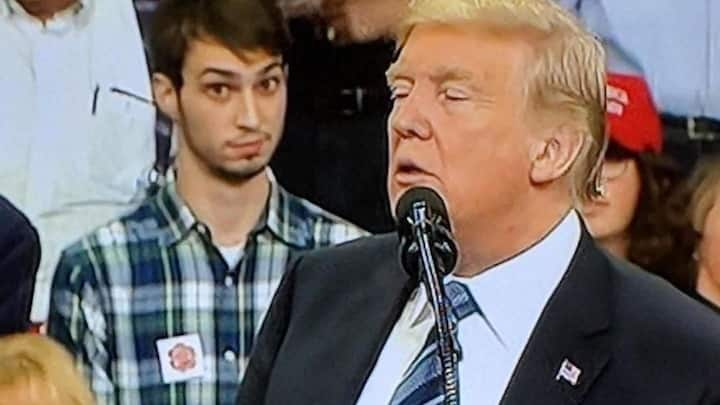 Donald Trump's rally on Thursday in Montana was just like any other, hats of 'Make America Great Again' dotted the venue, and everyone seemed enthusiastic. Except one guy wearing a plaid shirt. The 17-year-old sat behind Trump and his expressions whenever the President said something, impressed the Internet. Soon, he was removed from seat because he lacked energy. He didn't lack sarcasm though!
A high-school student, he asked to sit behind Trump
The high school student identified as Tyler Linfesty isn't a Trump supporter. He attended the rally only because he wanted to see the President. So, when he was told about randomly being selected for 'VIP Pass', meaning he would meet Trump, he was surprised. Tyler said he asked Trump if he and his friends could sit behind him, and the President agreed.
Trump's words were coupled with quizzical expressions of Tyler
But after he was seated, Tyler was not like anyone who got the best seats. While others cheered, he kept a stone face, which he claimed was natural. When Trump said, "The stock market is at record highs," or, "Unemployment is at record lows", Tyler made a quizzical expression. And when Trump said more Americans are working now, Tyler mouthed "Is that true?"
Those expressions have got everyone talking
Officers nicely asked Tyler to leave, he didn't hesitate
Of course, Tyler was extremely visible. His friends sent him messages to tell him that. And he knew he would soon be removed from the spot, which he was. Tyler said some Secret Service members and local police asked for his ID, and kept him waiting for 10 minutes. Then he was asked to leave, very nicely, and Tyler obliged without hesitating.
About political interests, Tyler says he likes being informed
Tyler, who identifies himself as a social democrat, like Bernie Sanders or Alexandria Ocasio-Cortez, will turn 18 next month and is excited to vote in mid-term elections. "I've always just liked being informed. I like knowing what's going on," he said when asked about his interests in politics. Tyler, knows things on Internet die soon, but he is plaid shirt guy everyone's talking about.