Now, terrorist Hafiz Saeed dares Pakistan government to arrest him
Now, terrorist Hafiz Saeed dares Pakistan government to arrest him
Feb 06, 2018, 11:21 am
2 min read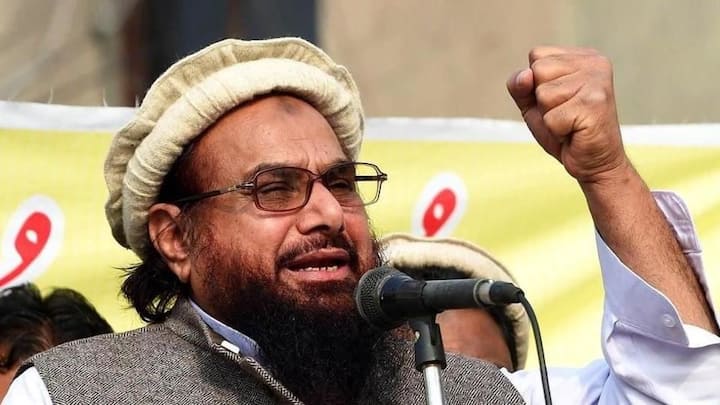 Jamaat-ud-Dawa (JuD) chief Hafiz Saeed has now dared the Pakistan government to arrest him if they can. He also said that he won't stop fighting for the cause of Kashmiri people and "dedicated 2018" for them. At a rally, the 26/11 Mumbai terror-attack mastermind bellowed that "we will emerge more strongly if you try to suppress us." What else did he say? Read on.
To begin with, has Pakistan taken any action against Saeed?
US supports India's claims that Saeed is responsible for the deadly Mumbai terror attacks in November 2008 and has placed a $10mn bounty on him. But, the UN-designated terrorist was released from a 297-day house arrest in November following Lahore HC's order. US reacted sharply to his release, asking Pakistan to make the "right decision" and take action. They also suspended Pakistan's security assistance.
But, what are Pakistan PM Shahid Abbasi's views about Saeed?
Meanwhile, on January 16, Pakistan PM Shahid Abbasi in a local TV channel's interview claimed that there is no case against Saeed. What's more, he referred to the latter as "Sahib" or "Sir" throughout. This angered US, which called for Saeed's prosecution "to the fullest extent of law." Meanwhile, Pakistan government said it plans to seize charities run by Saeed.
What else did Saeed say at the rally?
Retaliating to Abbasi's remarks, Saeed welcomed UNSC's monitoring team to visit JuD centres to see their charity work. He claimed that PM Modi has failed Kashmir and had signed secret agreements regarding Balochistan. Further, he declared that India is colluding with Israel against Pakistan security. Saeed slammed ousted PM Nawaz Sharif for ignoring the "Kashmir cause" and urged Abbasi to take it up.