Indian-origin doctor, who won Miss England, once faced racial bullying
Indian-origin doctor, who won Miss England, once faced racial bullying
Written by
Siddhant Pandey
Aug 02, 2019, 08:38 pm
3 min read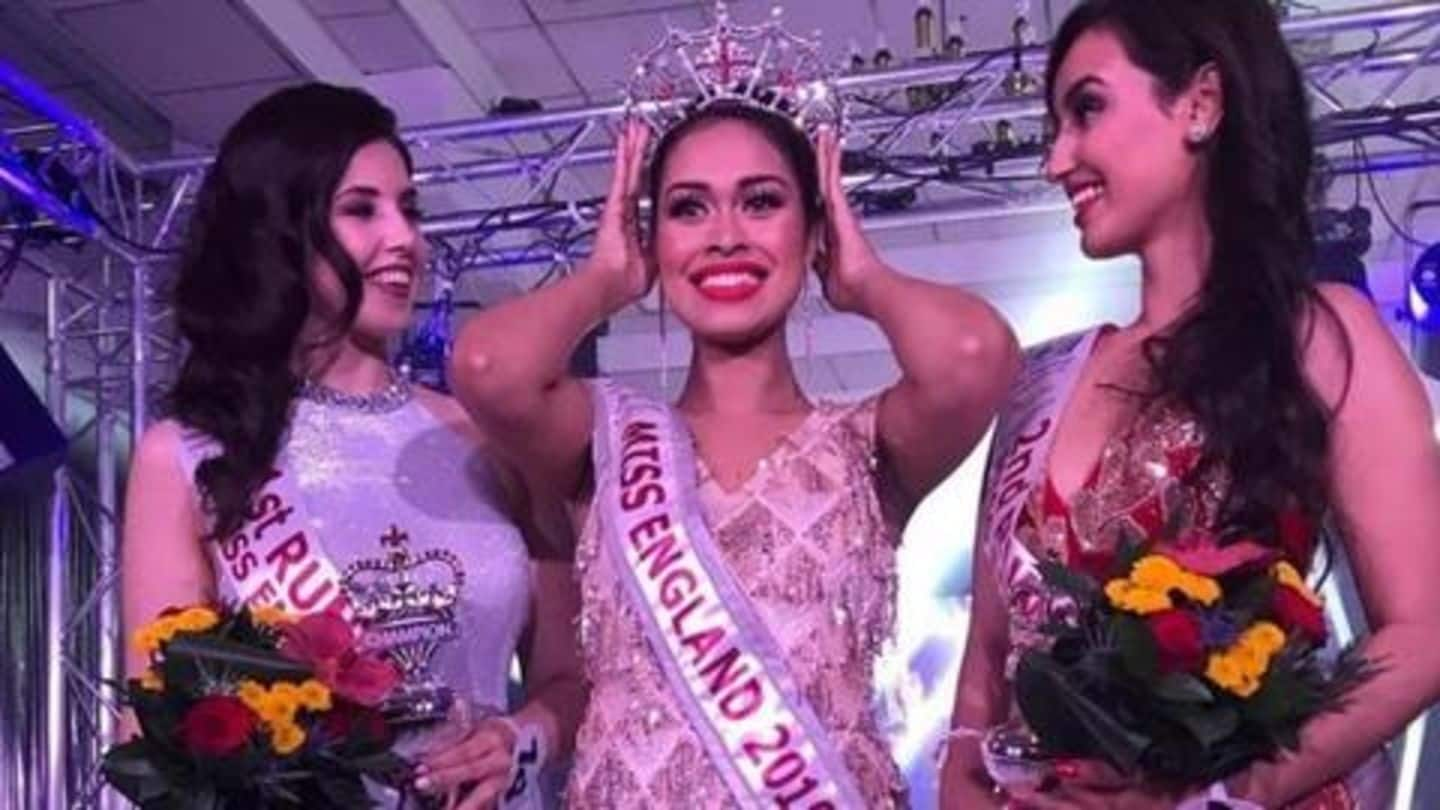 While models often get stereotyped as stupid, Bhasha Mukherjee, the 23-year-old who was crowned Miss England on Thursday, is living proof that they aren't. Mukherjee, who hails from India, has an IQ of 146 (genius level), fluently speaks five languages (English, Bengali, Hindi, German and French), and has just started working as a junior doctor at Pilgrim NHS Hospital in Boston, Lincolnshire, England.
She will now represent England at Miss World 2019
Mukherjee, from Derby, was crowned Miss England 2019 at the coronation night of Miss England 2019 held at The New Bridge Hotel, Newcastle upon Tyne, United Kingdom, on Thursday. She was crowned by Miss England 2018 Alisha Cowie and will now represent England at Miss World 2019. Along with the title and the crown, Mukherjee has also won a trip to Mauritius.
'I never thought in a million years that I'd win'
Mukherjee told Daily Mail, "I was always lugging my suitcase around on my own, in my glasses, no makeup on and there were these incredible, tall girls with amazing hair and perfect makeup." She added, "When I got to the top six, I thought okay well at least I've made it this far. I never thought in a million years that I'd win."
Her feats are hardly limited to Miss England title
After the competition, which went on till late into the night, Mukherjee woke up early to embark on a three-hour train journey at 4 am the next morning to start her first day as a junior doctor at NHS Hospital. She is now busy house-hunting to find residence closer to her workplace. "It's been quite a hectic week," she said.
She's always been an amazing daughter, says Mukherjee's father
Meanwhile, her father, Durga (57), told Daily Mail, "She has always been an amazing daughter, and I could see she was very talented from a young age." Her mother, Mita (51), said, "She wasn't always such a great looker and got bullied for that, and for being an immigrant." She added, "It takes courage to carry on the fight and that's what she did."
At school, Mukherjee faced racial bullying
Mukherjee was born in India and at age nine, she moved to the UK, where she "witnessed first-hand the cultural and financial struggle." She recalled living in a "drug and crime heavy" neighborhood. At school, she faced bullying as one of the "only three Brown people" and her crooked teeth. "I ate my lunch in the toilets," she said. Nonetheless, she excelled at school.
Mukherjee later attained two Bachelor degrees
Mukherjee also went on to complete two Bachelor degrees, one in medical sciences and another in medicine and surgery, from the University of Nottingham, the publication reported. However, at med school, she dealt with anxiety and depression, she said.
Mukherjee struggled without rich, influential contacts in modeling industry
Mukherjee also recalled people telling her that she wouldn't be able to make it into modeling in a world with "rich daddies and connected families" and "perverted middle-aged men." However, she said, she is proud that none of her contacts were "laid out on a silver plate," adding, "I compromise my character with countless clients who made me feel worthless."
'Just because we're pretty, it doesn't end there'
"This is a big win for a lot of young girls who are from similar ethnic backgrounds," said Mukherjee. She hopes her story inspires young girls to achieve what they want and not give looks too much importance. "Some people might think pageant girls are airheads, but we all stand for a cause," she said, adding "just because we're pretty, it doesn't end there."