US pulls out of 'one-sided' Iran nuclear deal
US pulls out of 'one-sided' Iran nuclear deal
May 09, 2018, 09:40 am
3 min read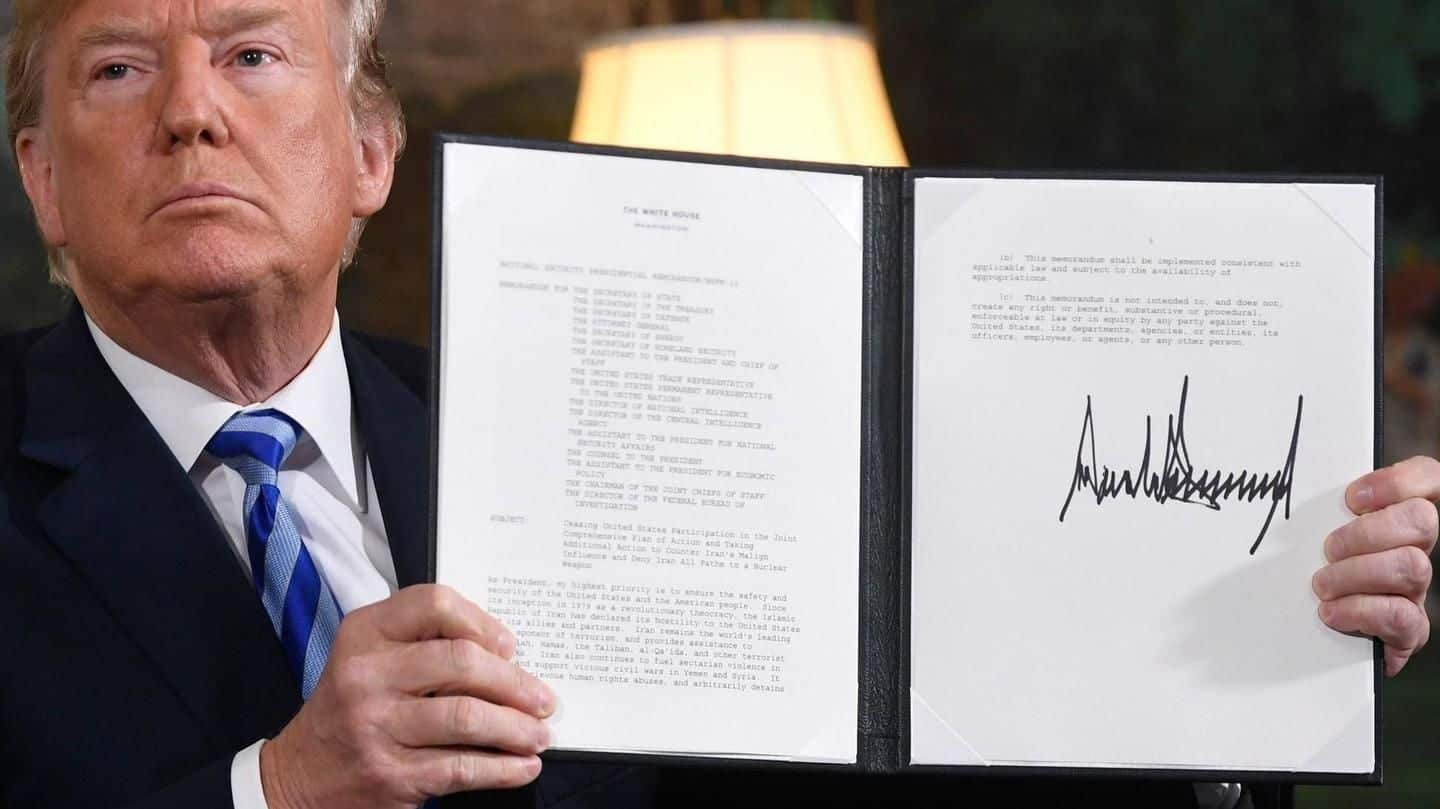 The US, in a major move, has pulled out of the 2015 nuclear deal with Iran, saying sanctions would be reimposed on the country's oil sector, precious metals trade, aircraft exports, and its attempts to buy American banknotes. However, President Donald Trump offered no alternative policy, lifting the only agreement that worked to constrain Iran's nuclear plans. There was an outcry from European allies.
What was the Iran nuclear deal?
The Joint Comprehensive Plan of Action (JCPOA) was signed in 2015 between Iran and the P5+1: US, UK, China, France, Germany and Russia. Under it, Iran was to limit its nuclear activities and allow in international inspectors, in return for lifting of economic sanctions imposed by the UN, US and EU. If Iran violated clauses, UN sanctions would be automatically reimposed for 10 years.
The JCOPA placed strict limits on Iran's nuclear activities
Before the deal, Iran had a large enriched uranium stock and 20,000 centrifuges, enough to create up to 10 bombs, the US had then said. JCOPA capped centrifuges at Iran's Natanz facility to 5,060 till 2026 and uranium stock to 300kg till 2031. It also restricted R&D to Natanz till 2024, and all enrichment activities at Fordo facility until 2031.
Till the deal was signed, sanctions by the UN, US and EU had cost Iran over $160bn in oil revenue during just 2012-2016. Afterwards, it gained access to assets worth over $100bn frozen overseas, and resumed oil trade internationally under the global financial system.
Why is Trump withdrawing now?
Trump has said the "decaying and rotten" deal limited Iran's nuclear activities only briefly while handing it a $100bn windfall that it was using to fund "weapons, terror and oppression." Economic sanctions would now be reimposed on Iran within 90-day and 180-day wind-down periods. Sanctions will also be placed on European companies involved in business with Iran, if they don't finish within six months.
Iran hits back with threats of "more uranium enrichment"
In response, Iran has warned it might "start enriching uranium more than before." "I have ordered the Atomic Energy Organisation of Iran to be ready for action, so if necessary we can resume enrichment without any limitations," President Hassan Rouhani said. But it would "wait a few weeks" to speak to allies. "If we achieve the deal's goals in cooperation with other members, it'll remain in place."
Here's what world powers said in response to US
US' decision was met with criticism globally. Former president Barack Obama called it "misguided", while vice-president Joe Biden said a better deal is "an illusion." Russia said it puts the Korean peace process in uncertainty. UK, Germany and France have reiterated their "continuing commitment" to the deal, urging Iran to "show restraint." EU too said it would continue as long as Iran remained committed.
Saudi Arabia and Israel are the winners, for now
The decision isn't without supporters. Saudi Arabia's rival has got a financial setback, leaving it to earn heavy profits as oil price spikes. There's celebration in Israel too, which has been insisting it has evidence showing Iran's duplicity, but had been ignored. A hardliner section in Iran who want "Death to America" are happy, who have scored a win over the country's moderate forces.
Netanyahu welcomes US decision