Myanmar: Journalists' sentence garners criticism, but Suu Kyi defends decision
Myanmar: Journalists' sentence garners criticism, but Suu Kyi defends decision
Sep 13, 2018, 07:16 pm
3 min read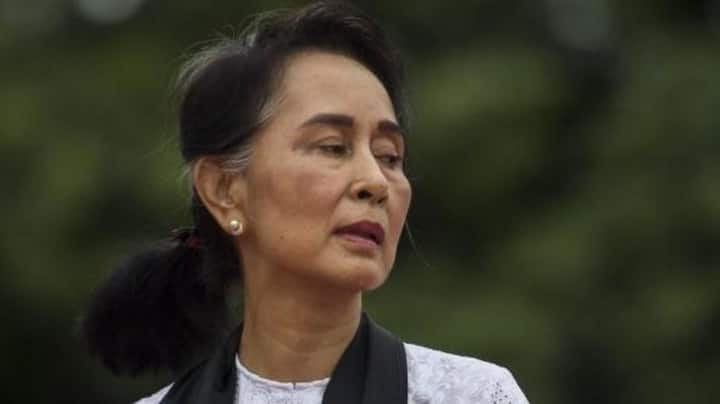 Amid widespread international criticism over the arrest of two Reuters journalists in Myanmar, the country's de-facto leader Aung San Suu Kyi has defended the court's verdict and said the two were imprisoned as per the law. The two Myanmar citizens were sentenced to seven years in prison recently. They were investigating the deaths of Rohingya men in Inn Din village of Rakhine state.
Verdict has little to do with Freedom of Expression: Suu
At the World Economic Forum meeting in Hanoi, Suu Kyi said Wa Lone and Kyaw Seo weren't jailed because they were journalists, but because the court decided they broke the Official Secrets Act. She even went on to say those slamming the judgment hadn't read the order, and she had. Suu Kyi asserted it had nothing to do with freedom of expression.
Read the judgement, Suu Kyi advises critics
"I don't think anyone has bothered to read it. I would like them to read the judgment and point out where there has been a miscarriage of justice," Suu Kyi said.
Suu Kyi talks about law of land, experts don't agree
While Suu Kyi claims the journalists weren't following the law of the land, experts in media claimed the colonial act she referred to, was time and again used to subdue dissenting voices. The defense attorneys of the journalists also claimed the case against them was pretty ridiculous, and they were, in fact, working under the boundaries of the law.
Backstory: Journalists were invited for dinner by police, later arrested
The case dates back to December last year wherein the journalists were invited for a dinner by police in Yangon. As they were leaving the eatery, they were arrested for possessing classified material. After a trial that lasted months, they were sent to prison. "We have no fear. We know what we did. It was just about getting information," said Wa Lone after sentencing.
Suu Kyi accepts Rohingya crisis could have been handled better
Suu Kyi also spoke about the Rohingya crisis where thousands were displaced from their homes. She told WEF President Borge Brende, "There are of course ways in which we, with hindsight, might think that the situation could have been handled better." But she added that for long-term stability, one has to be "fair to all sides. The rule of law must apply to everybody."
Journalists can appeal, but would it make a difference?
Notably, the journalists can make an appeal. But Suu Kyi's statements hint there are slim chances of that yielding any result. Many expected Suu Kyi, who is a Nobel laureate, would bat for Presidential pardon but she seems to have made her stand clear.