Notre-Dame fire: Design of 850-year-old cathedral made firefighters' job difficult
Notre-Dame fire: Design of 850-year-old cathedral made firefighters' job difficult
Apr 16, 2019, 09:23 am
4 min read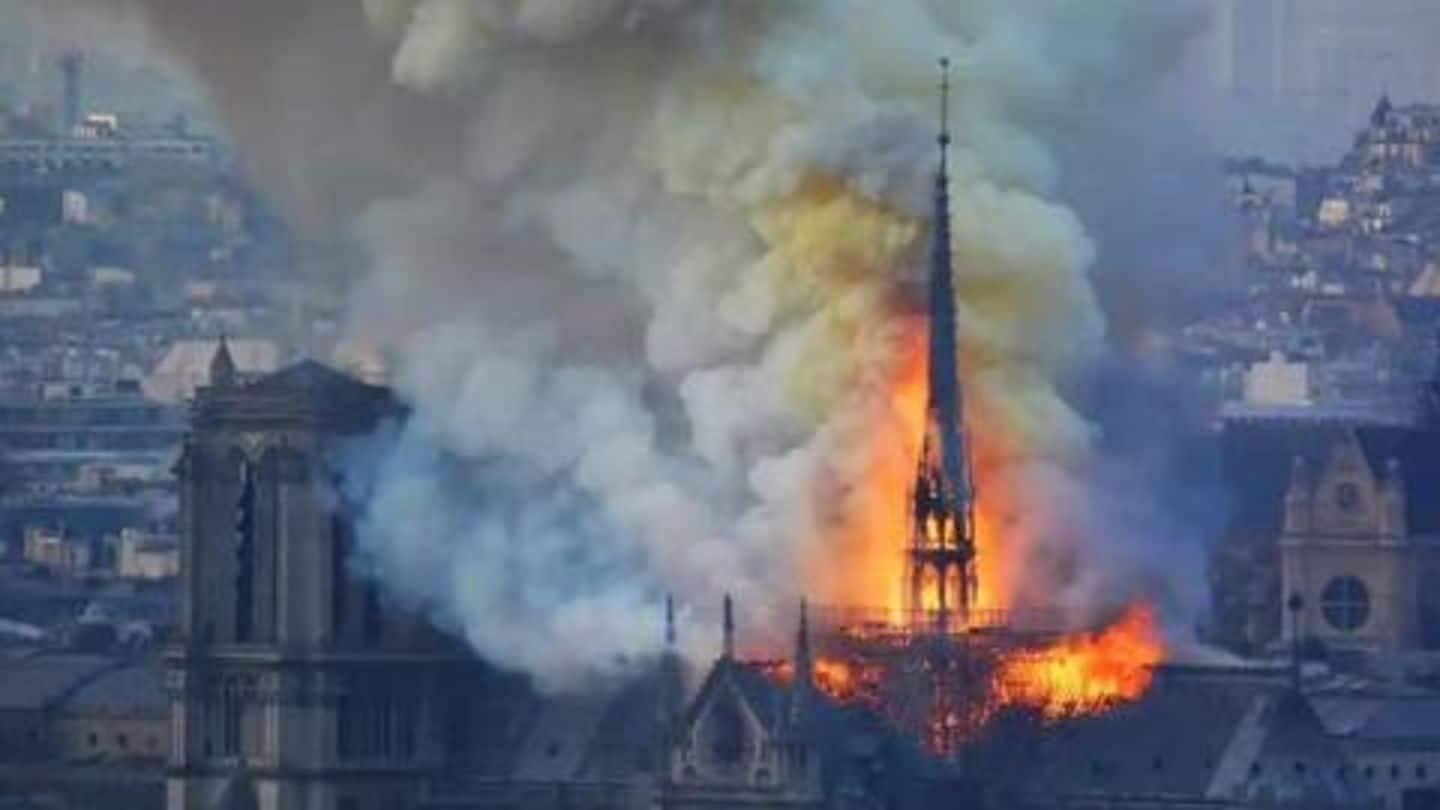 On Monday, Parisians watched one of their city's iconic cathedral go up in flames and the rest of the world mourned the loss of history too. Notre-Dame cathedral, which is nearly 850 years old, caught a massive fire and the monuments' iconic spire collapsed. While firefighters rushed at once to douse the blaze, Notre-Dame's design made their job difficult. Here's what happened.
Notre-Dame has stood the test of time
Notre-Dame's foundation was laid in 1163 by Pope Alexander III and the cathedral was completed in the 13th century. With its towers, spire, flying buttresses, and stained glass, Notre-Dame is considered an architectural marvel. It was at this cathedral that Napolean Bonaparte's coronation happened in 1804. The cathedral draws as many as 13 million visitors each year.
400 firefighters went to site to douse the blaze
Notre-Dame burned for hours and at one point nearly 400 firefighters were sent to bring it under control. The cause of the blaze is still unknown. After hours of operation, the fire was brought under control. Notably, 16 religious statues were saved in the blaze as they were taken out of the cathedral on Thursday, for the first time in a century for cleaning.
Firefighters were quick but they couldn't have done much
As people around the globe and world leaders lamented the incident, the one question which popped was: Could firefighters have done something to control the blaze? Apparently not. Experts told AP the structure of Notre-Dame fueled the fire. "Very often when you're confronted with something like this, there's not much you can do," said Glenn Corbett, professor of fire science at John Jay College.
This kind of fire can't be controlled from inside: Expert
The massiveness of the structure made firefighting equipment useless. According to Byrant, former fire chief in Oklahoma, one can't really control this kind of fire from inside, but can get defensive and douse it from outside. "When a fire gets that well-involved it's very difficult to put enough water on it to cool it to bring it under control," Bryant said.
Meanwhile, Trump's idea of tanker jets could have proved devastating
Meanwhile, US President Donald Trump suggested that tanker jets should be dropped. But according to experts, this could have caused more damage. The crush of water could have collapsed the entire cathedral. Separately, narrow streets made it difficult for large ladder fire trucks to reach the spot. Byrant added that there aren't enough apparatus to spray water on fire of this scale.
Notably, other structures have taken cautious steps
As it turns out, a few historic structures have readied themselves to face any fire adversity. New York City's St. Patrick's Cathedral, which was built in 1878, installed a sprinkler-like system and coated the wooden roof with a fire retardant. Similarly, Washington National Cathedral, which was built in 1912, is in process of installing sprinklers. Fire inspections take place in the cathedral every two years.
Macron said he understood what French people felt
French President Emmanuel Macron thanked firefighters for saving the monument's iconic facade and towers. He promised to launch an international fundraiser to rebuild the cathedral. "Notre Dame is our history, it's our literature, it's our imagery. It's the place where we live our greatest moments, from wars to pandemics to liberations," he said and added he understood how his fellow countrymen felt.
Paris won't be Paris anymore, said an eyewitness
Those who witnessed the cathedral being consumed by flames equated it with madness. An eyewitness, Anne Marie, said, "In Paris, it's a monumental symbol -- every person with different religions are really moved and saddened. Paris without the cathedral is not Paris anymore" Another local Binétruy said when the spire fell most of the people "were just shocked silently".