Speculation about aliens as New York night sky turns blue
Speculation about aliens as New York night sky turns blue
Dec 28, 2018, 06:46 pm
3 min read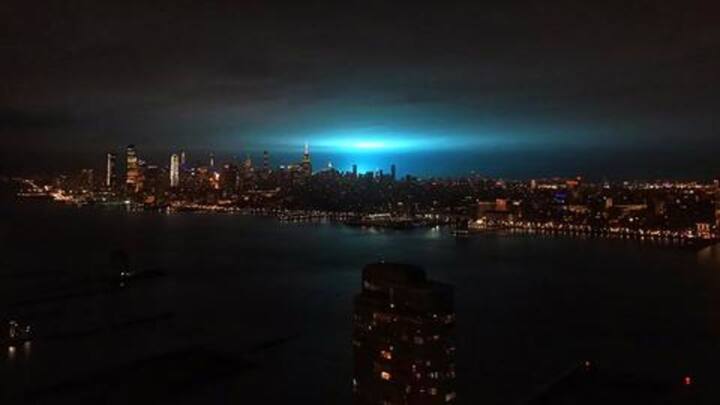 On Thursday night, many New York City residents went into panic mode as the sky above the city turned an eerie blue. The bluish hue could be seen from miles away, and social media exploded with speculation that something unearthly was going down in the city that never sleeps. Indeed, many feared (and hoped) that aliens had finally visited Earth. However, they were disappointed.
WATCH: A video of the eerie blue light over NYC
The phenomenon took place around 9pm local time
It was around 9pm local time in New York when many heard a boom, followed by a hum. Lights flickered in many parts of the city, power went down briefly at the La Guardia airport, and a plume of smoke filled the night sky as it turned an unnatural shade of blue - one you'd see in a movie like Independence Day.
Social media was buzzing with speculation about an alien invasion
As the eerie blue light lit up the night sky over New York City, Twitter exploded with photos and videos of the phenomenon, with many speculating that aliens had, at long last, made their way to planet Earth. While some cowered in fear, and others hoped for a glorious meeting with extraterrestrial life, they were all left disappointed when they learnt the truth.
Turns out, a transformer explosion lit up the night sky
Turns out, the eerie light that lit up the night sky was the result of a transformer explosion that had taken place in a power substation in New York City. A power surge and electrical "arching" led to the explosion, which also caused a small fire at the station. However, thankfully, there were no injuries or deaths.
The explosion led to disruptions across the city
Understandably, the explosion at the substation disrupted electricity supply to many parts of the city. While La Guardia airport saw a brief blackout, some train services in the city were disrupted because of the transmission dip. The explosion also led to some flights getting cancelled and delayed, but power supply and services in the city was restored to their normal state by midnight.
The anti-climactic explanation has left many disappointed
Nonetheless, the spectacular incident left many shaken - there was a surge in 911 emergency calls, and many residents scurried to leave New York, fearing that they were being invaded. However, now that the mystery around the incident has dissipated, many New York residents who were hopeful about witnessing alien contact have been left disappointed. After all the excitement, you can't really blame them.