Pakistan: Suicide bomb blast inside Peshawar mosque kills 30
Pakistan: Suicide bomb blast inside Peshawar mosque kills 30
Written by
Siddhant Pandey
Mar 04, 2022, 03:59 pm
3 min read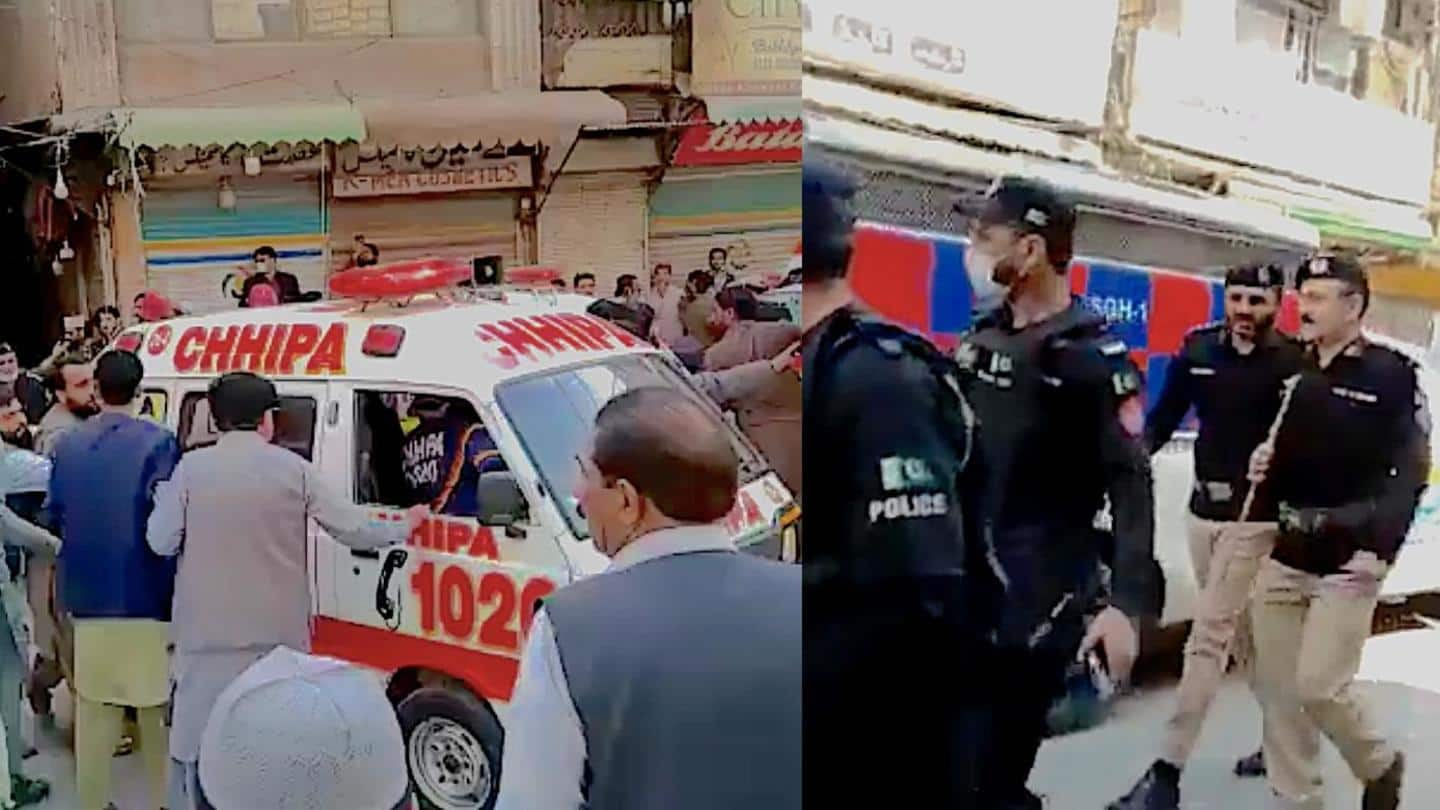 An explosion at a mosque rocked the Kocha Risaldar area of Pakistan's Peshawar city on Friday. As many as 30 people have been killed in the blast, while 50 were reportedly injured. Khyber Pakhtunkhwa government spokesperson Barrister Mohammad Ali Saif said the blast was a suicide bombing. One police officer was among those killed, Capital City Police Officer (CCPO) Peshawar Ijaz Ahsan confirmed.
Many had gathered for Friday prayers
The blast occurred as several people had gathered inside the Kocha Risaldar mosque for Friday prayers, police official Waheed Khan told the Associated Press. A witness, Shayan Haider, said that he was thrown into the street while trying to enter the mosque. "I opened my eyes and there was dust and bodies everywhere," Haider was quoted as saying by Dawn.
2 attackers shot at guards, entered mosque: Initial reports
Two attackers tried entering the mosque in the Qissa Khwani Bazaar of Peshawar and shot at the police officers standing guard, Ahsan said citing initial reports. One of the cops was killed while the other was injured in the shooting. Shortly thereafter, a blast occurred inside the mosque, the CCPO added. The identity of the two shooters has not been confirmed yet.
Suicide bomber detonated vest inside mosque's pulpit: Eyewitness
The suicide bomber, dressed in black, shot and killed the guard and then fired five to six bullets, an eyewitness told Geo News. The suicide bomber then entered the mosque's main hall and detonated an explosive vest as people prayed, the eyewitness said. "Following this, there were bodies and injured people lying everywhere," they added.
Evidence collected from blast site
The CCPO said that evidence has been collected from the blast site. However, it is too early to say anything about the nature of the blast, he said. No one has claimed responsibility for the explosion.
Lady Reading Hospital on red alert
Those injured in the blast were rushed to the Lady Reading Hospital in Peshawar. The hospital has reportedly been put on red alert and the doctors are struggling to accommodate all those wounded into operating theaters. Thirty bodies had been brought to the hospital, said Asim Khan, the media manager of Lady Reading, confirming the death toll.
PM Imran Khan condemns 'terrorist incident'
Prime Minister Imran Khan has directed provisions of immediate medical treatment to those injured in the "terrorist incident." He also expressed grief over the loss of lives. Interior Minister Sheikh Rashid condemned the blast and has asked officials to submit a report. Opposition leaders also criticized the incident, demanding a review of the "serious security conditions" and the arrest of "terrorist elements."