Nepal: Plane carrying 72 people crashes in Pokhara, all dead
Nepal: Plane carrying 72 people crashes in Pokhara, all dead
Jan 15, 2023, 12:32 pm
2 min read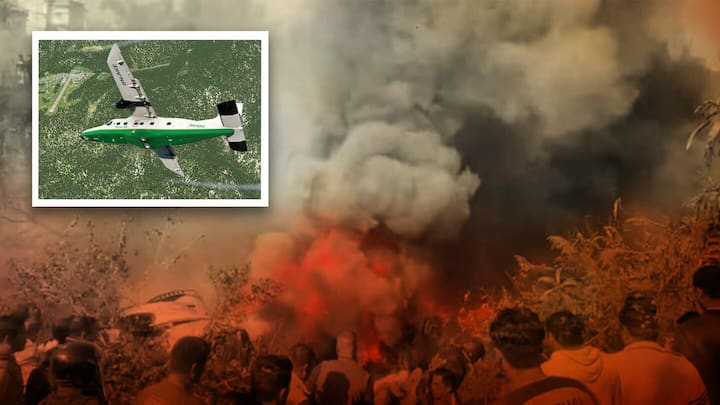 A Yeti Airlines-operated passenger plane carrying 72 people crashed in Nepal's Pokhara on Sunday morning. The plane was on its way from Kathmandu to Pokhara when the incident happened and it crashed between the city's old domestic airport and the new Pokhra International Airport. Officials said there have been no signs of any survivors in the crash while the search operation is still on.
What did official spokesperson say?
According to Yeti Airline's spokesperson Sudarshan Bartaula, the plane was carrying 68 passengers and four crew members when it crashed seconds before landing. The incident happened between the old airport and the Pokhara International Airport, he told The Kathmandu Post. Meanwhile, visuals shared on social media showed plumes of smoke pouring from the collision scene as rescuers attempted to extinguish the fire.
Visuals of the plane in the aftermath of crash
Crash happened due to alleged technical glitch: Nepal Airport Authority
According to the Civil Aviation Authority of Nepal (CAAN), Yeti Airlines' 9N-ANC ATR-72 plane took off from Kathmandu at 10:33 am but crashed approximately 20 minutes later towards Pokhara, a few kilometers away. Officials of Nepal Airport Authority reported the incident occurred owing to a technical malfunction while the pilot received authorization for landing from Air Traffic Control (ATC).
Nepal PM Pushpa Kamal Dahal chairs emergency meeting
According to Reuters, Nepal Prime Minister Pushpa Kamal Dahal presided over an emergency meeting following the incident. Soon after the crash, he expressed his sorrow and instructed all agencies to assist in the rescue mission. Notably, the plane carried 72 passengers, 10 of which were foreign nationals from India, Russia, Ireland, Korea, Argentina, and France.
Civil Aviation Minister Jyotiradiya Scindia expressed grief
The loss of lives in a tragic plane crash in Nepal is extremely unfortunate. My thoughts & prayers are with the families of the bereaved. Om Shanti.

— Jyotiraditya M. Scindia (@JM_Scindia) January 15, 2023
Record of air accidents in Nepal  
Nepal, which has the world's eight highest mountains, has a history of incidents plane crash. In May 2022, a plane operated by Nepali carrier Tara Air crashed, killing all 22 persons on board-16 Nepalis, four Indians, and two Germans. Another Tara Air plane also crashed in 2016 killing 23 people. In 2018, US-Bangla Airlines Flight 211 crashed at Tribhuvan International Airport, killing 51 passengers.