Brazil: Bolsonaro supporters' 'mega protest' fizzles as authorities bolster security
Brazil: Bolsonaro supporters' 'mega protest' fizzles as authorities bolster security
Jan 12, 2023, 04:22 pm
2 min read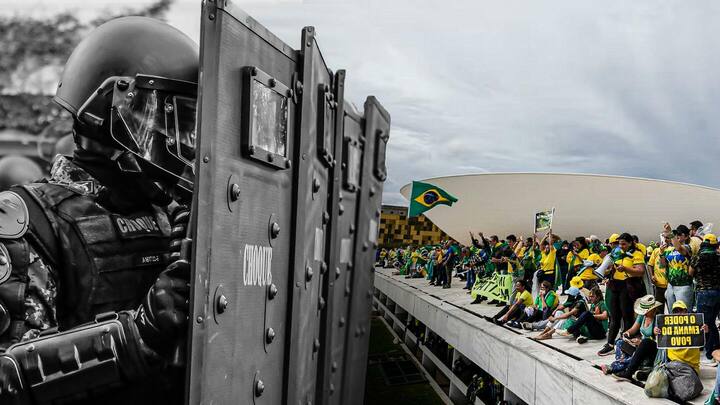 To avoid another Sunday-like riot in Brazil, authorities bolstered security as social media flyers calling for a "mega-protest to retake power" in two dozen cities surfaced. Supporters of former President Jair Bolsonaro stormed the country's government offices on Sunday, claiming that he was ousted by "sham" elections. However, Wednesday's demonstrations reportedly turned out to be a flop, as only a few protesters showed up.
Why does this story matter?
In an incident reminiscent of the 2021 US Capitol riots, over 3,000 supporters of Bolsonaro—Brazil's far-right former president—stormed and ransacked the Congress and presidential palace to protest what they claim was a "stolen election."
President Luiz Inacio Lula da Silva returned to power a third time after 20 years. His victory extended the wins for leftists in the region after Chile, Colombia, and Argentina.
Protesters turn up in very little numbers
Bolsonarist protesters were numbered by a single digit at Rio de Janeiro's Copacabana beach, where 29 police vehicles were present. Brasilia's Esplanade of Ministries—which is surrounded by federal government buildings and was the site of Sunday's riot—saw only one couple turn up, reported AP. Federal authorities said all access to the site of Sunday's riot was blocked, and an area was designated for protest.
Right to protest not to be confused with terrorism: Authorities
After the Sunday riot, Silva ordered federal security's intervention in Brasilia until January 31. Ricardo Cappelli, the federal appointee for controlling the capital's security, said, "The right to protest freely will always be respected and cannot be confused with terrorism." Citing the call to protest, a Supreme Court justice directed local authorities to prevent protesters from blocking roads and occupying public spaces and buildings.
Insurrectionists ransacked the federal buildings on Sunday
Bolsonarista terrorists broke down the police barrier and invaded the Congress ramp and threatened to occupy the chamber and the Senate. The Minister of Justice @FlavioDino announced that he is allowing the use of all federal forces against them.pic.twitter.com/Q3nbRhjfpV

— Nathália Urban (@UrbanNathalia) January 8, 2023
1,500 arrested for Sunday's riot
After the Sunday riot, as many as 1,500 people were arrested on Monday, and hundreds of them were sent to prison. Bolsonaro questioned the electronic voting machines and raised an alarm among his supporters that Silva would impose communism despite experts refuting his claims. Authorities have, however, reportedly identified some riot financiers in the south and center-west regions, where Bolsonaro has a sizable following.