WHO recommends against using India-made cough syrups after Uzbekistan deaths
WHO recommends against using India-made cough syrups after Uzbekistan deaths
Jan 12, 2023, 01:32 pm
3 min read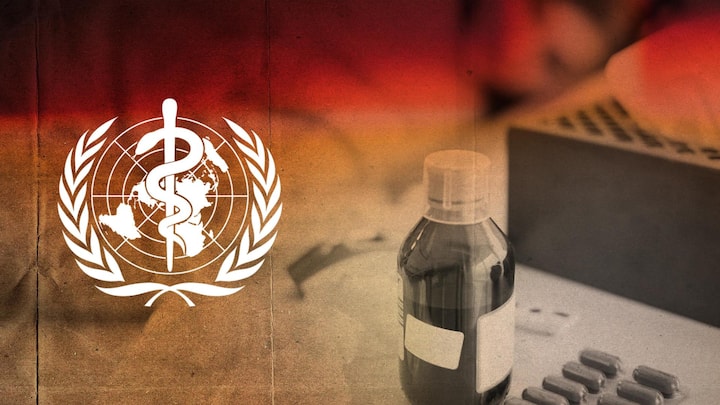 The World Health Organization (WHO) issued a medical alert on Wednesday, warning against the use of two cough syrups made by Noida-based company Marion Biotech for children in Uzbekistan. In its WHO Medical Product Alert, it said that the "substandard medical products," Ambronol and DOK-1 Max, failed to meet "quality standards or specifications and are therefore out of specification." Here's everything to know.
Why does this story matter?
In December, the Public Health Ministry of Uzbekistan claimed that at least 19 children died in Samarkand after consuming Marion Biotech's DOK-1 Max cough syrup.
The ministry also stated the syrup contained a toxic substance, ethylene glycol, and the deceased children had taken 2.5-5 ml, which exceeded the standard dose, at home.
Notably, Marion Biotech halted production of all medicines amid drug regulator inspections.
Ambronol, DOK-1 Max failed to meet quality standards: WHO
"The two products are AMBRONOL syrup and DOK-1 Max syrup. The stated manufacturer of both products is MARION BIOTECH PVT. LTD. To date, the stated manufacturer has not provided guarantees to WHO on the safety and quality of these products," the WHO said. "Substandard medical products are products that fail to meet quality standards or specifications and are therefore out of specification," it added.
Products may cause serious injury or death to kids: WHO
As per the WHO, lab analysis of the samples of these syrups by the Public Health Ministry of the Republic of Uzbekistan's national quality control laboratories found both products consisted of unsuitable amounts of diethylene glycol or ethylene glycol. It further said, "The substandard products referenced in this Alert are unsafe and their use, especially in children, may result in serious injury or death."
Marion Biotech's production license suspended by UP government
Marion Biotech is yet to provide guarantees to the UN health body on the quality and safety of these medicines, reported Reuters. After the deaths in Uzbekistan were reported, India's Health Ministry said production of all medicines at the company had been stopped. As per recent reports, the Uttar Pradesh government has also suspended its production license for not responding to its show-cause notice.
70 kids died in Gambia after consuming India-made cough syrup
Last week, the Uzbek security service detained four individuals as part of its investigation into the cough syrup-related deaths. The Uzbekistan incident followed the deaths of at least 70 kids in Gambia, which a committee had linked to cold and cough syrups manufactured by India's Maiden Pharmaceuticals. The company denied any wrongdoing and the Indian government inspectors found no contamination in the samples.