Duterte: Will quit if enough women are offended by kiss
Duterte: Will quit if enough women are offended by kiss
Written by
Shiladitya Ray
Jun 06, 2018, 07:20 pm
3 min read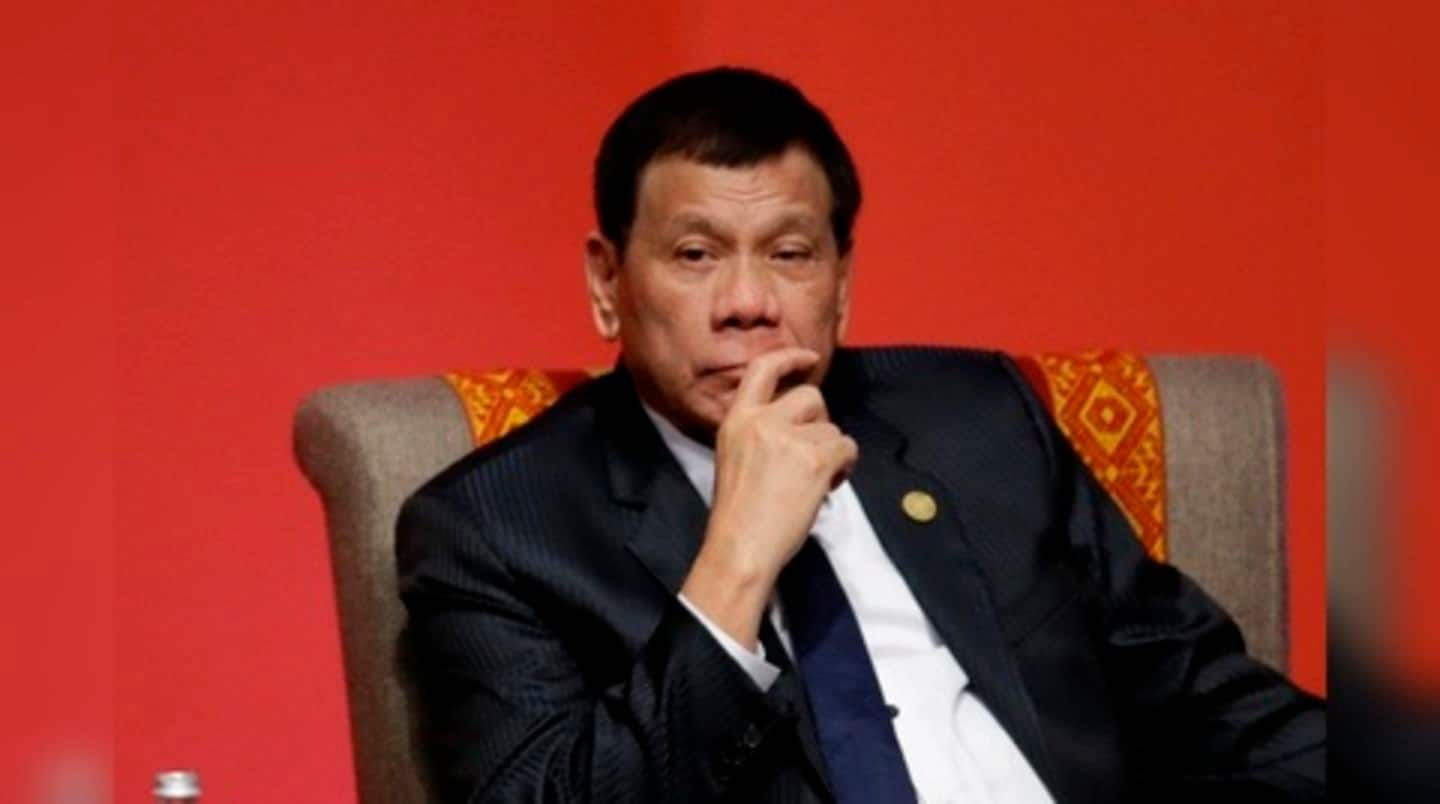 Philippine President Rodrigo Duterte has defended kissing the lips of a married Filipino woman in South Korea on Sunday, and has said that he would resign if enough women sign a petition calling for his resignation. The kiss by Duterte, who has often been criticized for his sexist comments, was described as "a despicable display of sexism and grave abuse of authority". Here's more.
On Sunday, at a town-hall style meeting with overseas Filipino workers in South Korea, Duterte sought a kiss from a married Filipino woman in exchange for a book he was handing out. He asked the woman whether she could explain to her husband that the kiss was a joke, received a positive reply, and leaned in and kissed her.
Woman says that there was "no malice" in Duterte's kiss
The woman, who is married to a South Korean man and has two daughters, told the media that she had been thrilled by her face-to-face encounter with the Philippine President, and said that there was "no malice" in Duterte's kiss.
His kiss draws criticism from women's groups, other political parties
Duterte's kiss was circulated widely on social media and, understandably, invited criticism from several quarters. Activist and politician Risa Hontiveros, from the Akyaban Citizens' Action Party said that he acted like an entitled "feudal king" who does "anything that he pleases". Meanwhile, the left-wing Gabriela women's party said that Duterte's "macho spectacle alarmingly makes sexual advances against women look right".
Duterte says that kissing women is his style
Defending his actions, President Duterte said that Sunday's kiss was "pure showbiz" intended to entertain the crowd of Filipino expatriates. He added that they both had "enjoyed it". Duterte, who enjoys a rockstar-like status among Filipinos, said that kissing women was his "style" during his 22-year-long stint as the mayor of Davao City, prior to becoming the President.
He says he kissed "every woman" during his mayorship days
"During the campaign in my mayorship days, I kiss[ed] every woman there, lips to lips. The problem is that you don't know me," said the 73-year-old Duterte.
Duterte's despicable streak of misogynist remarks
Duterte, however, is no stranger to being called out for sexism. The President has made several sexist remarks, including several public jokes about rape. Earlier, during a public outburst against communist guerrillas, he had directed security forces to shoot female insurgents in the genitals. Recently, women's rights advocates in the Philippines also launched the online #BabaeAko (I Am A Woman) campaign against his sexism.