Ukrainian troops retake control of 'whole Kyiv region'
Ukrainian troops retake control of 'whole Kyiv region'
Written by
Abhishek Sharma
Apr 03, 2022, 10:57 am
3 min read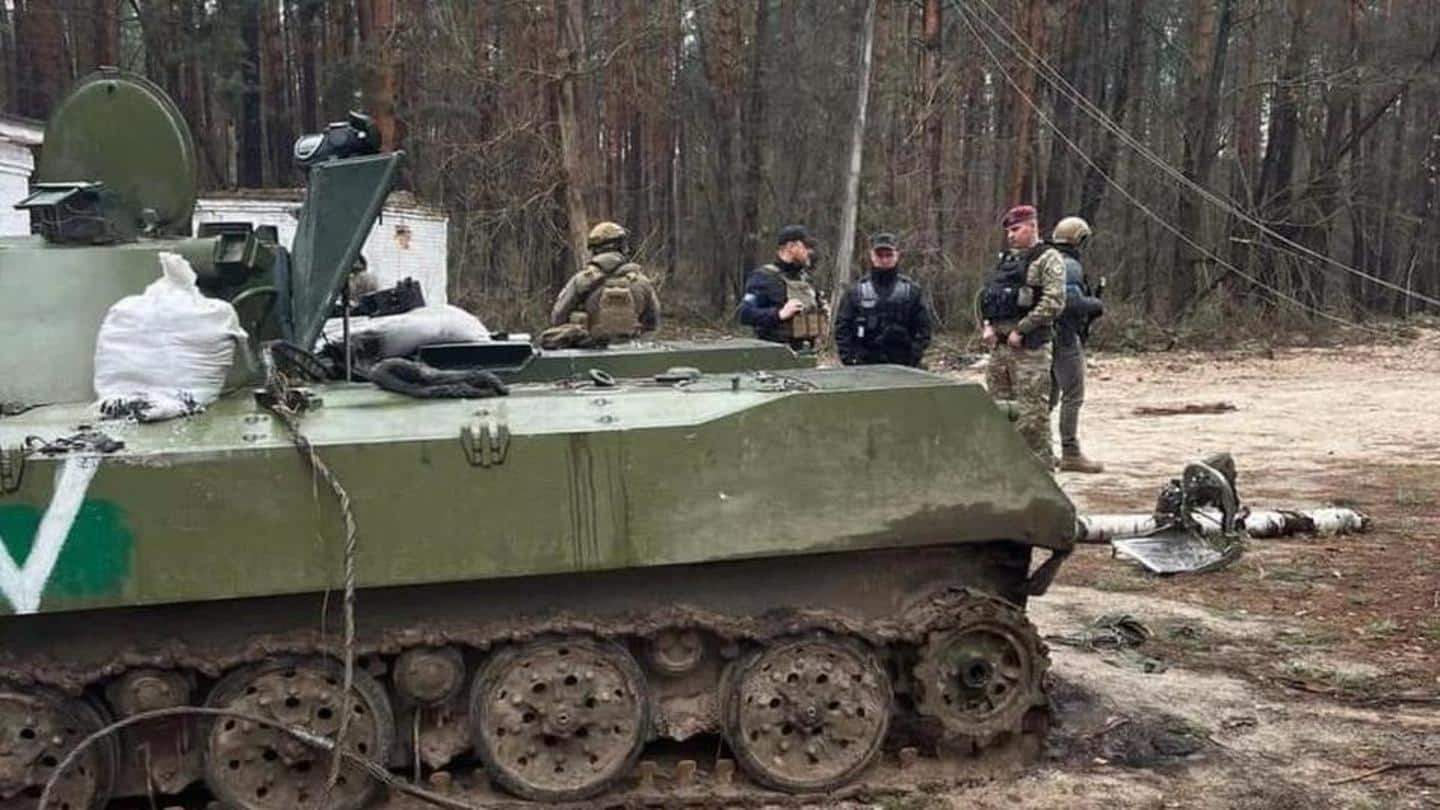 Days after Russia promised to withdraw its troops from capital Kyiv, Ukraine's deputy defense minister Hanna Malyar confirmed on Saturday that Ukrainian troops have regained control of the entire Kyiv region. "The whole Kyiv region is liberated from the invader," she wrote in a post on Facebook. This development came as the Russia-Ukraine war entered its 39th day on Sunday.
Mass graves in Bucha town
As Ukrainian soldiers advance in the Bucha town outside Kyiv, they have discovered evidence of what Ukraine says are war crimes committed by Russian troops. Corpses of civilians have been found scattered on the streets with at least 20 corpses found lying in a single street, Bucha's mayor Anatoly Fedoruk told AFP. Nearly 300 people have been buried in a mass grave, he added.
Red Cross heads to Mariupol to evacuate people
The International Committee of the Red Cross (ICRC) on Saturday said the operation to evacuate people from the besieged city of Mariupol will continue. This comes after its aid convoys were forced to turn back on Friday. "They are spending the night en route to Mariupol and are yet to reach the city," a Red Cross spokesperson said.
Ukrainian journalist found dead
Ukrainian photographer Maks Levin, who went missing over two weeks ago, has been found dead near Kyiv. "According to preliminary information, unarmed Maxim Levin was killed by servicemen of the Russian Armed Forces with two shots from small fire arms," prosecutors reportedly said on Telegram.
Talks with Ukraine not easy: Russia
Russia has said that peace talks with Ukraine have not been easy, but the main thing is that they are continuing. "Ukraine is a very difficult country, very difficult for us. In its current state, it is hostile towards us," RIA news agency quoted Kremlin spokesman Dmitry Peskov as saying on Saturday. Notably, the two sides have held several rounds of talks so far.
Baltic states halt Russian gas imports
The Baltic states have decided to stop the import of Russian natural gas, the head of Latvia's natural gas storage operator said. The move comes after Russian President Vladimir Putin threatened to cut the supplies of foreign buyers if they don't pay in Russian currency from Friday. European nations have condemned Putin's move, with Germany terming it as 'blackmail'.
Russian missile strikes 'decreased' in northern Ukraine
As Russian troops retreat from the north of Ukraine, the general staff of the Ukrainian armed forces has said in a Facebook post that the intensity of Russian air and missile strikes 'has decreased' in the region. The general staff also said the Russian troops were deploying mines on roads and in some settlements while retreating.