'Ready to move forward on Kashmir if...': Pakistan army chief
'Ready to move forward on Kashmir if...': Pakistan army chief
Written by
Manzoor-ul-Hassan
Apr 02, 2022, 07:34 pm
3 min read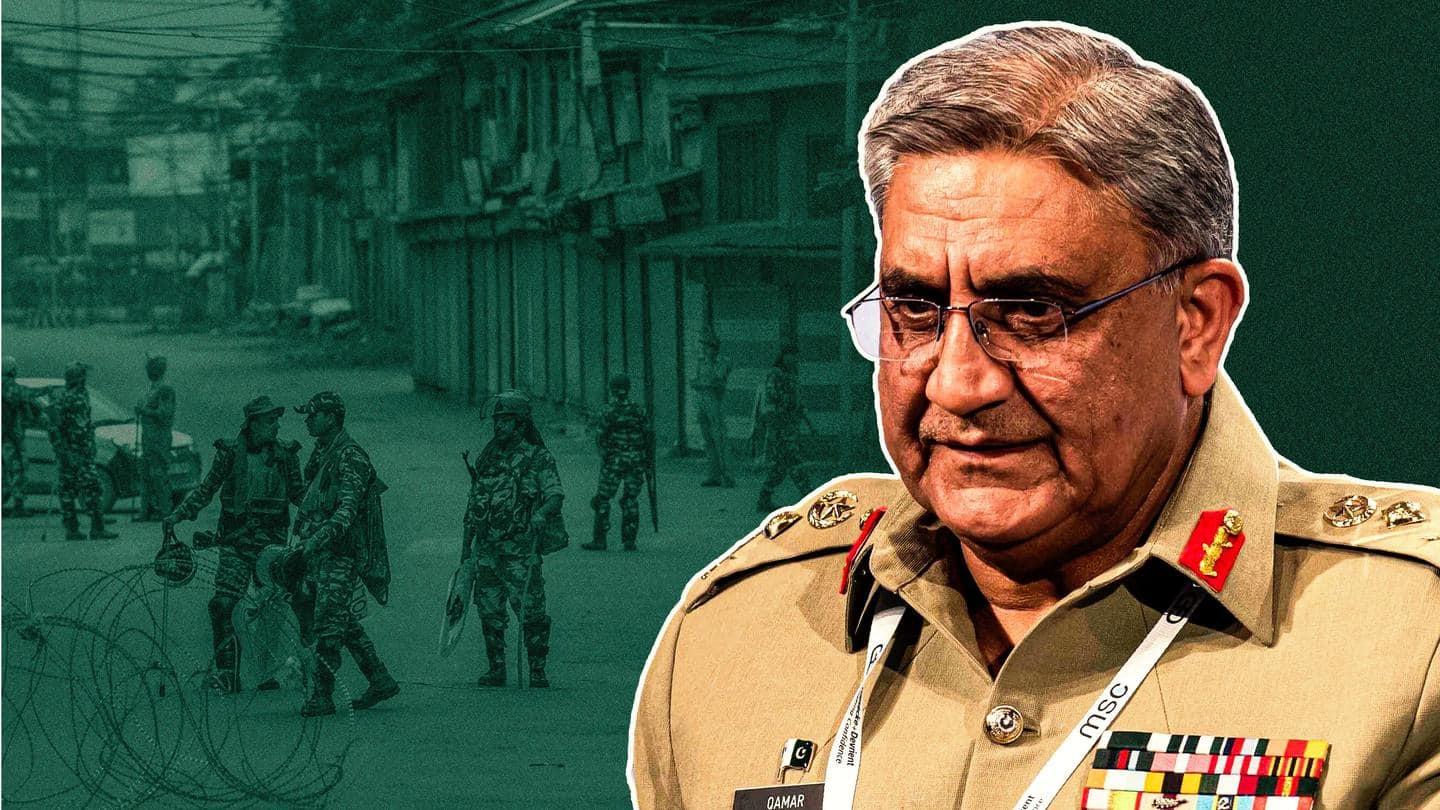 Pakistan's Chief of Army Staff General Qamar Javed Bajwa on Saturday said that Islamabad believes in resolving all issues with India via dialogue and is ready to move ahead on the Kashmir issue if India agrees. He was speaking at the two-day 'Islamabad Security Dialogue conference, in the capital city of Pakistan, news agency IANS reported.
Why does this story matter?
Bajwa's remarks hold significance as he has indirectly called for holding dialogue with India.
Notably, relations between India and Pakistan have been deteriorating after terrorists based in the neighboring country attacked the Pathankot Air Force base in 2016 and later targeted Uri in the same year.
The ties nose-dived further after India revoked the special status of Jammu and Kashmir in August 2019.
'Dialogue, diplomacy can resolve all outstanding issues'
"Pakistan continues to believe in using dialogue and diplomacy to resolve all outstanding issues, including the Kashmir dispute and is ready to move forward on this front if India also agrees to do so," Bajwa said. He also highlighted the significance of preventing confrontations and stated that his government wished for the Sino-India border problem to be handled as soon as possible via diplomacy.
'Political leadership should rise above emotional, perceptional biases'
"I believe it is time for the political leadership of the region to rise above their emotional and perceptional biases and break the shackles of history to bring peace and prosperity to almost three billion people of the region," Bajwa said.
Bajwa on accidental missile launch by India
During his address, Bajwa also mentioned the accidental launch of a supersonic cruise missile by India into Pakistan on March 9. He said India should provide evidence to assure Pakistan that its weapons are safe. "Unlike other incidents involving strategic weapons systems, this is the first time in history that a supersonic cruise missile from one nuclear-armed nation has landed in another," he added.
Bajwa had made similar comments last year
Notably, Bajwa had made similar comments during the Islamabad Security Dialogue last year. He had said that it was time for both India and Pakistan to "bury the past and move forward."
Pakistan PM Imran Khan's praises India's foreign policy
Meanwhile, Pakistani Prime Minister Imran Khan also attended the Islamabad Security Dialogue event and complimented India for its autonomous foreign policy centered on its people. "They protect their independent foreign policy," he said. He pointed out that India was receiving Russian oil at a time when the West was attempting to impose sanctions in response to Russia's invasion of Ukraine.
Current political situation in Pakistan
Pakistan is now in the middle of political turmoil, with Prime Minister Imran Khan facing a no-confidence vote on April 3 (Sunday). On March 8, the opposition parties filed a no-confidence resolution in the National Assembly, citing a common agenda and hatred for Khan and holding his Pakistan Tehreek-e-Insaaf administration accountable for the country's severe economic problems and skyrocketing inflation.