Russia strikes Ukraine with newest hypersonic missiles for first time
Russia strikes Ukraine with newest hypersonic missiles for first time
Mar 19, 2022, 04:57 pm
3 min read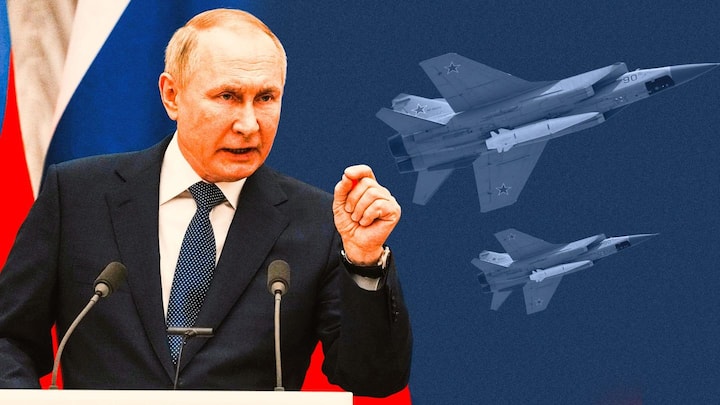 Russia fired its newest Kinzhal hypersonic missiles in Ukraine for the first time on Friday to destroy a weapons storage complex in the country's west, AFP reported on Saturday "The Kinzhal aviation missile system with hypersonic aeroballistic missiles destroyed a large underground warehouse containing missiles and aviation ammunition in the village of Deliatyn in the Ivano-Frankivsk region," it said quoting the Russian defence ministry.
Why does this story matter?
The Russia-Ukraine war entered the 24th day on Saturday as Moscow continued to intensify its assault on Ukraine.
Meanwhile, Ukrainian President Volodymyr Zelensky on Saturday called for 'meaningful' talks with Moscow, saying that it is the only chance for Russia to reduce the losses it suffered from the war.
Notably, several rounds of talks between the two nations have failed to achieve significant progress.
Significance of Kinzhal missiles
It was the first use of the Kinzhal hypersonic weapons during what Moscow calls a "special military operation" in pro-Western Ukraine, reported RIA Novosti. The Kinzhal missile was among a slew of new weaponry presented by Russian President Vladimir Putin in his 2018 State of the Union speech. He had described this missile as a "perfect weapon" that can defeat any air defense system.
Putin addresses huge rally in Moscow
Meanwhile, Russian President Vladimir Putin attended a massive flag-waving rally at a packed Moscow stadium on Friday and lauded the Russian troops fighting in Ukraine. "Shoulder to shoulder, they help and support each other. We have not had unity like this for a long time," he said. Putin stressed that his actions were necessary to prevent "genocide" of Russians.
It's time for 'meaningful' talks, says Zelensky
In his recent video address, the Ukrainian President stated that the war will result in huge losses for Russia which could take generations to recover. He further said that Ukraine had always offered solutions for peace and meaningful negotiations. "These are the only chance for Russia to reduce the damage from its mistakes. It's time to meet. Time to talk," Zelensky said.
Joe Biden to discuss Russia issue with China's Xi Jinping
US President Joe Biden is scheduled to speak to Chinese President Xi Jinping on Friday to discuss Russia's invasion of Ukraine and China's stand on the matter. Notably, Beijing has so far refused to condemn Moscow over the invasion. Zelensky on Thursday expressed gratitude to Biden for providing additional military aid to Ukraine but didn't reveal what the package included.
Over 800 civilians killed in Ukraine so far: UN
Since Russia's invasion of Ukraine started on February 24, 816 civilians—including children were killed in Ukraine, a top United Nations official earlier said on Thursday, warning "the actual number is likely much higher." "The magnitude of civilian casualties and the destruction of civilian infrastructure in Ukraine cannot be denied. This demands a thorough investigation and accountability," said UN Under-Secretary-General for Political and Peacebuilding Affairs.