Well-educated, privileged: What we know about Sri Lanka attacks' terrorists
Well-educated, privileged: What we know about Sri Lanka attacks' terrorists
Apr 24, 2019, 02:16 pm
3 min read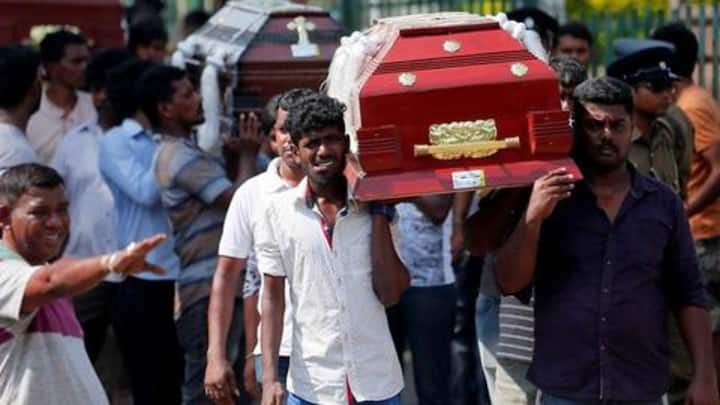 On Easter Sunday, Sri Lanka was hit by a dastardly terror attack wherein eight bombs went off in various areas in and around the capital Colombo. The death toll has surged to 359 and over 500 are injured. And now, the Sri Lankan government has said one of the nine terrorists who detonated a bomb was a woman. Here's what we know so far.
Most of the bombers were well-educated and rich
Speaking about the bombers, Defense Minister Ruwan Wijewardene said one of the terrorists studied in the UK. He later did his post-graduation from Australia before settling in the island country. Wijewardene added that most of the bombers were well-educated and came from privileged families. "Some of them have I think studied in various other countries, they hold degrees, LLMs [law degrees]," he added.
Some terrorists are still on the loose
Wijewardene stressed that there were still some terrorists on the loose. He said bombers failed in attacking a fourth major hotel. The Indian embassy was also on their target. To recall, in the near-simultaneous attacks, three churches and three high-end hotels were attacked. The establishments were having a busy day courtesy Easter. After the first wave of attacks, two bombs went off hours later.
Another minister said over 60 have been arrested
Separately, Lakshman Kiriella, Minister of Public Enterprise, said over 60 people have been arrested in connection with the blasts. Without divulging more details, Kiriella said more than 100 people are likely to be arrested. He claimed top officials hid important intelligence and called for an investigation. Meanwhile, Sarath Fonseka, the former Army Chief, believed the attacks were planned for 7-8 years.
Earlier, Wijewardene claimed Sri Lanka was attacked due to Christchurch
While the investigation is underway, Wijewardene claimed in the Parliament on Tuesday that Sri Lanka was attacked in retaliation to Christchurch shootings which happened in New Zealand in March. In the violence, 50 people had died. "The preliminary investigations have revealed that what happened in Sri Lanka was in retaliation for the attack against Muslims in Christchurch, but we are continuing investigations," he said.
Subsequently, Jacinda Ardern's office said they haven't seen any links
Reacting to claims of Wijewardene, New Zealand said it is yet to see links between both the attacks. A spokesperson at the office of Prime Minister Jacinda Ardern said, "New Zealand has not yet seen any intelligence upon which such an assessment might be based. New Zealanders oppose terrorism and extreme violence in all its forms." The spokesperson added message of peace unified everyone.
Meanwhile, ISIS claimed responsibility for the attack, identified seven bombers
Just as Sri Lankan authorities were struggling to find the perpetrators, ISIS took responsibility for the attack. The caliphate, which was reported to be in its last stages, identified seven bombers as Abu Ubayda, Abu al-Mukhtar, Abu Khalil, Abu Hamza, Abu al-Bara'a, Abu Muhammad and Abu Abdullah. Whether ISIS was involved or not, would be clarified after the thorough investigation.