ICAN, campaign against nuclear weapons, wins 2017 Nobel Peace Prize
ICAN, campaign against nuclear weapons, wins 2017 Nobel Peace Prize
Oct 06, 2017, 03:54 pm
3 min read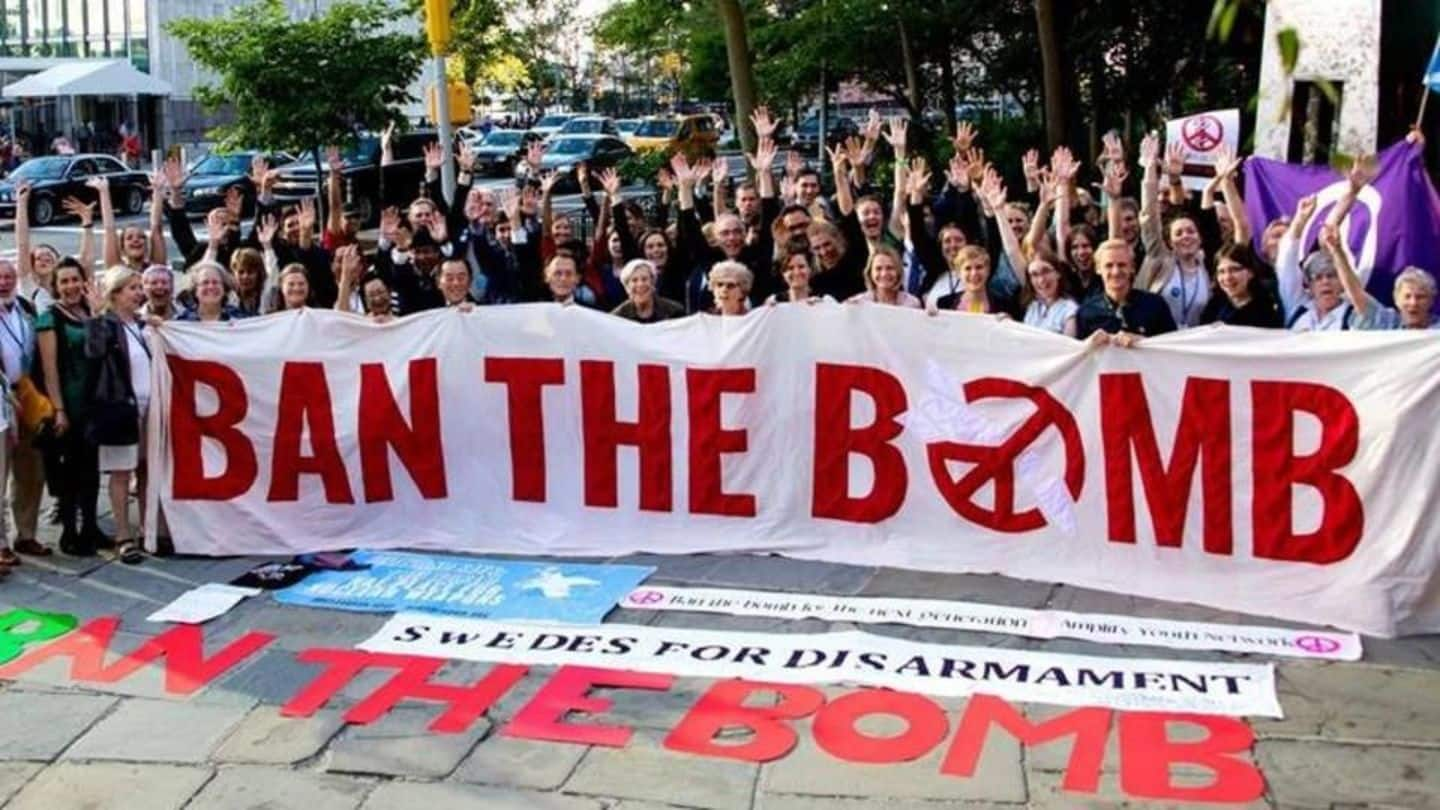 The International Campaign to Abolish Nuclear Weapons, known as ICAN, has been awarded the Nobel Peace Prize for 2017. An announcement was made today in Oslo, Norway. This time, there were 318 candidates. A five-member Norwegian Nobel Committee shortlisted the laureates. Some of ICAN's legendary predecessors include Martin Luther King Jr., Mother Teresa, Nelson Mandela, Kailash Satyarthi and Malala Yousafzai.
The ICAN was founded in Vienna in 2007 on the sidelines of a global conference on the nuclear non-proliferation treaty. Headquartered in Geneva's buildings of the World Council of Churches, ICAN is today working with 468 non-governmental organizations in 101 countries. ICAN's annual budget is roughly $1mn, funded by private donors, the EU and other countries including Norway, Switzerland and the Vatican.
A sharp comment on current global ongoings
The selection of the winner was a stark comment on current global politics: in July, 122 countries at the UN adopted the Treaty on the Prohibition of Nuclear Weapons, the first multilateral legally-binding instrument for nuclear disarmament. Unsurprisingly, nine nuclear-armed powers - US, Russia, Britain, China, France, Pakistan, North Korea, Israel and even India - boycotted the negotiations and called the treaty "dangerous".
ICAN's role in the global fight against nuclear weapons
According to ICAN Executive Director Beatrice Fihn, 10 years ago, the anti-nuclear movement was fragmented. ICAN was created to unite different groups and push for a ban on nuclear weapons, she says. The July'17 agreement was a major achievement despite the non-participation of nine countries.
The top favorites this year
Despite rules restricting the revelation of nominees, names often leak out. This year, the top favorites were Iranian foreign minister Mohammad Javad Zarif, Syria's The White Helmets, Turkish journalist Can Dündar, the American Civil Liberties Union, and Pope Francis. Bets were also placed on US' Donald Trump and Russia's Vladimir Putin! This year's bets have been estimated to touch £10m.
A brief history of the Nobel Peace Prize
The Nobel Peace Prize was first awarded in 1901. Till now, 98 prizes have been given out to 130 Laureates. Last year, Colombian President Juan Manuel Santos took the honor "for his resolute efforts to bring the country's 50-year-long civil war to an end".
The Nobel Committee's statement on ICAN's contributions
"ICAN has given the efforts to achieve a world without nuclear weapons a new direction and vigor," the Nobel Committee said in a statement. "It is receiving the award for its work to draw attention to the catastrophic humanitarian consequences of any use of nuclear weapons and for its efforts to achieve a treaty-based prohibition of such weapons," said Committee President Berit Reiss-Andersen.
Prize is a tribute to tireless efforts of millions: ICAN