Hey people, stop calculating MacKenzie Bezos' post-divorce 'wealth'
Hey people, stop calculating MacKenzie Bezos' post-divorce 'wealth'
Jan 13, 2019, 07:18 pm
4 min read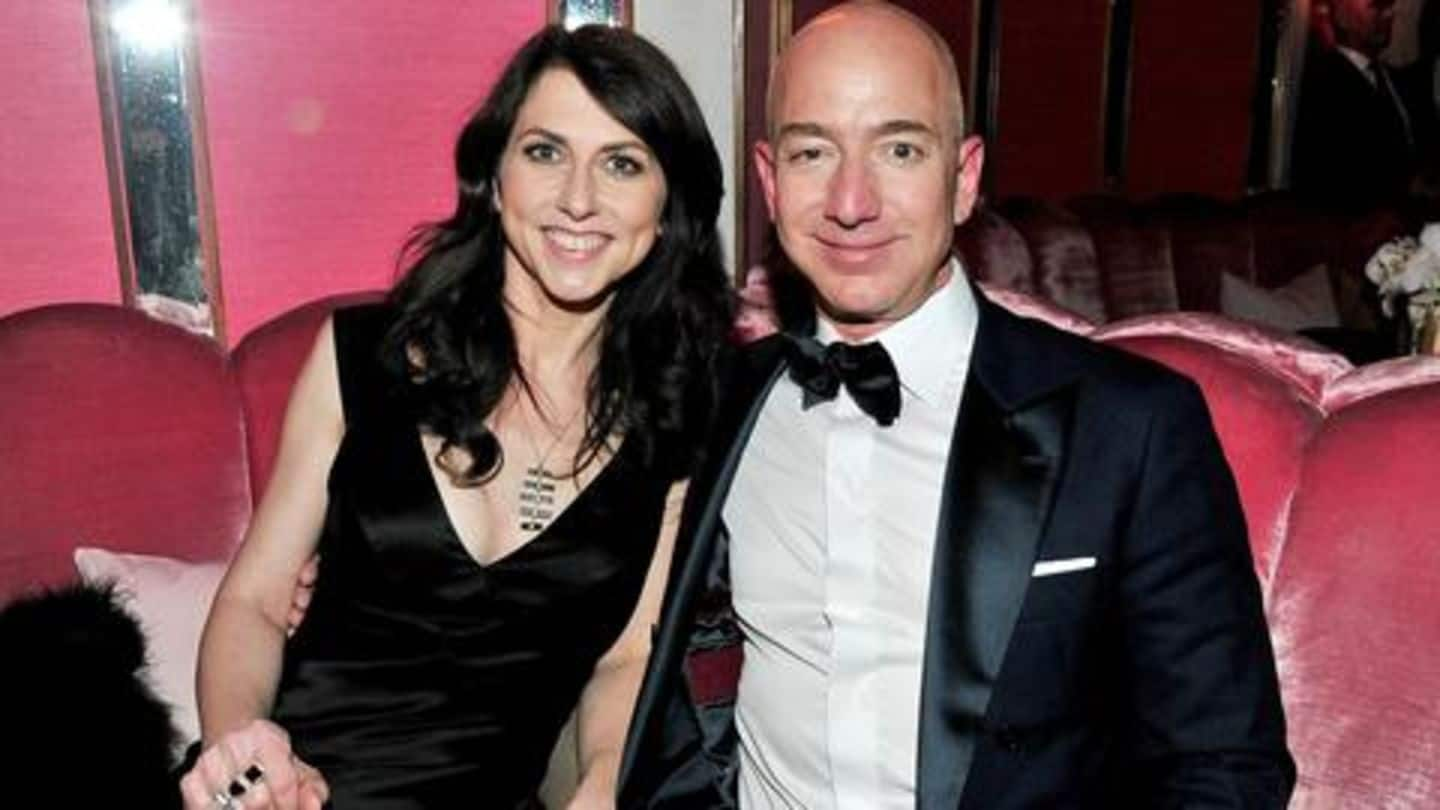 After 25 years of a fruitful marriage, building a historic company which made them the richest couple on earth, Amazon boss Jeff Bezos and wife Mackenzie announced they are going separate ways. The news had a direct impact on Amazon, the shares plummeted soon, and Jeff's rumored affair with a former TV anchor kept tabloids busy. News-churning hands were divided between making Jeff 'the player' and MacKenzie 'the gold-digger'. While both are equally appalling, let's focus on the latter.
They announced divorce and all hell broke loose
Here's a perspective: Amazon is 24 years old and the couple has been married for 25. So, of course, MacKenzie had a role in the company's humongous success. But headlines like 'Mackenzie could become the richest woman' plastered across news platforms, don't let the reader pay attention to her hard work. Their goal is to show the richest man, having a net worth of $137 billion, could lose half of its wealth 'because' of his wife.
MacKenzie was painted as someone who 'got it all easy'
Jeff and MacKenzie didn't have a prenup. According to Washington laws, the assets have to be divided equally between the couple, if they don't reach an agreement. Thanks to reports, we soon knew MacKenzie's wealth after divorce could be more than Elon Musk's. Naturally, there was a lot of noise. After all, she 'hadn't worked for it'. Jeff, the man, had. Right? No.
Jeff was the face but MacKenzie the backbone
Here's the thing: Jeff isn't going from being a billionaire to a millionaire, because of his wife. He became a billionaire because of her. The couple who met in New York and married in 1993 moved to Seattle because Jeff wanted to start something huge. He admitted MacKenzie pushed him to follow his dreams. Meanwhile, she took care of the family.
Leaving a comfortable life in NY, MacKenzie supported Jeff's dream
Now MacKenzie may have chosen against leaving a luxurious life. Back then, no one could have been possibly sure that Amazon would become the giant it is today. Yet she believed in her husband. MacKenzie, who is an award-winning writer, studied at Princeton University. Her mentor Toni Morrison once said she was one of her best students. Still think she is 'less qualified'?
It took ten years before MacKenzie's first book was published
A 2013 profile of MacKenzie in Vogue revealed that it took 10 years to publish her first book The Testing of Luther Albright. But why the delay? The answer is family. MacKenzie was busy doing other things, handling her home, taking care of her kids and helping Jeff build Amazon. About leaving NY, MacKenzie admitted she had no business sense but she took the risk after seeing Jeff's excitement.
Jeff's friend explained how important family was to him
Talking about MacKenzie, Jeff told Vogue she is resourceful, brainy, smart and hot. Jeff's friend Danny Hillis also had beautiful things to say about MacKenzie. "Family is very important to Jeff, and he absolutely relies on her to create that stable home life. They are such a normal, close-knit family, it's almost abnormal," he had said. In a gist, MacKenzie was Jeff's spine.
"Jeff build Amazon because he had a supportive spouse"
Brad Stone, who wrote The Everything Store: Jeff Bezos and the Age of Amazon, said, "The only reason [Jeff] was able to do that is because he had an extremely supportive spouse. It was an incredible risk and one that they both took on jointly."
MacKenzie made Amazon possible. There's no other version
While Jeff and those close to him understand what MacKenzie has sacrificed for him, the social media hate brigade doesn't. All they see now is that a 48-year-old woman is walking away from a marriage and is taking $60 billion with her. This fixation with MacKenzie's wealth highlights the reluctance to acknowledge the unpaid work hours which go in building something huge. But more than anything, it is sexism spreading its wings. High time this ends.