UK hits 15 million COVID-19 vaccinations milestone
UK hits 15 million COVID-19 vaccinations milestone
Written by
Nikita Gupta
(Sourced from PTI)
Feb 15, 2021, 02:08 pm
3 min read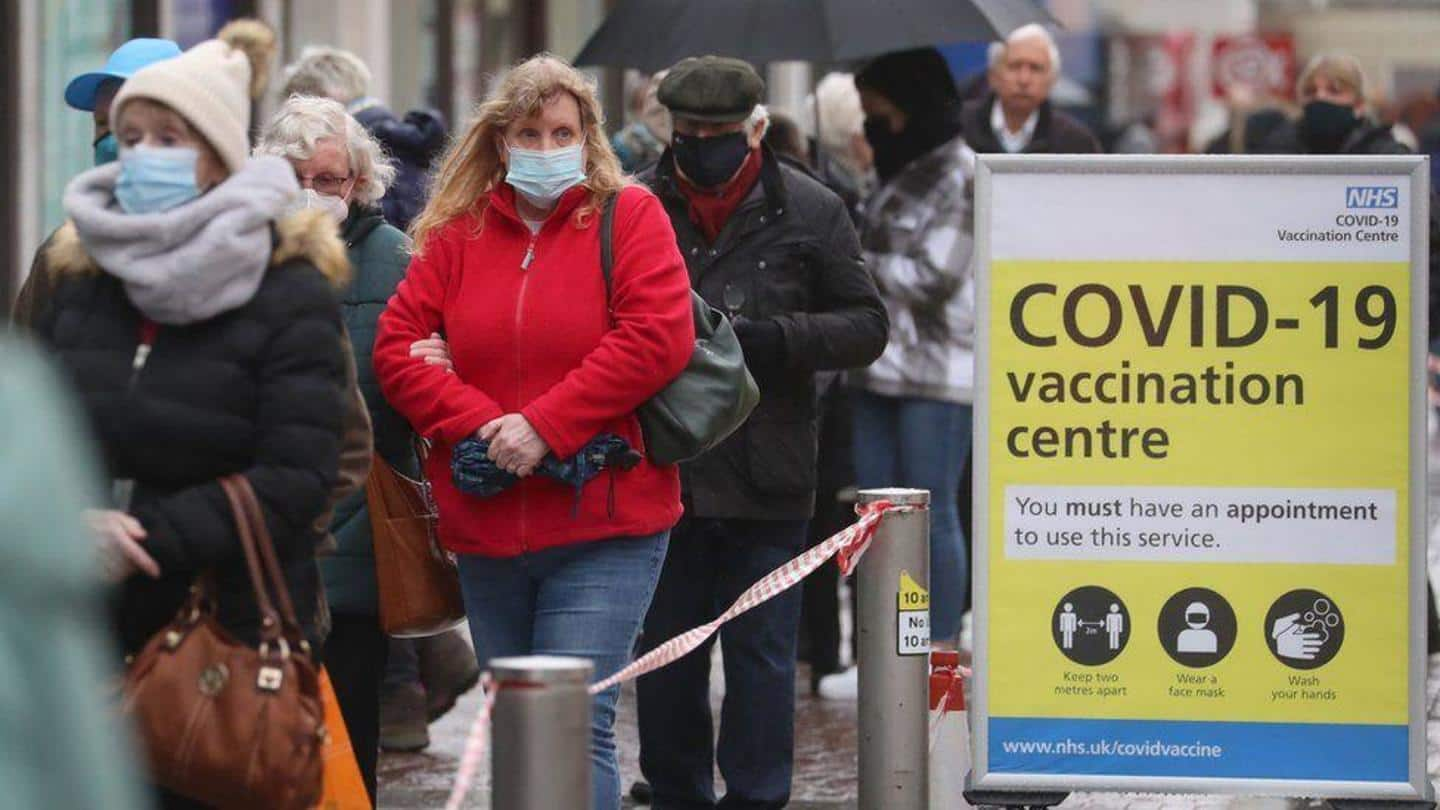 The UK on Sunday achieved what Prime Minister Boris Johnson hailed as a significant milestone as 15 million people received their first of two jabs of COVID-19 vaccine under the UK vaccination drive. The news came as the National Health Service (NHS) confirmed that its vaccination program will officially expand further from Monday, inviting all over-65s and clinically vulnerable groups to receive their jabs.
It was a nationwide, cumulative effort: Johnson
"It has been a UK-wide effort. We have done it together. In England, we have offered jabs to everyone in the first four priority groups, the people most likely to be severely ill from coronavirus, hitting the first target we set for ourselves," Johnson said.
Way further ahead is not easy, but we're confident: Johnson
Johnson declared that the government's target to cover all designated top four priority groups of over-70s and frontline healthcare workers by the middle of February has now been met. He, however, stressed that no one is resting on their laurels as there is a long way to go. "After all that we've achieved, I know we can go forward with great confidence," he added.
The next group of people to start booking their jabs
Millions of letters asking people from the next set of priority groups to book their jabs at any one of over 100 large scale vaccination centers or almost 200 pharmacy services have already been issued. "The vaccination program is continuing at an unprecedented speed and we're on target to vaccinate everyone in the four priority groups by Monday," said UK Health Secretary Matt Hancock.
We'll continue to maintain the momentum: Hancock
"The NHS is doing everything it can to offer vaccines to the most vulnerable as quickly as possible. Now, millions of more at-risk individuals will be able to access a jab from next week. We will continue to accelerate the vaccination program further," Hancock said.
Who is deemed as clinically vulnerable?
The UK's Joint Committee on Vaccination and Immunization, which created the priority categories for vaccination, defines clinically vulnerable people as those with conditions including chronic respiratory disease such as chronic obstructive pulmonary disease, cystic fibrosis, and severe asthma. Until now, the vaccination program has been aimed at NHS frontline staff, care home residents, and workers, along with over-70s and people deemed clinically extremely vulnerable.
NHS urges people to come forward for vaccination
"After a strong start, the NHS vaccination program is entering a new phase tomorrow. We will now move on to over-65s. However, if you have already been offered a jab but have not taken it, please come forward," said Sir Simon Stevens, NHS Chief Executive.
Other UK regions to follow England's lead
The devolved regions of the United Kingdom are also largely in line with the NHS England drive. Wales has begun contacting some over-50s, while Scotland expects many in the 65-69 age group to receive their first jab by the middle of this month. In Northern Ireland, the Department of Health is offering everyone over 65 a vaccine by the end of February.
Ease lockdown by April end, Conservatives demand
Meanwhile, Conservative MPs are calling for a complete easing of lockdown by the end of April. Johnson has indicated March 8 as the date for school re-openings as the first step toward easing lockdown. The UK has registered a fall in infection rates but figures remain high, with 13,308 new infections and 621 deaths recorded over the weekend, taking the death toll close to 117,000.