#WeirdestDateEver: Woman convinces dozens of men to participate in 'live-Tinder'
#WeirdestDateEver: Woman convinces dozens of men to participate in 'live-Tinder'
Aug 22, 2018, 04:16 pm
3 min read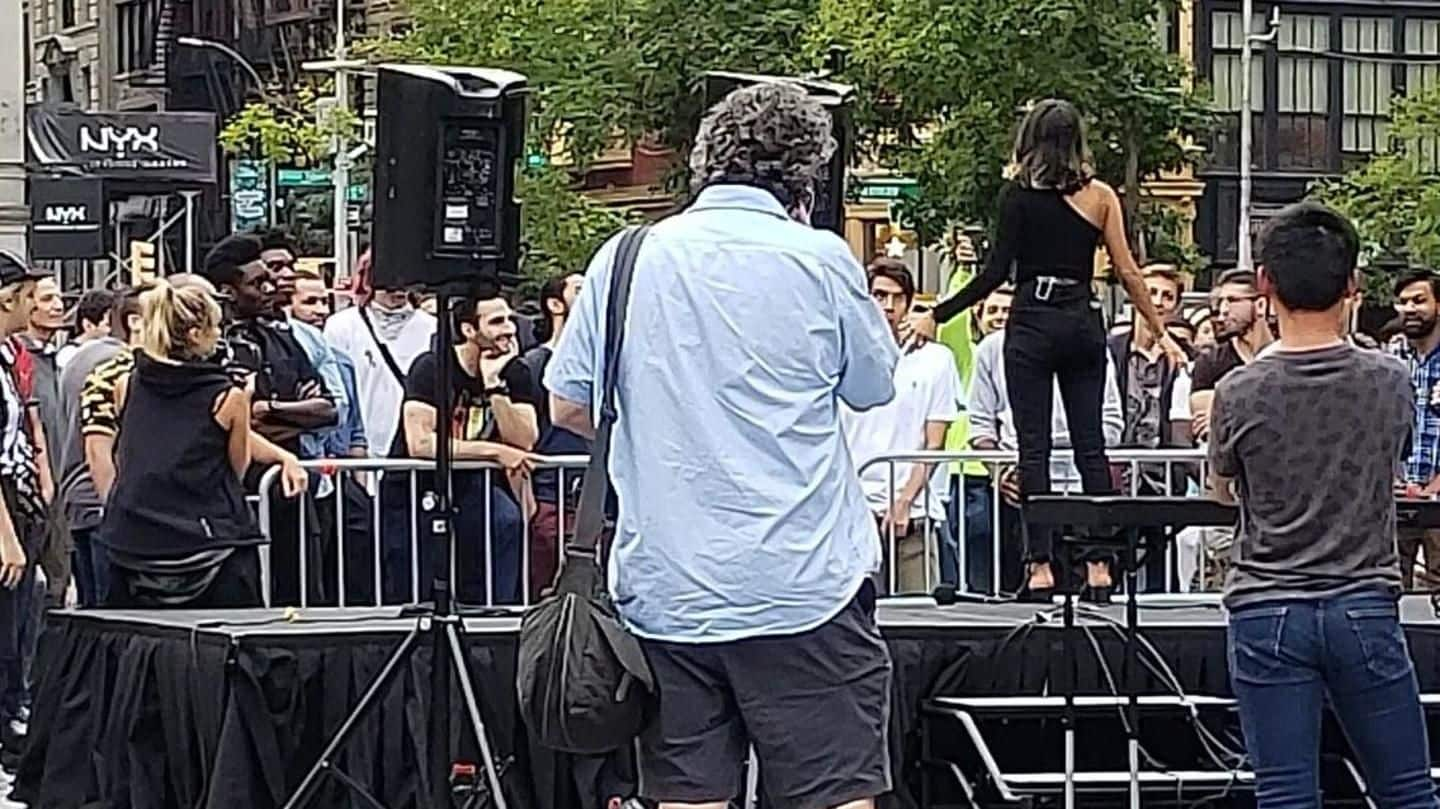 On Sunday, scenes at New York's Union Square were unprecedented. Thousands of men had come to meet their Tinder date, who was actually the same woman! A woman in her 20s, Natasha, convinced (or conned) many men to come to the location for her 'live Tinder'. She picked men, rejected many more, in the hour-long process. This tale will blow your mind.
After date, Natasha said she was busy, tweets user
A Twitter user going by the handle of @bvdhai said he swiped right on Natasha, weeks ago, and then they met. The date went well but Natasha told him she was busy and would get in touch with him, at a later date. The man obviously thought he was being ghosted, and didn't think much about his date. But days later, Natasha sent him a text, which surprised him.
Weeks later, Natasha asks dude to attend friend's concert
After re-establishing contact, Natasha asked @bvdhai to come to a concert where her DJ-friend was performing. He agreed. On the day, she even sent him a text that though it was raining, she hoped the date wasn't hampered. But when he reached the location, he was surprised to see hundreds of men, all of whom seemed clueless. They were shocked at what happened next.
Taking stage, Natasha says it was 'Hunger Games' style contest
At the venue, that was complete with stage, sound system etc., Natasha took the stage and announced that she knows all men were here from Tinder. As dumbfounded men looked, she gave a 'Hunger Games' speech highlighting what it would take for them to date her. In a gist, she called all her Tinder matches to compete with each other to be her ultimate date.
Amid frenzy, Natasha swiped right or left
Obviously, the men were shocked. At this point, many quit the contest, but some stayed. Amir Pleasants, who was one of the hundreds, told the suitors were asked to form a line, and Natasha cherry-picked her date. She swiped left to guys who were shorter than 5'10", or were Donald Trump's supporters, etc. Some graduated to the next level. Eventually, the queue thinned.
Those selected for second round did push-ups, gave speech
The dudes who were left till the end were asked to do 30 push-ups, race through a park, and give a one-minute speech as to why she should pick them. After the gruelling and weird tasks, Natasha got her date. Even the police officers who had descended seeing the huge crowd, couldn't stop laughing.
I am about to tell you an epic tale about subterfuge, dating in the 21st century and the fall of human civilization. This actually happened to me and it could happen to you too. Get some popcorn. *Thread*

— миша (@bvdhai) August 19, 2018
Truth is stranger and more fascinating than fiction
Natasha's epic Tinder date definitely left many disheartened, but the planning which went into it impressed all. The dudes, who were rejected by her, will have a great story to narrate. We are most certainly, impressed.