Centre to implement the mandatory 6 airbags rule from 2023
Centre to implement the mandatory 6 airbags rule from 2023
Sep 29, 2022, 02:57 pm
2 min read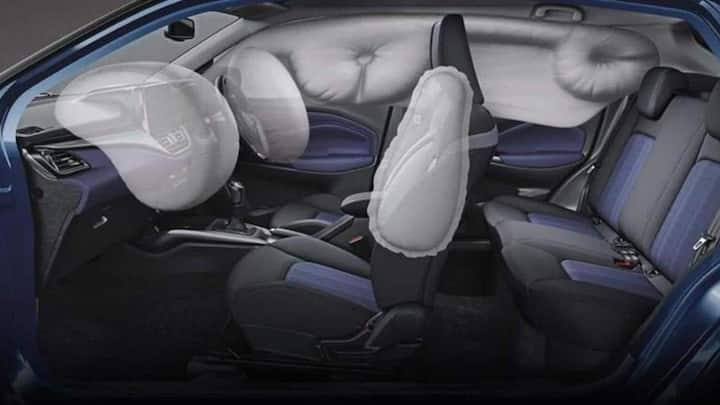 How many airbags should a car have? The Indian automotive industry and the Centre have been discussing this question for a while. Now, Nitin Gadkari, the Union Minister of Road Transport and Highways, has announced that a minimum of six airbags will be mandatory in passenger cars (M-1 Category) from October 1, 2023. Discussions about road safety have gained a lot of traction recently.
Why does this story matter?
Road safety and accident prevention have always been a bone of contention in India. Poor roads, traffic culture and lax safety measures have been cited as the main reasons for the country's poor record in road safety.
Airbags are important in preventing serious injuries during road mishaps. While the Centre's decision should be appreciated, some argue poor quality roads should first be looked at.
Government chose 2023 due to supply chain constraints
The Indian Government has been contemplating to increase the number of airbags in vehicles for a while. Earlier this month, Gadkari said that the government is trying to make six airbags mandatory for eight-seater vehicles. The question was whether the rule will be implemented this year itself or next. The Centre has decided to go with the latter due to global supply chain constraints.
Take a look at the announcement
Considering the global supply chain constraints being faced by the auto industry and its impact on the macroeconomic scenario, it has been decided to implement the proposal mandating a minimum of 6 Airbags in Passenger Cars (M-1 Category) w.e.f 01st October 2023.

— Nitin Gadkari (@nitin_gadkari) September 29, 2022
Non-usage of seatbelts is a chief cause of death
In India, in 2021, there were 1.55 lakh deaths due to road accidents. In other words, an average of 426 lives were lost daily. A report titled "Road accidents in India-2020" suggested that 11% of deaths and injuries were caused due to non-usage of seatbelts. Another report from the road ministry claimed that 15,146 deaths were caused due to not wearing seatbelts in 2020.
Six airbags are usually found in high-end vehicles. This prompted Gadkari to question why only cars bought by rich people have six airbags during an interview last year. The automotive industry has resisted this push to provide more airbags citing an increase in the cost of their products. Considering the lax attitude Indians have toward seatbelts, more airbags seem to be the solution.