Angry at GoT writers? Grieve freely with this India-specific helpline
Angry at GoT writers? Grieve freely with this India-specific helpline
May 17, 2019, 03:34 pm
2 min read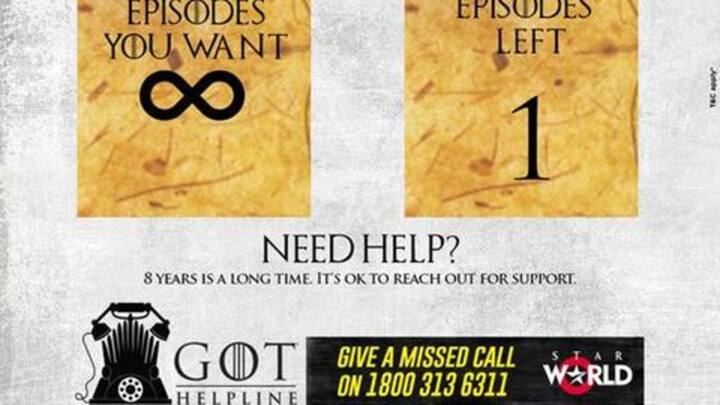 Game of Thrones has a massive fandom in India. We relished its awesome episodes together and we are still here as it turns into a shoddy mess with minimal character development. If you need to rant about the current state of GoT or are just sad that it's ending, Star World is there for you with an India-specific helpline. Here's more about the story.
Here's how you can use the helpline
Just pick up your phone and give a missed call on 1800 313 6311. You will immediately receive a call from the helpline. It is funny and loaded with references. In the beginning, a voice says "For English, press one and for Dothraki, lower your expectations!" The helpline covers grief's five stages: denial, anger, withdrawal, depression, and acceptance and guides you through them all.
Who should use the helpline?
Every GoT fan could call. One can talk about the 'glorious' episodes of previous seasons, favorite characters, how this season isn't THAT bad, saddest deaths, best scenes and so forth. Game of Thrones' viewers are some of the most loyal fans in the world. They deserve a helpline to talk about the series, especially the people who have no one to watch it with!
What will happen in the next episode? Know the possibilities
The penultimate episode had Daenerys burn down King's Landing in a fit of rage. Thousands of innocents died as she turned into the quintessential 'evil queen'. The next episode will deal with other people's reaction to her act and might end with her death. We will also know about the next King of Westeros and the fate of several characters like Tyrion and Jon.
Just one more episode before the series finally ends
The last episode of GoT will premiere on the coming Monday in India. Fans worldwide are eagerly waiting to know how the show-runners plan to end the story in one episode, given that a lot of loose ends remain to be tied. We hope that the story comes to a satisfying conclusion. If it doesn't, well, we do have a helpline now, don't we?