Controversy hits 'Judgementall Hai Kya' again, makers accused of plagiarism
Controversy hits 'Judgementall Hai Kya' again, makers accused of plagiarism
Written by
Pallabi C Samal
Jul 30, 2019, 02:53 pm
3 min read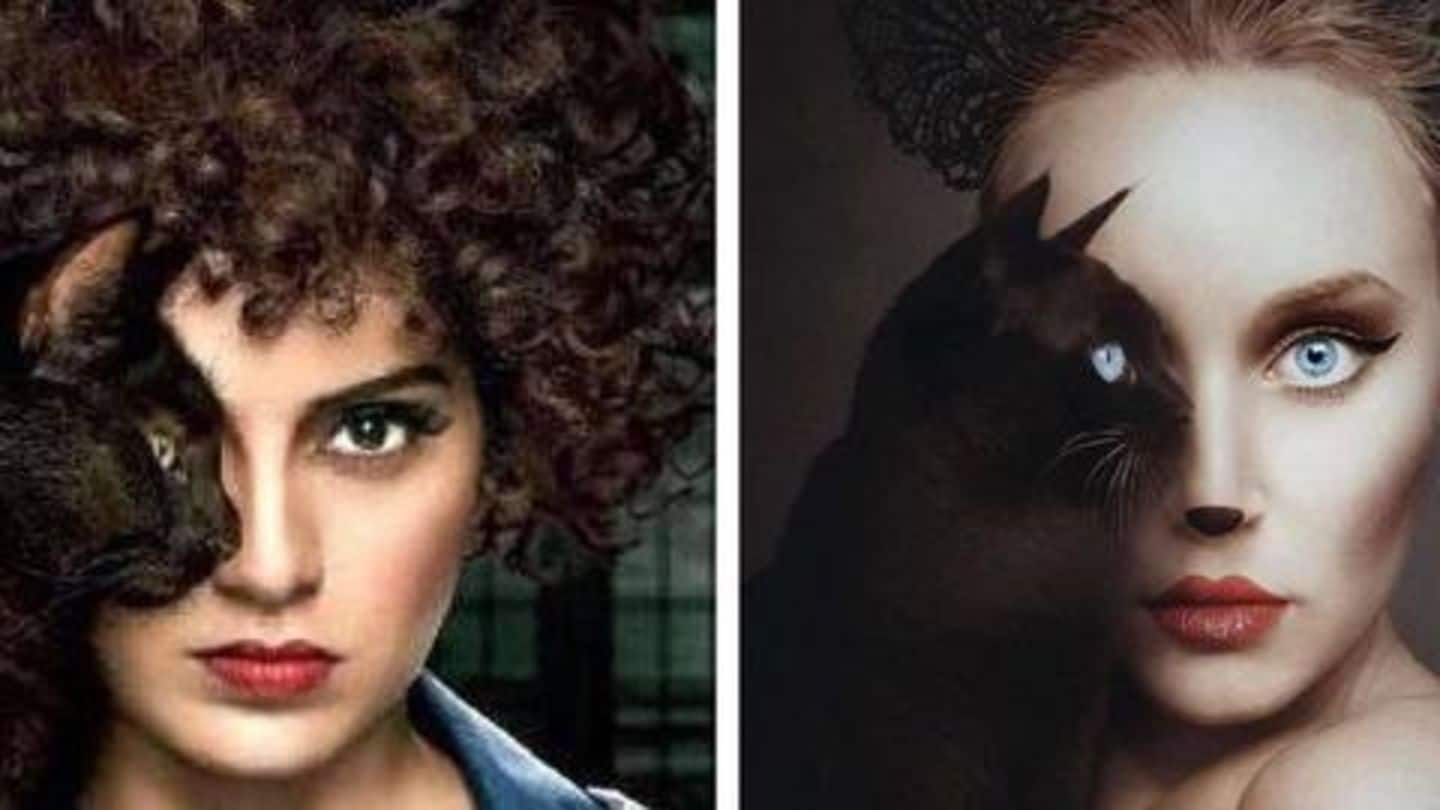 Judgementall Hai Kya, Kangana Ranaut and Rajkummar Rao's latest offering, continues to get mired in controversies. After its title got changed, Kangana's public spat with a journalist and the following fiasco, the critically acclaimed thriller now faces accusation of plagiarism by a European artist. Flóra Borsi took to social media and pointed out how one of the posters are a copy of her art.
The posters she were referring to had a cat juxtaposed on Kangana's face, and a similar poster featuring Rajkummar's face with a rat. Some 18-19 hours ago, Borsi shared a collage of her work (a black cat juxtaposed on a girl's face) alongside Kangana's, and commented, "Any similarities? It's a famous Bollywood movie poster called Judgementall Hai Kya. They didn't ask for any permission."
Borsi alleges the makers didn't even reach out to her
In her FB post, she further alleged that the makers of the movie didn't even contact her before copying her art. "It's a shame for big companies plagiarizing freelance artists work," she lashed out. On Twitter, she wrote, "This movie poster plagiarized my art! Could someone explain what's happening, please? This isn't right." Ever since her post went viral, netizens jumped in her support.
Could someone explain what's happening, please, asks Borsi
This is how Borsi sarcastically comments to Rajkummar's tweet
Netizens want Borsi to go for a legal route
While some suggested her to go for a legal route, others commented how Bollywood and India copy everything. "Honestly, India copies every single thing from everyone without giving the original creator any credit," said one. "They steal songs, they steal arts, they steal photo ideas. Are they Bollywood or copywood," wrote another. "This is not the first time they've shamelessly copied others," someone commented.
Don't want anybody to express hatred toward a nation: Borsi
However, Borsi quickly clarified asking people to refrain from expressing "hatred toward a nation or a country." "Thank you so much guys for supporting me but I don't want anybody to express hatred toward a nation or a country. It's all about a big industry vs artists," she notes. The Hungarian artist added that Bollywood should not be blamed like this.
"Bollywood has nothing to do with this. Blame art department"
"Bollywood has nothing to do with this. It's all about the art department and the creative director. their responsibility is the feedback, which brings negativity in the big picture, which is Bollywood. When someone does a bad things people can't blame the country where was born," commented Borsi. A digital artist, Borsi has held numerous exhibitions across Europe, Asia and North America.
'Judgementall Hai Kya' makers are yet to respond to allegations
The makers are yet to respond to this new allegation. Meanwhile, the psychological black comedy is picking up speed at the box office, inching closer towards collecting Rs. 30 crore on its fourth day. The film has opened to mixed reviews, but critics have especially appreciated Kangana's performance. Directed by Prakash Kovelamudi, it has been produced by Ekta Kapoor, Shobha Kapoor, Shailesh R. Singh.