#ManikarnikaControversy: Rangoli shares WhatsApp chat, shares Kangana's side of story
#ManikarnikaControversy: Rangoli shares WhatsApp chat, shares Kangana's side of story
Jan 30, 2019, 06:57 pm
3 min read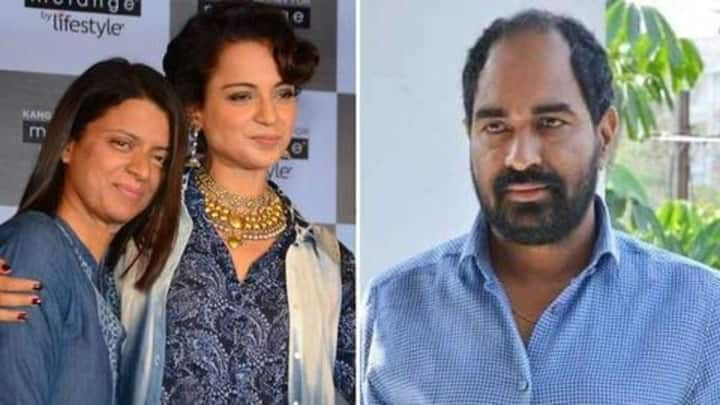 Kangana Ranaut's Manikarnika: The Queen Of Jhansi has been grabbing headlines for quite a while now. Though the movie has done decent business, controversies surrounding it aren't really subsiding. It has now taken a new turn after Kangana's sister Rangoli shared a WhatsApp chat of the actress with Krish. Rangoli also claimed that Kangana is quite distressed with the allegations.
Krish slams Kangana for taking directorial credits
For starters, Manikarnika's co-director Krish expressed his resentment over Kangana taking the 'undeserving' directorial credits. Krish alleged that he wasn't aware of Kangana replacing him as the director. In fact, he was surprised to know that Manikarnika was being re-recorded after he had finished his edits in June 2018. Further, the director claimed that he wasn't invited for the screening of Manikarnika before release.
Rangoli counters Krish's allegations, shows WhatsApp chat as proof
Miffed with the allegations, Rangoli took the matter in her hands and shared screenshots of Kangana's WhatsApp chat with Krish. According to Rangoli, this conversation was from December 6 wherein Kangana was seen explaining her point to Krish. In fact, in the chat, Kangana also invited Krish twice to watch the final cut of Manikarnika in order to clear the misunderstandings about the movie.
Producers were disappointed by Krish's version of 'Manikarnika': Kangana
In the chat, Kangana reportedly clarified that the film had to be reworked because "Mr. Goynka" (Punit Goenka, whose Zee Studios banner distributed the film) was disappointed with Krish's work in Manikarnika. After the studio screening, new material was written (in which she had apparently no say) and producers had to spend an additional Rs. 20 crore for the reshoot.
Producers loved Kangana's version of 'Manikarnika'
Kangana emphasized that after she presented the new version, Manikarnika got a thumbs up from producers. According to Kangana, the producers stated, "It's a new film and makes complete sense". She even asked Krish to watch the movie and "decide for yourself." About Krish's name being changed in the directorial credits, Kangana averred that it was a decision only producer Kamal Jain could take.
Kangana's sister Rangoli comes with a solid proof
Kangana is tensed with the entire controversy
In a series of tweets, Rangoli revealed that Kangana is quite distressed with the constant public attacks on her for allegedly hijacking the movie from Krish. Rangoli also claimed that due to entire cacophony surrounding Manikarnika, Kangana is not able to enjoy her due success. "Truth is she is not able to enjoy her well-deserved break because of liars and opportunists," she tweeted.
Attack2: Mishti lashes out at Kangana for chopping her role
Meanwhile, Manikarnika actress Mishti Chakraborty also lashed out at Kangana for chopping her role. Mishti plays the role of Kashi Bai in the movie. However, the actress was disappointed with the final outcome. She alleged that while she had shot several important and interesting scenes, her role was truncated in Manikarnika by Kangana. "I think my character has turned into a caricature," she added.