#WC2019: Rakhi thinks Kohli, Sharma's wives led to India's defeat
#WC2019: Rakhi thinks Kohli, Sharma's wives led to India's defeat
Edited by
Pallabi C Samal
Jul 16, 2019, 04:32 pm
2 min read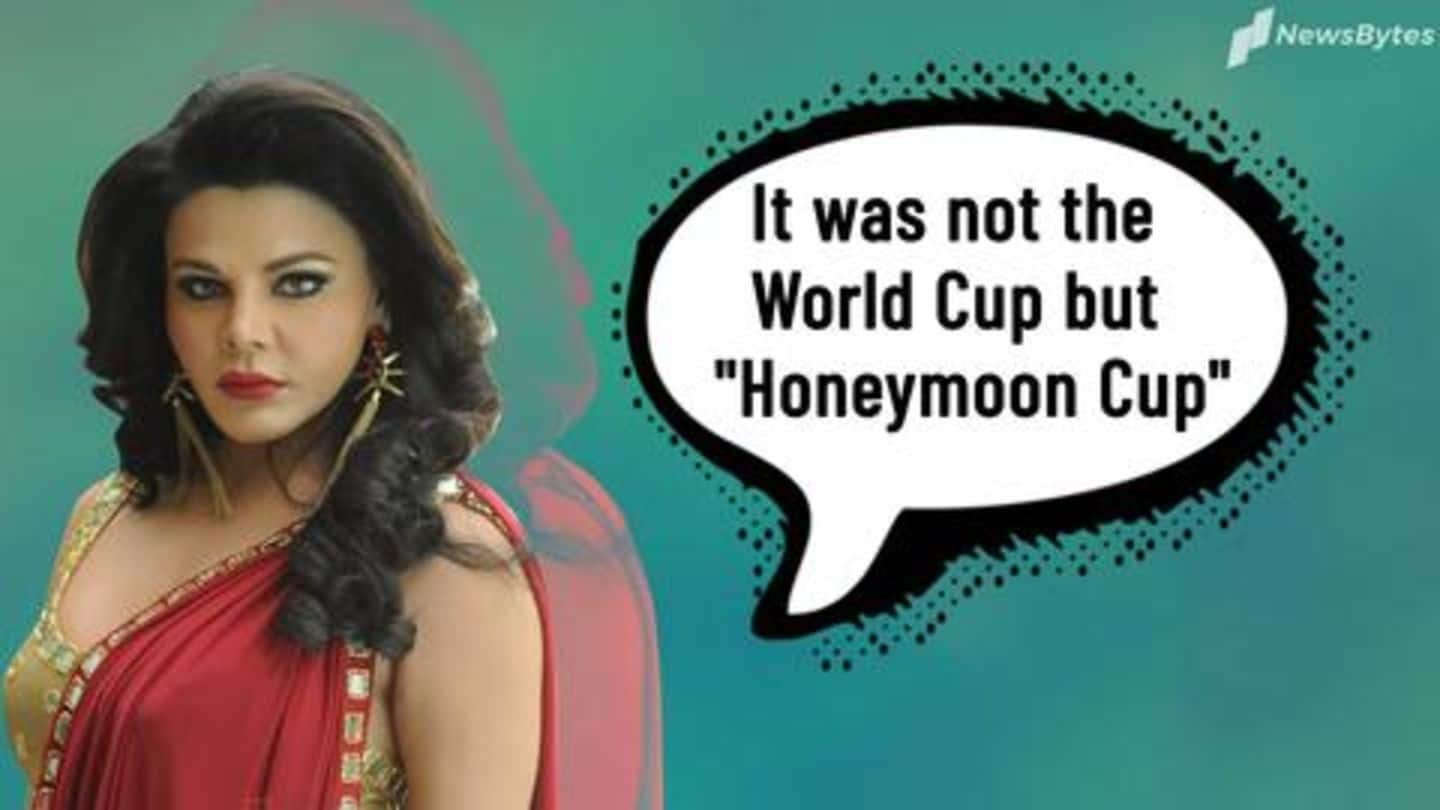 Rakhi Sawant, who recently advised Kangana Ranaut and her sister-cum-manager Rangoli Chandel not to "take panga with media," is back with her observations. In a recent video, she has slammed Indian cricket captain Virat Kohli and vice-captain Rohit Sharma over the team's heartbreaking defeat in World Cup'19 semis. She alleged that since they took their wives along, they lost focus from the game.
Kohli, Sharma turned World Cup into "honeymoon cup," she alleges
In a 2-minute-long video which has gone viral, Rakhi targeted Kohli and Sharma for taking their wives, Anushka Sharma and Ritika Sharma respectively, for the World Cup 2019 tour. She stated that it's because of the presence of their wives that both got out "cheaply." Rakhi further asserted that these players have turned the World Cup into their "honeymoon cup."
Rakhi, who recorded this video during India-NZ semis, added that since people were glued to World Cup, they were getting divorced, and that women were forgetting to breastfeed their children. Still, Kohli and his team didn't consider all these, and lost the game, she rued. Her baseless allegations obviously didn't go down well with cricket fans, who asked her to "stick to Bollywood."
Watch how Rakhi 'analyzes' what went wrong with the team
It was not the World Cup but "Honeymoon Cup". Kohli and Rohit Sharma's wives had reached the match. Both of them thought towards the wives.
Indian actress Rakhi Sawant . pic.twitter.com/WNUZQ1zGoi

— jhoney (@Jabran09) July 11, 2019
"She's just mad, wants to be in limelight somehow"
She is just mad... Wants to be in limelight in someway or the other.. Just ignore
Overnight rain helped the NZ swing bowlers
If the match would have continued same day.. Result would have been different
No worries.. Well done Team India👍

— Bhanu Prakash (@nsb_prakash) July 11, 2019
Earlier, Twitter was furious when Rakhi posed with Pakistani flag
Earlier in May, Rakhi had sparked controversy after she shared a few pictures of herself posing with the Pakistani flag. Although she claimed it was a shot from her upcoming movie Dhara 370 wherein she's playing the role of a Pakistani girl, Twitterati tore her apart. One of the comments on her post read, "You are suitable for Pakistani citizenship, Ms. Rakhi 'Pakistani' Sawant."
Im jast plying my character in the film, says Rakhi
Rakhi uploads another video, says she loves Pakistani people
Rakhi had uploaded another video later, in which she again emphasized her role in the film, and started defending people of Pakistan. She said that Pakistanis are sweet people, and that all are not bad. She added that she respects Pakistan and its people, and only those attached with terrorist organizations should be condemned. She was massively trolled that time as well.