Slut-shamed for sharing swimsuit pictures, Sona Mohapatra slams trolls
Slut-shamed for sharing swimsuit pictures, Sona Mohapatra slams trolls
Dec 31, 2019, 07:37 pm
2 min read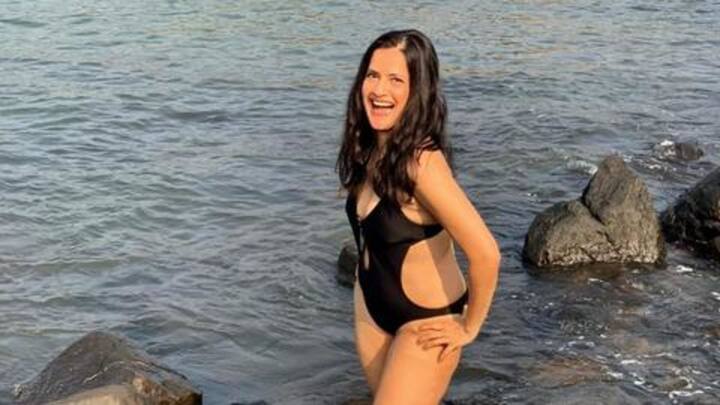 On Monday, singer-composer Sona Mohapatra had shared pictures of herself from a vacation wherein she was in a swimsuit. The seemingly harmless pictures irked a section of netizens, who called out Mohapatra for wearing a bikini and posting such pictures, despite repeatedly standing up against harassment. Whatever that means! Notably, Mohapatra has been a strong voice behind Bollywood's #MeToo movement. Here's how she reacted.
Refuse to suck in my well-earned belly, Mohapatra's response
While some users attacked Mohapatra for her clothing, others said they felt disappointed as they thought she was a "serious person". Meanwhile, some praised Mohapatra for posting the bold pictures and called her "stunning". In response, she tweeted, "I refuse to fit in to any box, just like I refuse to suck in my well earned belly. 2020 here I Come!"
You can check Mohapatra's tweet here
I shared some last evening ppl wrote in saying "wearing slut clothes then saying #MeToo ?! ". Some felt let down, "thought you were a serious person?!". Many sent ❤️ 🔥. I refuse to fit in to any box, just like I refuse to suck in my well earned belly.2020 here I Come! pic.twitter.com/Hx7uOvvYqt

— ShutUpSona (@sonamohapatra) December 31, 2019
'Clothing doesn't justify anyone attacking a woman'
Sharing more pictures of herself from the vacation, Mohapatra, in a series of tweets, fired back at trolls, saying, "Grateful for all writing in." "The first category of people show themselves to rest of the world and hopefully someone in their life will teach them the concept of 'consent' and how clothes or lack of them doesn't justify anyone attacking a woman," she added.
'Your idea of a worthy woman not mine, no apologies'
Mohapatra, further, wrote, "The second category should throw away any notion of me living up to their idea of a intense, thinking, serious, loving and therefore only khadi or fully-covered woman, your idea of 'worthy woman' is not mine, no apologies from me therefore." "For the third lot who sent me love, right back at you! You give me strength everyday," she concluded.
This was the original post by Mohapatra
Last year, Mohapatra accused Kailash Kher, Anu Malik of harassment
Mohapatra is known for voicing her opinion on several issues, particularly concerning harassment and hypocrisy in the entertainment industry. Last year, in the wake of #MeToo movement, she had accused singer Kailash Kher and composer Anu Malik of sexual misconduct. She also claimed to have received death threats from Salman Khan's fans, after she criticized him for his comments on Priyanka Chopra.