Internet thought it found Aishwarya's look-alike. Ummm...We disagree
Internet thought it found Aishwarya's look-alike. Ummm...We disagree
May 10, 2019, 04:21 pm
3 min read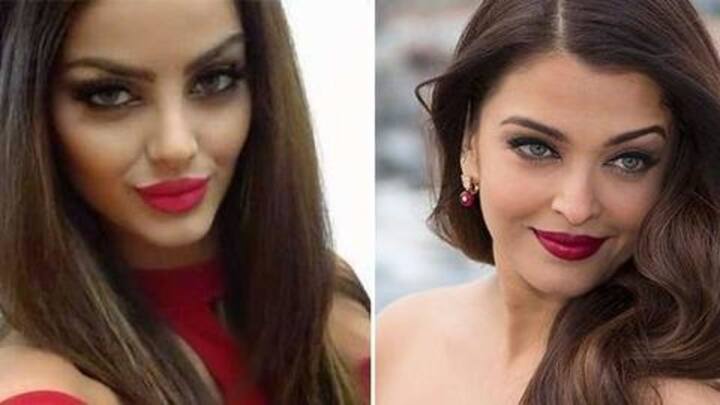 Aishwarya Rai Bachchan, who is known for her flawless beauty, now has competition. Reason? The Internet has found her doppelganger. An Iranian model, who goes by the name of Mahlagha Jaberi, has been pinned as Aishwarya's look-alike, and Twitter is unable to keep calm, saying how the resemblance is uncanny. However, we vehemently disagree. Mahlagha and Aishwarya don't look same.
Mahlagha, like Aishwarya, has grey eyes, well-defined lips
Mahlagha, a 29-year-old, has appeared on several magazine covers, and has over 2.7 million followers on Instagram. Many feel just like Aishwarya, Mahlagha also has grey eyes and well-defined lips. Also just like Aishwarya, the model shares her pictures on Instagram, delighting her followers. One such picture was dated April 1, where Mahlagha was seen seated in front of a temple in India.
Mahlagha had visited India last month. Her Instagram says so
Mahlagha was once named the world's most beautiful woman
The resemblance between the two doesn't end here. Mahlagha was named the world's most beautiful woman after a poll, reports MensXP. Her supposed look-alike Aishwarya is, of course, no alien to these polls. She has been declared as the world's most beautiful woman anyway.
We feel Aishwarya looks, at best, similar to Sneha Ullal
While Aishwarya is yet to respond, we would say that she, at best, looks similar to Sneha Ullal, but definitely not like Mahlagha. Sneha marked her Bollywood debut with Lucky: No Time for Love (2005), in which she co-starred with Salman Khan, who discovered her (as a statement?). Mahlagha, meanwhile, looks similar to Hollywood star Angelina Jolie, or sisters Kylie Jenner and Kendall Jenner.
In January, Aishwarya, Abhishek walked out of 'Gulab Jamun'
On the work front, Aishwarya was last seen in box-office failure Fanney Khan, opposite Anil Kapoor, Rajkummar Rao and Pihu Sand. At the end of this month, she would grace the Cannes Film festival. Reports also suggest that she has signed a Mani Ratnam film, but nothing has been confirmed. In January, she and Abhishek Bachchan opted out of Anurag Kashyap's Gulab Jamun.
Earlier, Jacqueline, Anushka found their respective doppelgangers
Talking of doppelgangers, earlier, social media has scooped out lookalikes of actresses Jacqueline Fernandez, Anushka Sharma, Priyanka Chopra, and Disha Patani, among others. While Jacqueline found her doppelganger in international sensation, model, actress and YouTuber, Amanda Cerny, Anushka found it in Julia Michaels, an American singer-songwriter. Priyanka's doppelganger is Navpreet Banga, a Vancouver-based fitness blogger, while Disha's is Hollywood actress Penelope Cruz.
In 2017, Internet found four lookalikes of Shah Rukh Khan
Our actors are also not far behind. In 2017, Internet found not one, but four look-alikes of Bollywood superstar Shah Rukh Khan. His best friend Karan Johar too found his doppelganger in one Pakistan-based Usman Khan, who last August, asked the director if they really looked similar. Karan, acknowledging the resemblance, retweeted Usman's photo, saying, "Few tweets leave me speechless....this is one of them."