'Ladkiwale vs Ladkewala' and more: What happened at Priyanka-Nick's sangeet
'Ladkiwale vs Ladkewala' and more: What happened at Priyanka-Nick's sangeet
Dec 01, 2018, 01:04 pm
2 min read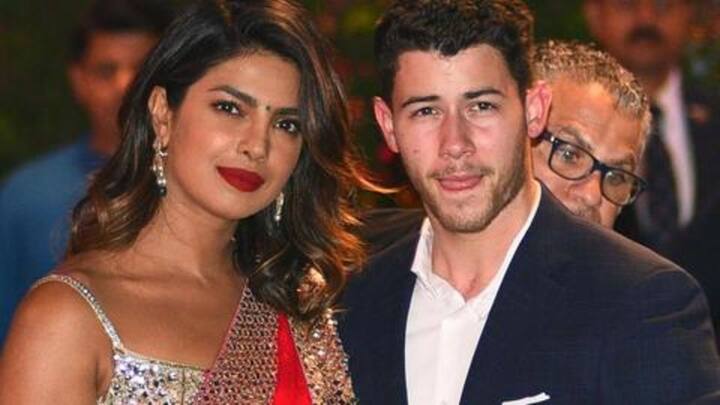 The luxurious Umaid Bhawan in Jodhpur was lit on Friday for the sangeet ceremony of Nick Jonas and Priyanka Chopra. And like it was expected, the guests and the couple had a lot of fun. Reports claimed that Priyanka got emotional when her fiance Nick Jonas gave a special performance for her. Priyanka wore a pink ensemble complete with kundan-diamond jewels. Here're more details.
Kevin, Joe and Chopra family recreated their love story
A report in E! News stated that Nick's brothers Kevin and Joe recreated the couple's love story, and the same was done by members of the Chopra family. The performances, which were well-rehearsed, were part of a competition to ascertain who was more creative. We don't know who won though. But we do know that the couple enjoyed every bit of it.
From welcome to dinner, everything was laced in royalty
The guests got a grand welcome at the venue. Reports said a flower-lined path welcomed them as dancers and drummers performed. At the entrance, they were welcomed by Priyanka's mother Madhu Chopra, and the to-be bride later made an entrance in a peach-colored pantsuit. The sangeet ceremony lasted for over four hours and dinner was served in silver cutlery. Talk about royalty!
The families of the couple will compete in cricket match
The guests will not only attend the ceremonies but will also get to see a cricket match between kin of Priyanka and Nick. The couple will have a cameo in the match, scheduled for today. In the evening, a cocktail party will be hosted for the guests to unwind. It should be noted the couple has asked guests to follow a no-phone policy.
On Friday, a slew of known faces was spotted at Jodhpur Airport. Mukesh Ambani with his family members flew to the city to attend the wedding. Priyanka's friend Arpita was also seen there with her son Ahil. Well, it seems the ceremonies will be one of a kind, and like Priyanka said the guests would need a vacation after the wedding.