Indian Army chief says Taliban analogy doesn't apply to J&K
Indian Army chief says Taliban analogy doesn't apply to J&K
Written by
Shiladitya Ray
Jan 10, 2019, 03:30 pm
3 min read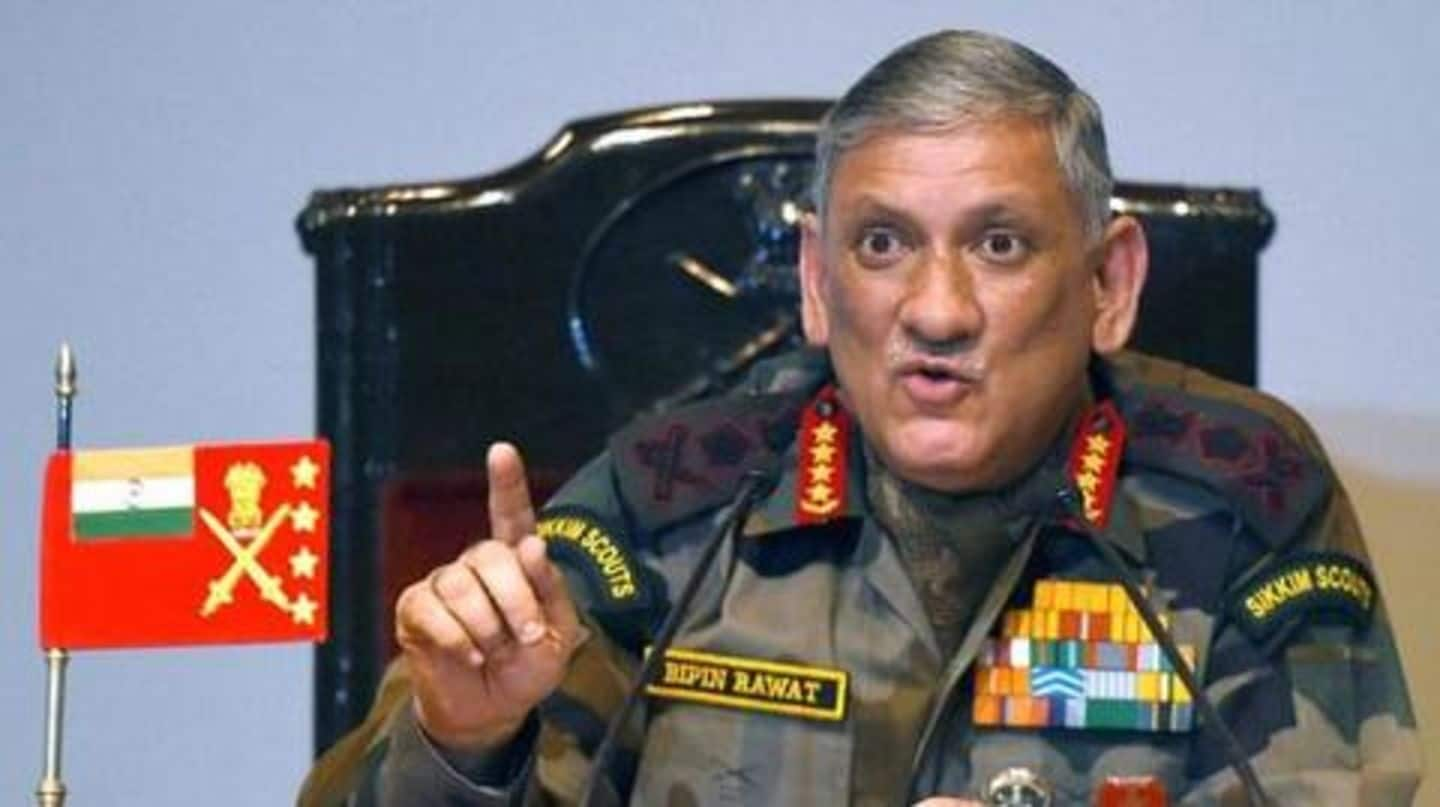 On Thursday, Indian Army chief General Bipin Rawat said that India should join the "bandwagon" if other countries were willing to initiate talks with the Taliban in Afghanistan, but the same analogy could not be applied to Jammu and Kashmir. Gen. Rawat's comments come a day after questions were raised about why the Center was not initiating talks with separatists in J&K. Here's more.
What Gen. Rawat had said about dialogue earlier
"There should be talks with the Taliban...so long as they are looking at lasting peace in Afghanistan and bringing about stability in that country. It is in our interest, it is in the region's interest and in Pakistan's interest. We all want stability," Gen. Rawat had said on Wednesday.
Omar Abdullah and Mehbooba Mufti had raised questions about dialogue
On Wednesday, former J&K chief ministers Mehbooba Mufti and Omar Abdullah had raised questions about why the Center had not initiated any dialogue with separatists in the state. Taking to Twitter, they wondered that if Gen. Rawat could advocate holding talks with the Taliban in Afghanistan, why could a similar step not be taken in J&K.
READ: Omar Abdullah's tweet about Gen. Rawat's Taliban talks comment
We bat for talks with taliban, autonomy for Tibet Tamil areas of Sri Lanka yet we are unwilling to look at engagement or political initiatives in JK. Why is our policy all about "do as we say, don't do as we do"? Engagement for Taliban, Operation All-Out for Kashmir. https://t.co/7PMDfWWN4C

— Omar Abdullah (@OmarAbdullah) January 9, 2019
Mufti had even advocated talks with Pakistan and Hurriyat Conference
People's Democratic Party (PDP) chief Mehbooba Mufti further said that the Center should accept Pakistan's offer for talks, and should also initiate dialogue with the Hurriyat Conference in Kashmir so that the vicious cycle of violence in the state could be stopped. She questioned why the Army was adopting double standards when it came to dialogue.
READ: Mehbooba Mufti questions double standards
If the Army Chief can advocate for talks with Taliban then why different standards when it comes to our own people? Accept peace offer from Pakistan, initiate dialogue with Hurriyat and other stakeholders put an end to the vicious cycle of violence in JK. https://t.co/4NJlmvyPVX

— Mehbooba Mufti (@MehboobaMufti) January 9, 2019
'One size fits all' approach is wrong
Responding, Gen. Rawat said that a 'one size fits all' kind of approach could not be taken, and that the situations in Afghanistan and Kashmir were very different. According to news agency PTI, the general said that talks in Kashmir, if they happen, have to be on India's terms. He also briefed the press about the situation in Kashmir.
Separatists always have the option of surrendering, said Gen. Rawat
Gen. Rawat said that the western and northern fronts in Kashmir had been secured by Indian forces, and that the Indian forces were now working to bring the overall situation under control in Kashmir. He said that Indian security forces are "facilitators of peace" and that separatists always have the option to come overground and surrender.
People of Kashmir are affected if separatists don't surrender
"We are adopting both hard and soft power approaches but the offer to terrorists to come overground and look at peace is always there. As who is getting affected by this? It is the people of Kashmir themselves," said Gen. Rawat.