Bharat bandh on January 8: Banking services to be affected
Bharat bandh on January 8: Banking services to be affected
Jan 06, 2020, 08:29 pm
4 min read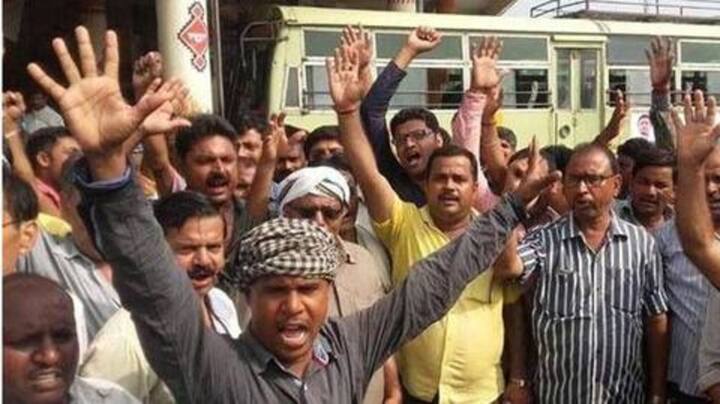 Ten central trade unions have decided to go ahead with a general strike or Bharat bandh on Wednesday. The unions said on Monday that nearly 25 crore people from across the nation are expected to participate in the strike to protest against the government's "anti-worker, anti-people, anti-national" policies. The Indian Banks' Association will also join the strike. Here's all you need to know.
Which trade unions have called for Bharat bandh?
The unions participating in the bandh include the All India United Trade Union Centre (AIUTUC), Centre of Indian Trade Unions (CITU), All India Trade Union Congress (AITUC), Hind Mazdoor Sabha (HMS), Self-Employed Women's Association (SEWA), All India Central Council of Trade Unions (AICCTU), Labour Progressive Federation (LPF), United Trade Union Congress (UTUC), Indian National Trade Union Congress (INTUC) and Trade Union Coordination Centre (TUCC).
What is the trade unions' demand?
The trade unions' main demand is the scrapping of proposed labor reforms. In November, the Centre introduced the Labour Code on Industrial Relations Bill, 2019, with makes provisions to merge 44 labor laws into four codes: wages, industrial relations, social security, and safe working conditions. The amendment seeks to derecognize labor unions and make it easier for employees to be fired, among other reforms.
Trade unions also demand wage hike, rollback of CAA-NRC-NPR
The trade unions have presented a total of 14 demands. These demands include raising the minimum wage to Rs. 21,000-Rs. 24,000 per month. The unions also seek a rollback of the Citizenship Amendment Act, the National Register of Citizens and National Population Register (NPR), expressing solidarity with protesting students across India. They have also called to stop the privatization of public sector undertakings (PSUs).
Why have they called for a Bharat bandh?
Union Labour Minister Santosh Gangwar had held a meeting with the trade unions on January 2, however, the unions said the Ministry has failed to assure them that the reforms are meant for labor welfare. Union leaders reportedly said that none of their concerns were addressed during the meeting, hence, they have decided to go ahead with the general strike.
Government's attitude reflects contempt towards labor: Trade unions
"The attitude of the government is that of contempt towards labor as we construe from its policies and actions," the 10 trade unions said. The statement added, "As many as 12 airports are already sold out to private hands, 100% sale of Air India is already decided, the decision to sell BPCL, BSNL-MTNL merger announced and 93,600 telecom workers already thrown out of jobs..."
Bank Employees Association joined general strike
The Indian Banks' Association has announced that bank unions including AIBEA, AIBOA, BEFI, INBEF, INBOC, BKSM, will join Wednesday's general strike. The State Bank of India has assured that its operations will remain largely unaffected. However, banking services overall, especially ATMs and branch services, are expected to be impacted. Their strike is to protest against bank mergers and bank reforms, and demand wage hike.
MDMK, DMK, Shiv Sena support Bharat bandh
Tamil Nadu's Marumalarchi Dravida Munnetra Kazhagam (MDMK) and Dravida Munnetra Kazhagam (DMK) have decided to support the call for Bharat bandh. DMK Chief MK Stalin accused the Centre of "snatching workers' rights instead of protecting them." BJP's former ally Shiv Sena also announced its participation in the strike. Sena spokesperson Sanjay Raut said, "The government has initiated many anti-labor policies which we strongly oppose."
Student organizations, farmer unions also join strike
Meanwhile, around 60 student organizations, along with office-bearers of some universities, have also decided to join Wednesday's general strike, in protest against the increased fee structure and the commercialization of education. A joint platform of over 175 farmers and agricultural workers unions will also join the strike on January 8 as their own 'Gramin Bharat Bandh'. The unions have also presented their own demands.