Chhattisgarh Budget: CM Baghel carries briefcase made of cow dung
Chhattisgarh Budget: CM Baghel carries briefcase made of cow dung
Edited by
Abhishek Sharma
Mar 09, 2022, 10:42 pm
2 min read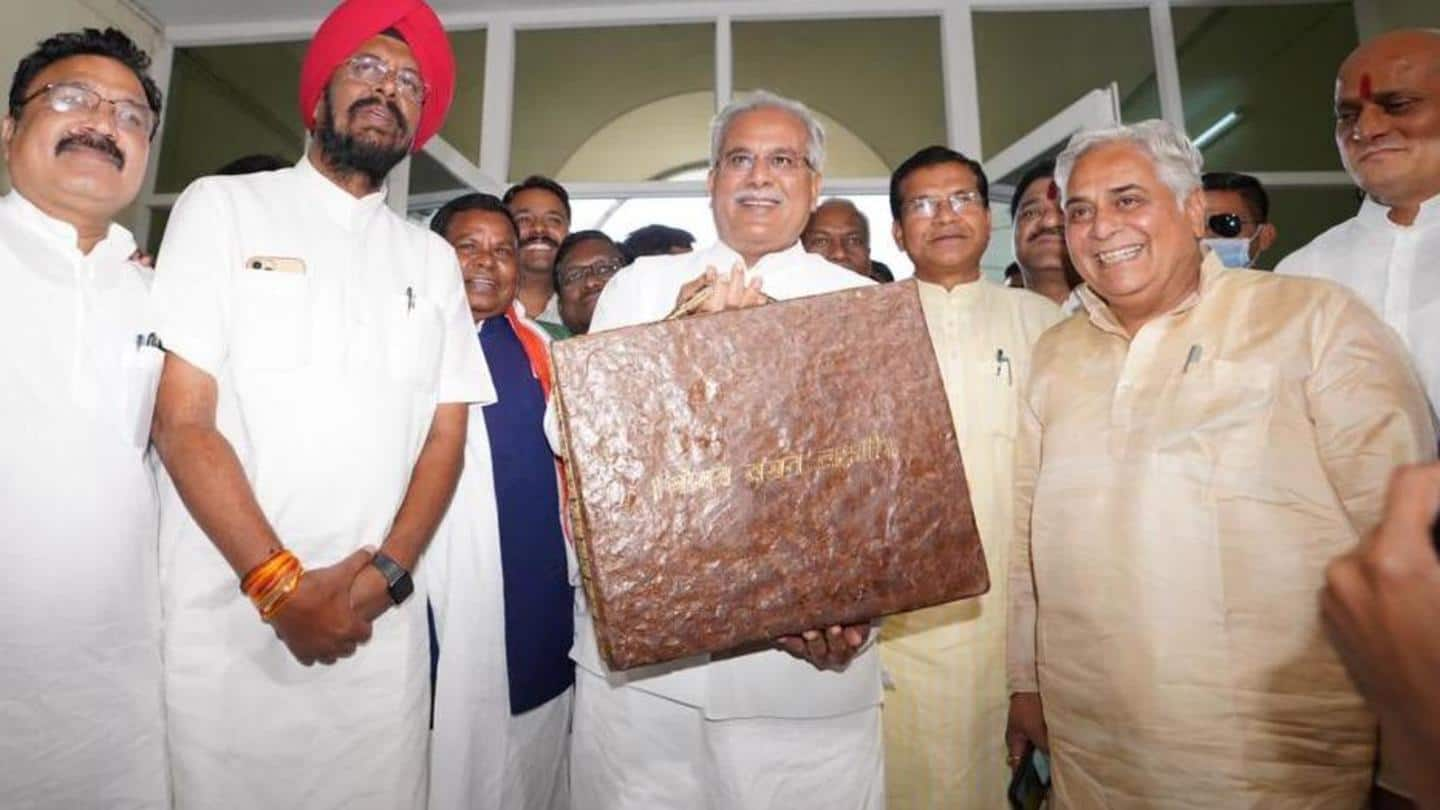 The Chhattisgarh Assembly witnessed an unusual scene when Chief Minister (CM) Bhupesh Baghel on Wednesday brought a briefcase made of cow dung rather than the conventional leather bags to present this year's state budget for the financial year 2022-23. Baghel, 60, even posed for a picture with his square-shaped cow-dung bag at his office, symbolic of his Gobar economic model.
Why does this story matter?
The "Gobar Economy" was the hallmark in this year's CM's budget speech, where he announced that Chhattisgarh "gauthans" (cattle shed premises) will now be developed as rural industrial parks under the name 'Mahatma Gandhi Grameen Udyogik Parks'.
A total of Rs. 600 crore has been set aside in the state budget for the project.
What is the Gobar Economy Model?
The Congress government in Chhattisgarh has been attempting to promote the 'Gobar Economy' since 2020. Under this, the government buys cow dung at Rs. 2 per kg from cattle owners to make cattle-rearing economically viable in the state. However, the symbolic gesture of bringing a suitcase made of cow dung by Baghel received mixed responses on the internet.
How the state government will utilise the cow dung?
The state government through the Godhan Nyay Yojana, intended to provide income support to cattle owners through the procurement of dung, as a source of vermicompost to address the shortage of chemical fertilizers in Chhattisgarh. The government plans to utilize the cow dung to manufacture vermicompost for sale, which would be sold to farmers at a subsidized rate of Rs. 8 per kg.
Key announcements of the Budget
An amount of Rs. 2 crore is proposed for the Chhattisgarh Rojgar Mission for creating new jobs. The chief minister also announced the restoration of the old pension scheme, which assures pension after retirement to government employees. The annual assistance under the Rajiv Gandhi Bhumihin Krishi Majdur Nyay Yojana has also been hiked from Rs. 6,000 to Rs. 7,000 per annum.