Controversial 'spill milk' protests divide farmers. What's the solution?
Controversial 'spill milk' protests divide farmers. What's the solution?
Jun 05, 2018, 02:22 pm
3 min read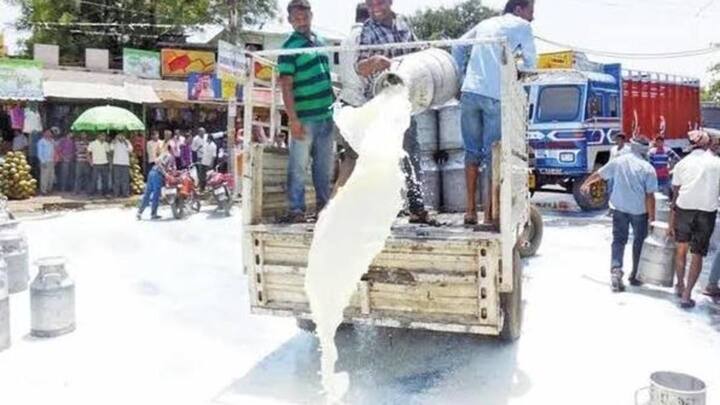 Struggling farmers across India have been demonstrating since days demanding better conditions. But their controversial form of protests have segregated the community- as many groups threw away milk and vegetables, prices of products soared. In some places, divided groups also clashed among each other. The methods to tackle this have also varied: while some called off the protest, others announced they are intensifying it.
'No support from government, situation was going out of hand'
Tension between milk-suppliers and farmers has been brewing in several places across Punjab, including Amritsar, Mohali and Faridkot. Clashes broke out as some farmers tried to stop peers and traders from carrying produce to markets. Balbir Singh Rajewal, Bharatiya Kisan Union (BKU) leader, has now cancelled protests in Punjab. "There was no support from the government and the situation was going out of hand."
'Government hasn't fulfilled promises, no option but to intensify protests'
Tension broke out in other places too. In Amravati (Maharashtra), police claimed to have stopped two Congress legislators from setting themselves ablaze. Across MP, several farmers were arrested for throwing away produce. Unlike in Punjab, this has motivated some factions more. "The government hasn't fulfilled its promises. We have no option but to intensify protests," said Ajit Nawale, All India Kisan Sabha leader, Maharashtra.
Amid divided factions, prices of produce soar across states
Meanwhile, the agitation has been sharply pushing up prices across states. "Jaipur Dairy has suffered a loss of nearly Rs. 1cr as anti-social elements spilled 60,000 liters of milk on roads," said Om Prakash Punia, Chairman. The situation is similar in Delhi, Chandigarh and elsewhere. "Prices of vegetables have increased 25%-30% in three-days because of restricted supply," a vendor at Jaipur's Muhana market said.
As the common man suffers, ministers dismiss struggles
The impact of these protests is being felt heavily by farmers themselves and the masses, who're having to shell out more for basics. Amid the crisis, Radha Mohan Singh, ironically India's Agriculture, decided to call the protests a way to get "media attention" and dismissed them as "natural." In MP, Agriculture Minister Balkrishna Patidar insisted there was no impact, even as supplies dropped alarmingly.
Are such ways of protesting fair to the people?
Contrary to what some sections in power claim, farmers in India are suffering: an average 32 farmers kill themselves every day, trampled under the burden of low income and debts, and the government's promises on minimum support price remain vague and unfulfilled. However, wasting produce doesn't help anyone, and instead actually harms people and the system. Justice for one shouldn't cost another the same.
Killing two birds with one stone?
Some groups have come up with commendable ways to protest. At Neelbad (Bhopal), farmers freely distributed vegetables among the people while protesting. Some in Punjab are considering setting up stalls to distribute milk to the public, or donating it to orphanages and old-age homes. There's no way of guaranteeing protests will get their desired results, but this will at least benefit the masses.