5 big takeaways of Nirmala Sitharaman's budget you should know
5 big takeaways of Nirmala Sitharaman's budget you should know
Feb 01, 2020, 06:02 pm
4 min read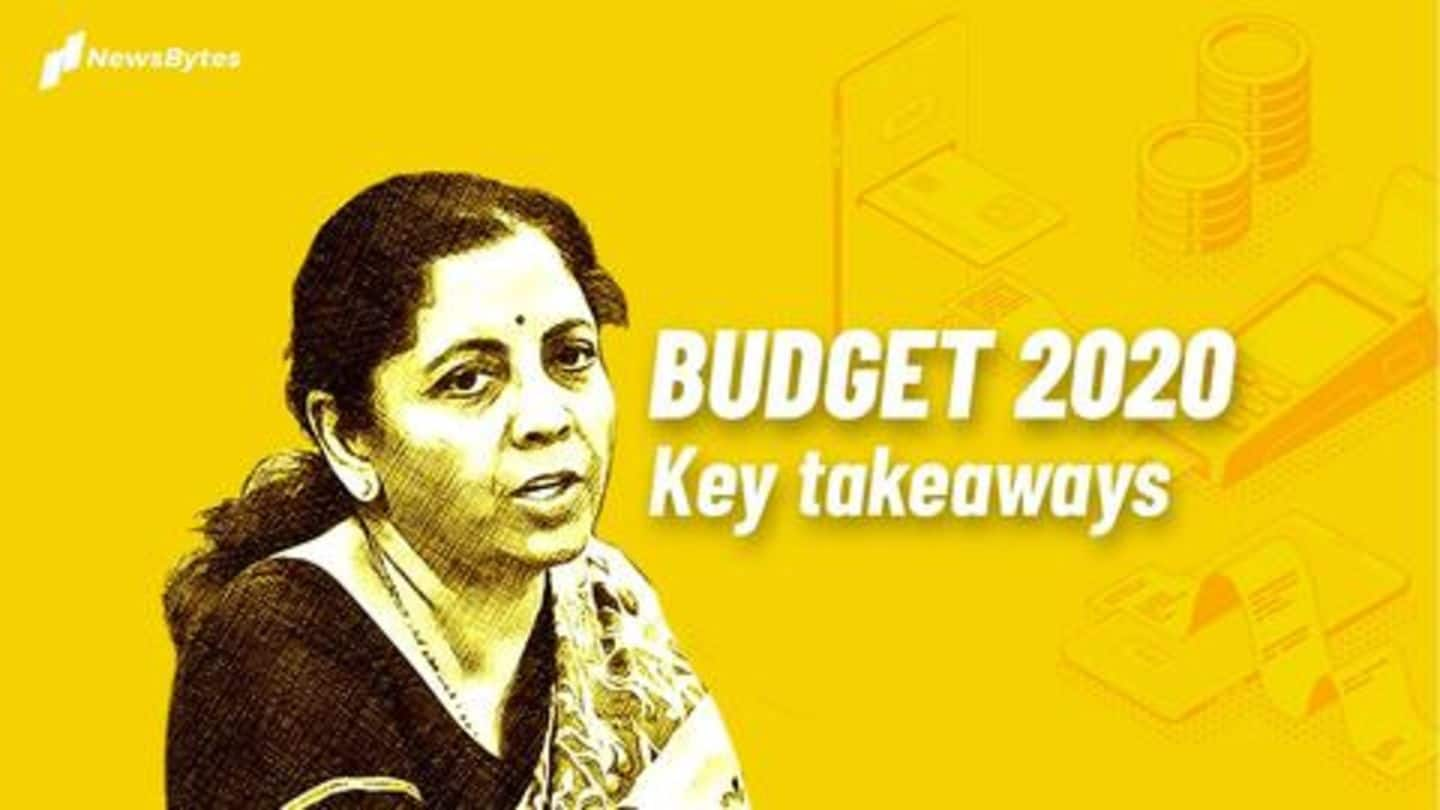 Finance Minister Nirmala Sitharaman presented her second Union Budget at a time when the Indian economy is struggling, raising concerns among world bodies like the International Monetary Fund (IMF). To take the economy out of the crisis, Sitharaman made big-ticket announcements to please all sections, from the middle class to start-ups and wealth creators. Let's run through 5 biggest takeaways of the crucial budget.
A new tax regime will put money in consumers' pockets
In a landmark move, Sitharaman gave relief to taxpayers by announcing new rules. Taxpayers can either choose to follow the existing regime that has exemptions or opt for a new one, sans exemptions but lower taxes. This was done to put money in the hands of middle class, and to simplify the tax process, said Sitharaman in a press conference after the budget.
Income Tax rates have been brought down
Those earning between Rs. 5 lakh and Rs. 7.5 lakh will have to pay 10% tax, as opposed to 20% earlier. A 15% tax, and not 20%, will be levied on those earning Rs. 7.5-10 lakh.
Individual income above Rs. 15 lakh will be taxed 30%
Similarly, those earning between Rs. 10 lakh and Rs. 12.5 lakh will pay 20% income tax (down from existing 30%), and individuals having yearly income between Rs. 12.5 lakh to Rs. 15 lakh will be taxed 25% (as opposed to 30% earlier). Those earning more than Rs. 15 lakh per year will continue to pay 30% tax, as they did earlier.
By opting for new regime, you can save money
Sitharaman explained that under the new tax regime individuals earning Rs. 15 lakh/annum can pay Rs. 1.95 lakh as tax, and not Rs. 2.73 lakh which was set earlier, by not availing deductions. This will save a maximum of Rs. 78,000, she stated.
For start-ups, Sitharaman came to Parliament bearing gifts
Sitharaman spoke about enabling Indian entrepreneurs and announced decisions that elated them. As per Budget 2020, start-ups having turnover of Rs. 25 crore or less will be completely exempt from paying tax on profits, for a period of three consecutive years within seven years. She also deferred tax payment on ESOPs by five years, or till the time the employee quits or sells shares, whichever is earliest.
Wealth creators to be respected, tax harassment will stop
In the Economic Survey, Chief Economic Advisor Krishnamurthy Subramanian suggested respecting wealth creators to steer the Indian economy out of the crisis, and Sitharaman's budget concurred with his findings. Hoping to end tax harassment, the FM proposed a taxpayers' charter in the Income Tax Act. She also spoke about making offenses under the Income Tax Act, civil in nature.
Sitharaman hopes to instill confidence among businesses
"Businesses should have the confidence that things are fair and that the tax administration is efficient. We wish to enshrine a taxpayers' charter in the statute. Our government would like to reassure taxpayers that they will not be harassed," she said.
Government intends to revisit marriageable age for women
Today's budget didn't only touch upon finances but hoped to bring cultural changes too. A major step in this direction was Sitharaman's announcement that the government will revisit the marriageable age of women, which is 18 years currently. This will empower women and bring down the mortality rate among pregnant women. A committee has been asked to file its recommendations within six months.
Government to partially sell LIC holdings through IPO
In a move to increase its revenue, the government will be selling a part of its stake in Life Insurance Corporation of India via initial public offering (IPO). Government-owned LIC is the biggest institutional investor in India. Further, the government will also sell its remaining stake in IDBI Bank. A disinvestment target of Rs. 2.1 lakh crore has been set for FY21.
Sitharaman delivered the longest budget speech in India's history
Spanning 2 hours and 43 minutes, Sitharaman delivered the longest budget speech since India's Independence. She broke her 2019 record when her speech lasted 2 hours 15 minutes. As she looked exhausted, Sitharaman's cabinet colleague Rajnath Singh prompted her to take a break. The 60-year-old said only "two pages are left", and then sat down to drink water. In total, she mouthed 13,128 words.