Lakes dried up, deficient rainfall: India's water crisis deepens
Lakes dried up, deficient rainfall: India's water crisis deepens
Jun 24, 2019, 08:38 pm
3 min read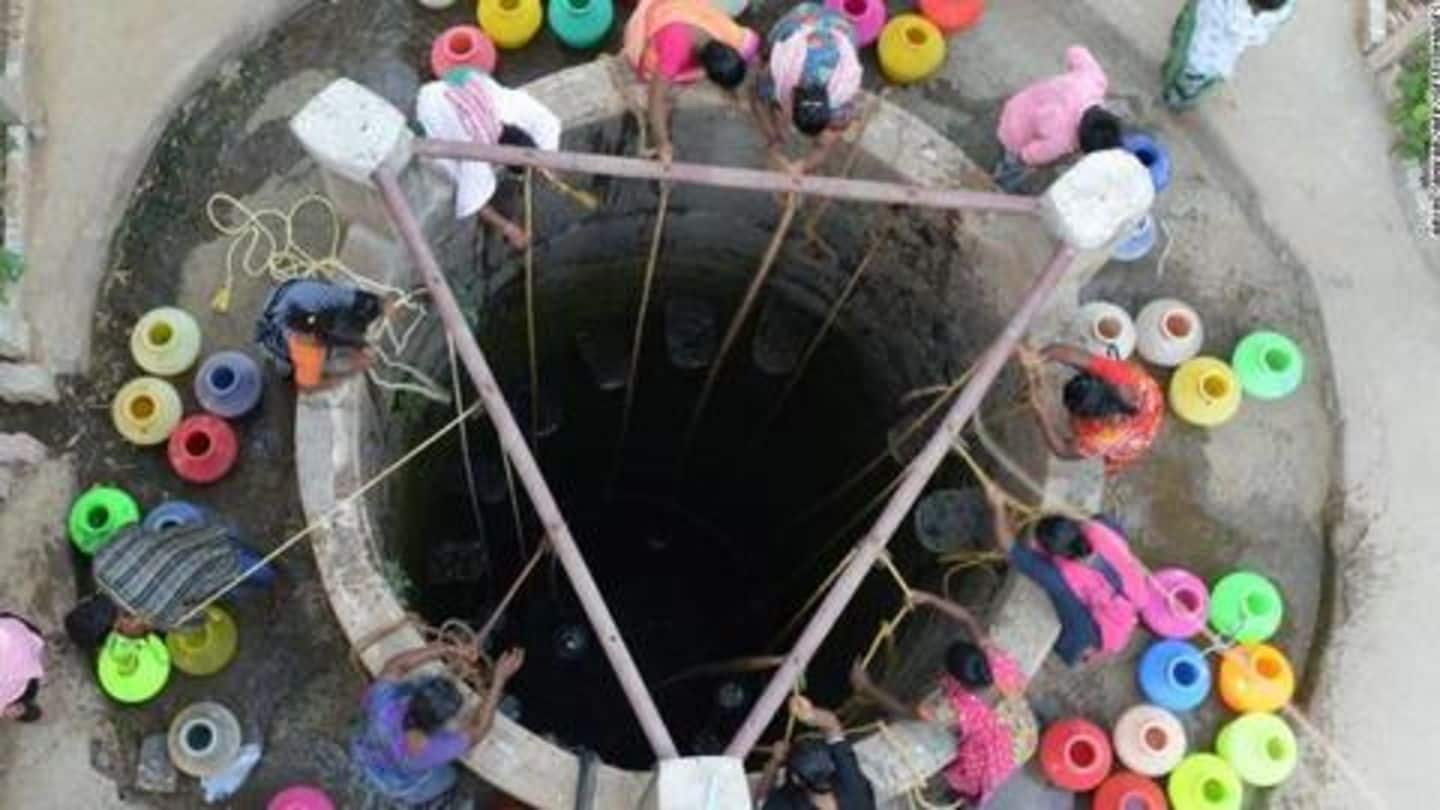 More than half of India is staring at a drought-like situation and no one seems to be taking concrete steps to ward off this problem. The country is facing a major water crisis, as lakes have dried up, groundwater is quickly depleting, and monsoons have so far been deficient. For millions, proper drinking water has turned out to be a luxury. Is anyone paying attention?
Till June 22, monsoon was largely deficient, said IMD
The latest data released by the India Meteorological Department (IMD) paints an alarming picture. In its Sunday bulletin, IMD said monsoon was 39% deficient till June 22. It made an appearance in some parts of Maharashtra, Karnataka, Telangana, Odisha, Jharkhand, Gangetic West Bengal and Bihar. Monsoon also advanced towards Eastern Uttar Pradesh and most parts of Chhattisgarh, but it wasn't enough.
Several Indian districts are reeling under "extremely dry" situations
Poor rainfall has pushed states like Maharashtra, Tamil Nadu, Karnataka, Telangana, and Andhra Pradesh to a drought-like situation. Moreover, several districts in east, central and peninsular India are witnessing "extremely dry" situations. IMD revealed that nearly 51% of the country received deficient rainfall so far. This led to a delay in planting crops. Naturally, rural households used their resources for drinking, rather than farming.
Reservoirs are also drying up, adding to the woes
As monsoons have been harsh, India is turning towards its reservoirs and they too are quickly drying up. According to data, reservoirs in Andhra Pradesh are 83% below normal. Similarly, in Telangana, reservoirs are 36% below normal, 23% below normal in Karnataka, and 43% below normal in Tamil Nadu. Separately, what is happening in Chennai shows India needs to step up very soon.
Life has come to a standstill in Chennai
Tamil Nadu's capital Chennai, which is a hub of IT companies and engineering colleges, is finding it difficult to survive. The three reservoirs at Poondi, Cholavaram, and Chembarambakkam, which supplied water to Chennai, have dried up, forcing universities to shut their hostels and IT companies to stop serving lunch. Meanwhile, residents are standing in serpentine queues to get water for daily chores.
Farmers have been able to sow only 9.06 million hectares
Due to scanty rainfall, farming has taken a hit. Data suggest that till now, farmers have been able to sow only 9.06 million hectares so far. Last year, they were able to sow 10.3 million hectares. Summer crops such as rice, pulses, millets, cotton, and oilseeds, which make up for half of India's annual food output, also lag behind last year's level.
Meanwhile, a central official said monsoons are progressing normally
Despite the problematic data, a central government official said things will get better soon. "Cyclone Vayu did disrupt the normal progression of monsoon. There was delayed onset of monsoon also. But now it's progressing normally," M Rajeevan, secretary, ministry of earth sciences told HT. He said monsoons have entered MP and Maharashtra, and that national capital Delhi will witness rains in a couple of days.