What is masked Aadhaar and how to download it?
What is masked Aadhaar and how to download it?
Jun 20, 2022, 03:40 pm
3 min read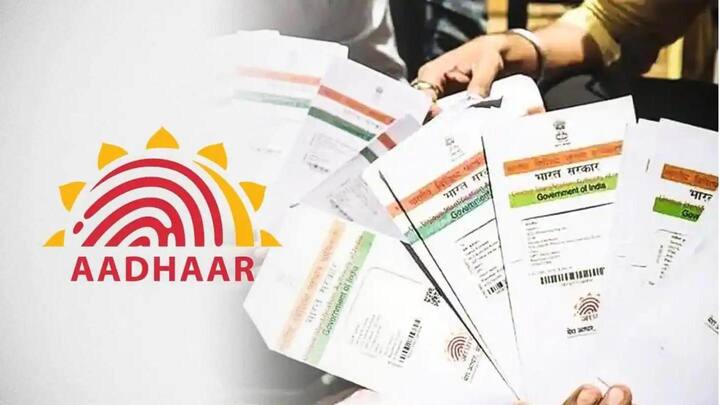 The Aadhaar, issued by the Unique Identification Authority of India (UIDAI), is one of the most important documents for Indians and is used for most official purposes. However, there are many people who have claimed to be victims of fraud in the name of the online Know Your Customer (KYC) procedure. To prevent such misuse, you can use masked Aadhaar instead. More details inside.
Why does this story matter?
Recently, the Centre withdrew its advisory asking citizens to share only masked versions of their Aadhaar with organizations to prevent misuse.
Earlier, the UIDAI had warned citizens not to share Aadhaar photocopies with any organization, citing potential misuse. It had instead recommended using masked Aadhaar, which displays only the last four digits of the Aadhaar number.
What is a masked Aadhaar?
One must use their 12-digit Aadhaar number carefully to prevent misuse. To make it more secure, the UIDAI has provided people with the "masked Aadhaar ID" option. In a masked Aadhaar, the first eight digits of the Aadhaar number are replaced with special characters like "xxxx-xxxx" and only the last four digits of the Aadhaar are visible. With this, the card cannot be misused.
Masked Aadhaar can be used for eKYC updates, verification
Masked Aadhaar cards can be used for eKYC updates and verification, thereby preventing misuse. Moreover, it doesn't require any important personal information to be revealed. In a recent tweet, the UIDAI said, "If you don't want to disclose your #Aadhaar number, then you can use VID or Masked Aadhaar, it is valid and accepted widely. To get VID/masked Aadhaar, download Aadhaar from here: https://myaadhaar.uidai.gov.in/genricDownloadAadhaar."
How to download masked Aadhaar?
Step 1: Visit the official UIDAI website and click on the "Download Aadhaar" option. Step 2: Select Aadhaar/VID/Enrollment ID option and check the masked Aadhaar option. Step 3: Enter the required details and click on "Request OTP." Step 4: Enter the OTP sent on your registered mobile number and click on "Download Aadhaar." Step 5: You can now save your masked Aadhaar card.
Masked Aadhaar is password protected
The masked Aadhaar, which is available in a PDF format, is password protected. The password is a combination of the first four letters of the user's first name in capital letters followed by their birth year in the YYYY format. For instance, if a user's name is Raju Kumar and their birth year is 1963, then their masked Aadhaar's password will be RAJU1963.